It's been a very, very long time since I've written anything for Autostraddle, but that doesn't mean I haven't been writing. In the past couple of weeks I've written about 18th century literature for my English class, the problems of moral universalism and relativism for my Philosophy class, and a research paper about sex toy parties for my History of Sexuality class! I did everything I could to put off writing about my own life (which really is quite strange because anyone who knows me well knows that I am a huge fan of talking about myself).
Where Did The Time Go?
It feel like the first week of April lasted 40 days and then suddenly I woke up in South Florida with a thunderstorm booming outside my old bedroom window. What happened? How did I get here? Why am I not in New York? What happened to school? When did it end and did it end well?
There'd been a time warp of some sort: I had yet another break-up and countless school-related breakdowns. That persistent everlasting case of insomina occasionally punctuated by anxiety dreams that were simultaneously about failing school and suffering the wrath of ex-girlfriends.
It wasn't all bad though; I hung out with friends who I genuinely like, I got dressed up and wore orange heels for queer prom, experienced multiple "I love New Yorkwp_postsmoments (most of which occurred on sunny days while I drank coffee and walked along Broadway in a sundress), and I rediscovered my love for Hanson.
A Brief Interlude to Talk About Hanson
I should probably take a moment to really thank Hanson for helping me get through the home stretch of my first year of college. At first I was afraid that my sudden reawakening to the music of my past may have been brought upon by an anxiety induced regression back to my early childhood. But then I realized that Hanson is just a really good band of brothers who wrote, and continue to write, awesome songs and who just so happen to have once looked and sounded like girls.
So thank you Hanson for writing "A Man From Milwaukeewp_postsso that one day a desperate college student could listen to it on repeat as she taught herself an entire semester of Statistics in one night.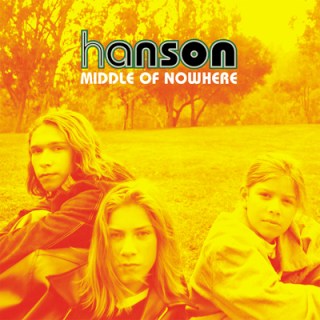 No More Drama
(This one's for you, Mary J.)
I have one short term goal that will hopefully lead me to greatness in the rest of my college career and that is a "no girlswp_postsrule for at least the first semester of my sophomore year. This is an odd rule for someone who attends a women's college but let me clarify…it's a no-romantic-involvement-with-any-human-being rule. This is not to say that I believe myself to have flocks of interested candidates running after me in hopes of snagging a couple of intimate moments—it's more the other way around. I tend to seek out ladies who will engage in intimate moments with me. This, I have learned, has been the root of many of my problems.
Ladies distract me because I love them so much. If I'm going to become BFFs with Rachel Maddow I need to concentrate on my studies so that I can carry on intelligent conversations with Rachel. I also desperately need to rid myself of distractions because I have to learn how to be an independent woman;the Destiny's Child type of independent woman who buys her own cars and rings and dances around as if she owns the world.
My freshman year of college is over with and I am not sure what to think. It was great and it was terrible. I couldn't wait to go home but now that I am here, I find myself desperate to go back. I am stuck where most 18-25 year olds are stuck right now…at home and looking for a job. I can only fill out job applications that require me to talk about my passion for overpriced tank tops so many times before I become distracted with something far more fun…like eating food, or watching I Dream of Jeanie on TV Land.
But after each melodramatic phone call home to my mother, I would come to my senses and remember why I was in college: to learn cool stuff and to make out with people.
The Big Picture: Graduation and Famous People
Many times this year I questioned my place in higher education. I thought it might be a good idea to drop out of school and pursue my dreams of recording 3LW cover songs and putting them on Youtube (this is an actual dream and it will happen someday).
But after each melodramatic phone call home to my mother, I would come to my senses and remember why I was in college: to learn cool stuff and to make out with people.
I was so focused in high school because I had one goal, to get into a prestigious college (so I could do both the learning thing and the making out thing).
After I attained that goal I wasn't really sure what to do with myself. I got to Barnard. Mission accomplished. So now what? What goal drives me through the next four years?
After watching bits & pieces of Barnard College's 2010 Commencement Ceremony I finally settled on a goal — to meet whatever famous lady Barnard chooses to deliver a speech at the 2013 commencement!
This of course means that I have to do something notable during my time in college so I can give some sort of speech and it also requires that I graduate. Eek!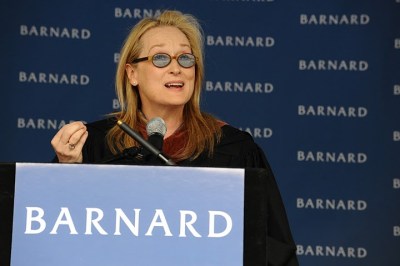 Meryl Streep spoke at this year's graduation…MERYL EFFING STREEP! And Hillary Clinton spoke last year. My class's chance to get Rachel Maddow is really looking up. Unfortunately the ladies at Smith called dibs on Rachel this year, quite the appropriate choice on their part, but hopefully they don't think that they are getting her every year. But if Rachel can't be booked then I guess I would be cool with Michelle Obama or Geri Halliwell—either way I have three years to do something awesome for Barnard or for Autostraddle to really take off (thus granting me a Lesbianage interview) and then to graduate in order meet one of these ladies (there is no doubt in my mind that the speaker will be one of the three women I suggested above).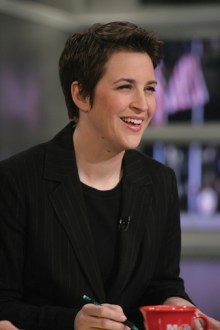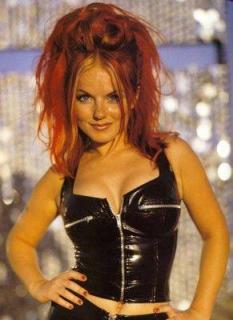 Summer Lesbianage Anyone?
I don't know how this summer will go but if anything exciting happens I will tell you all about it. In the meantime I'll be around contributing to style articles and slowing my anxiety roll.
If you happen to be in New York City between the months of September and December and see an obviously knowledgeable and independent woman walking your way, that's probably me.
And if you see her cuddling with another lady—kidnap her, it's for her own good!