Feature image of the Walker Library of the History of Human Imagination, Connecticut via AnOther.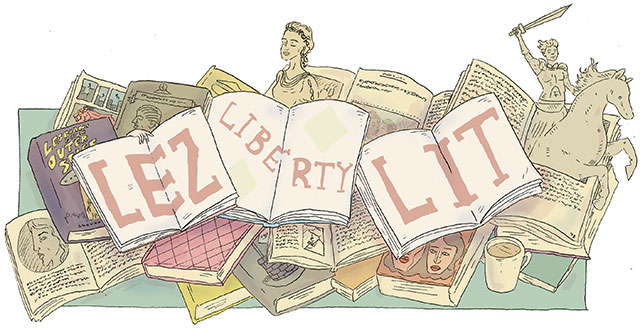 Hi and welcome to this week's Lez Liberty Lit! If you are making a literary Halloween costume, you have full license to brag about it.
Things About Queer Books (And Other Books Relevant To Your Interests)
Looking for thematic Halloween reading? Carmilla was super gay and the original vampire story. Check out these nonfiction books about candy. Or these really great fictional parties. Paste recommends 21 horror books from the 21st century. Frankenstein has had a lot of covers.
Chimamanda Ngozi Adichie recently posted "Dear Ijeawele, or a Feminist Manifesto in Fifteen Suggestions": "The first is your premise, the solid unbending belief that you start off with. What is your premise? Your feminist premise should be: I matter. I matter equally. Not 'if only.' Not 'as long as.' I matter equally. Full stop." And at de Volkskran, she discusses Beyoncé, ****Flawless, and why she hasn't really discussed Beyoncé or ****Flawless: "Literally every major newspaper in the world wanted to speak with me about Beyoncé. I felt such a resentment (laughs loudly). I thought: are books really that unimportant to you?"
Michelle Tea goes on a walking tour of the LA places where she hit rock bottom.
At LitHub, Sara Nović discusses digital accessibility, translation, and how representation can excel in some areas but fail in others: "Successful allyship and representation of difference is not a static, all-or-nothing achievement; it is complex, layered, and intersectional. […] We cannot be satisfied with sometimes getting it right; we must continue broadening our understanding of ourselves and one another in our work and in the world."
Read these travel memoirs by black women.
At the Rumpus, Sassafras Lowry writes about tying age play to hir literary production: "The dynamic I have with my Daddy has real-life literary applications. The protocols that Daddy puts in place around my writing gives me the grounding and containment I need in order to consistently generate new work: five books in the past six years, plus numerous contributions to anthologies, monthly columns, and magazine articles. My Daddy does not control what I write, but ze provides structure for how that writing happens."
Casey the Canadian Lesbrarian reviewed Mariko Tamaki's Saving Montgomery Sole, calling it "kind of strange, unpredictable, lovable, smart, and a bit hard to categorize" as well as noting, "I think this is the first book I've ever read from the perspective of the kid of same-sex parents. We need more!" Casey also reviewed M-E Girard's Girl Mans Up, noting, "if you're looking for an achingly real young queer person trying to figure out how to be herself and interact meaningfully and respectfully with those around her—with plenty of mishaps on the way— Girl Mans Up is for you."
Jessica and Lianna Oddi, the artists behind The Disabled Life, discuss making art at Refinery29.
Book authors don't make money just from authoring books.
"Is that an outlet over there on the left? No, it's gum," and the other stages of working from a coffee shop.
You could read these 12 books in your 20s, or any other time, I guess.
National Archives gifs? Why not.
There is now an infographic of every spell used in Harry Potter.
I'm obsessed with this time-lapse of the 52,000 books in the Rose Main Reading Room getting reshelved.
Book Things To Do
31 October, online: Submissions for #Trans, an anthology about trans and non-binary experience, are due.
13 November, Victoria, BC: Pretty Good, a show by Ivan Coyote and Vivek Shraya in which they talk/sing about families, skeletons, and their new books, is at the Metro Studio Theatre (1411 Quadra St.). Tickets are available now.
Know of a queer event with literary merit? Send it to us! The Liberty Lit is bi-weekly.
---
Books! They are really great. You just won't believe how great they are. You may think that the Internet's great, but that's just peanuts compared to books. In Lez Liberty Lit, we talk about queer books and literary shit that's happening that you should probably care about.
The name "Liberty Lit" was inspired by the short-lived literary journal produced by Angela Chase at Liberty High School in 1994.