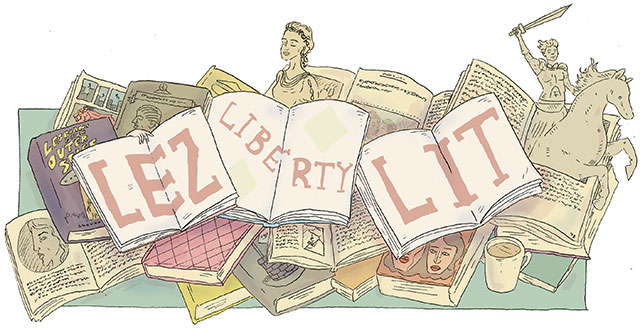 Hi and welcome to this week's Lez Liberty Lit!
At the Cut, Katie Heaney writes about writing queer YA as a way to do-over young adulthood to go after who and what she wanted, as well as a way to move on:
"In writing YA, I am able to imagine what I might have done if I were 16 or 17 again, knowing what I know now. I am able to put a little of myself in my characters, but instead of doing what I did, I can make them take the risk, or break the rule. I am able to imagine what it would have done for me to be around queer people and influences sooner — just to know they existed, to know there wasn't only one way to be."
At the Los Angeles Review of Books, Candice Yacono reviewed Lydia R. Otero's In the Shadows of the Freeway: Growing Up Brown & Queer, noting, "Elements of both the academic and the memoirist are visible in these explorations of ethnicity, sexuality, and gender, complemented by a trove of citations and an immersive sense of place. The result is an intersectional and deeply personal picture of the power dynamics that created today's Tucson."
The most-challenged books of the year? Mostly queer.
Help I can't stop reading these pop songs reimagined as sonnets.
It's okay if you can't relax or concentrate on anything right now.
The pandemic has delayed the new emoji.
At the Rumpus, Eva Jurczyk interviewed C. Pam Zhang, author of How Much of These Hills Is Gold, "a sort-of historical, sort-of speculative piece of fiction set in a sort-of northern California at the end of a sort-of recognizable gold rush," on her new novel, releasing a book during a pandemic, casting off self-hatred, her writing process and more.
"For the longtime fan of Irby's work, it's a genuine pleasure to read about the safe and happy place she has found herself, even though the disasters were so fun to read," writes Josephine Livingstone in a review of Irby's Wow, No Thank You at the New Republic.
MoMA has free online art classes.
"Savannah Shange's new book, Progressive Dystopia: Abolition, Antiblackness, and Schooling in San Francisco, has given me powerful new ways to frame my frustration with reformist half-measures, as well as a lens through which to perceive my own complicity in forwarding them," writes Elizabeth Hanna Rubio in a review at the Los Angeles Review of Books.
Got overdue fines at the LA library? You might not any more.
Are you reading any very long books this pandemic? It's okay if you aren't! Here are some tips on staying focused on reading if you want them though.
No one wants post-coronavirus fiction.
Here's why the letter "x" is edgy.
Why not send someone (or yourself) an art supply care package?
Is this the end of the indie bookstore?
Why is everyone now obsessed with sourdough? Answers from an author who wrote a novel about just that.
Edith Warton's first book was on interior design.
Here's why your dreams in quarantine are very vivid.
"Might it not be the case that we have returned to a normal rhythm of life? That it isn't that the virus is a disruption of the norm, but rather exactly the reverse—that the hectic world before the virus arrived was abnormal?," writes Olga Tokarczuk at the New Yorker.
Read these books this summer. Read these surreal and yet newly relatable books. Read these books if you can't write. Read these queer romance novels about social justice. Read these new books this April. Read these short story collections. Read these books about living paycheck to paycheck. Read these seven books about cults. Read these books by women writing in Arabic that have been translated into English.