Feature image by viktor hanacek via picjumbo.com.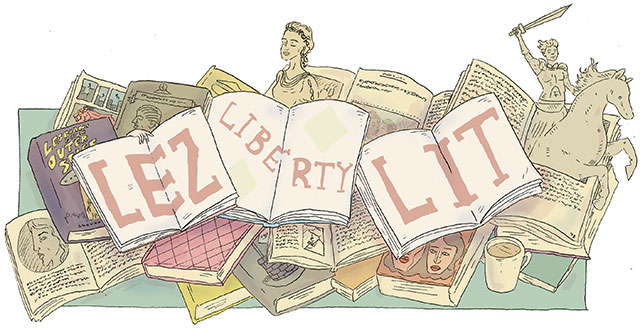 Things About Queer Books (And Other Books Relevant To Your Interests)
The holiday issues of mid-century queer magazines reveal "the extent to which depression constituted a queer Christmas tradition," writes Lauren Gutterman at Notches:
"As many scholars have pointed out, with the emergence of gay liberation such expressions of sadness and loss faded from view, replaced, at least publicly, with more politically 'useful' feelings of righteous anger and pride. But the queer holiday blues have persisted, and they have even been a source of theorizing about sexuality. Eve Kosofsky Sedgwick wrote in Tendencies, 'The depressing thing about the Christmas season—isn't it?—is that it's the time when all the institutions are speaking with one voice…They all—religion, state, capital, ideology, domesticity, the discourses of power and legitimacy—line up with each other so neatly once a year.' During the holidays 'Christmas' and 'the family' become one and the same; they are constituted in and through each other. Writing from the margins as queer identified and as Jewish, Sedgwick held that the fascinating—and exciting—thing about sexuality is the extent to which individuals' bodies, appearances, identities, experiences, and fantasies fail to align so easily. It is precisely this messiness, this inconsistency, Sedgwick argues, that the concept 'queer' aims to bring into focus. In other words, Christmas is queerness's opposite."
This is a history of Arabic literature.
The Royal Heart is a new kids' book that features a trans princess.
Rebecca Solnit, author of Men Explain Things to Me, writes about reading Lolita under the patriarchy at Lit Hub, noting: "[T]here is a canonical body of literature in which women's stories are taken away from them, in which all we get are men's stories. And that these are sometimes not only books that don't describe the world from a woman's point of view, but inculcate denigration and degradation of women as cool things to do."
Eileen Myles wrote about her experiences on Transparent about how being in television is weird.
Heather O'Neill spoke to the Los Angeles Review of Books about her new collection of postmodern fairy tales and making girls louder.
If you've ever wondered why Moby-Dick is only hyphenated sometimes (just me?) you should know the Smithsonian is on it.
At Lambda Literary, Mitch Kellaway reviewed The Women of San Quentin: Soul Murder of Transgender Women in Male Prisons by Kristin Lyseggen, noting: "This book spans genres, from photo book to diary to journalism to including some of the women's poetry, suggesting that an issue as multifaceted as the treatment of trans female prisoners cannot be bound to one way of storytelling."
Sylvie Rancourt's Melody: Story of a Nude Dancer, possibly the first Canadian autobiographical comic, functions as an exploration of women's self-representation. At the Lost Angeles Review of Books, Tahneer Oksman writes: "Through simple, often bold visual and verbal pronouncements, the text connects the act of drawing the self with the act of putting the self on display, scantily clad in front of a group of strangers. Both undertakings, the work suggests, require the kind of bravura that emerges from a heroically unapologetic pursuit of pleasure."
Books are getting longer and longer.
You can now get all the Wodehouse you ever wanted but with matching covers.
"hi my names Carmilla I fell down outside your house
can i live here for a while
nothing gay will happen i promise"
A few more best-of lists because you only live once: 10 overlooked novels by women of color in 2015, 10 great books by women overlooked in 2015, the best diverse YA books of 2015, the top books by black women in 2015, the best comics of 2015, the best children's books of 2015, the LGBTQ books you should have read this year, the best science books of 2015, the best Canadian books of 2015, Barnes and Noble's best books of 2015, the books the New Yorker loved in 2015, the best things Jezebel staff read in 2015, Lit Hub's best books of 2015, Tin House's best non-fiction and best fiction of 2015, Brain Picker's 15 best books of 2015, the Globe and Mail's 100 best books of 2015, Book Riot's best books of 2015, the best books you didn't read in 2015, the best overlooked books of 2015, the 25 best books of 2015, according to booksellers, 16 of the best fiction debuts according to Refinery 29, the most expensive books, the top 10 cat books of 2015 and the funniest tweets about books of 2015.
At Autostraddle, Carmen wrote about Chelsea Girls. Mey wrote about queer women and non-binary comics creators you can support right now.
Book Things To Do In Person
24 January, New York: The first meeting of the Gilmore Girls Book Club, discussing books important to the Gilmore Girls universe, will discuss The Year of Magical Thinking at the Word (126 Franklin St.), 5 p.m.
Ongoing: For Books' Sake is looking for unpublished short stories from self-identifying women (especially women of color, queer women, women with disabilities and other marginalized voices) for its weekly Weekend Read. Submit any time.
Know of a queer event with literary merit? Send it to us! The Liberty Lit is bi-weekly.
---
Books! They are really great. You just won't believe how great they are. You may think that the Internet's great, but that's just peanuts compared to books. In Lez Liberty Lit, we talk about queer books and literary shit that's happening that you should probably care about.
The name "Liberty Lit" was inspired by the short-lived literary journal produced by Angela Chase at Liberty High School in 1994.