Feature image via teacoffeebooks.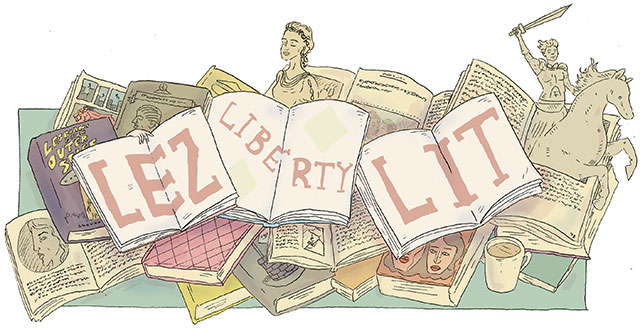 Writing in a notebook is an interesting way of "creating our funeral slideshows in real time" and of structuring and restructuring the self. At Hazlitt, Sarah Gerard writes about her fascination:
"I'm interested in the notebook's use as a tool for analyzing creative processes, how a piece of life finds its way into art or not. But more than that, I want to know how the self arises in a notebook, or is hidden from it. If it's a place for makers to work, then the journal is a notebook of the psyche, and in both cases, we are introspecting, attempting to make of the irrational mind something rational. We wake from dreams and write them out; make lists of loosely connected images; jot down ideas for future projects; write lovers letters we'll never send."
There is more than one story.
Queer & Trans Artists of Color, a collection of interviews about trans lives and work, is trying to come back for a second volume.
Juliana Delgado Lopera will be taking over Michelle Tea's role at RADAR Productions.
Lots of authors use noms de plume. (Lots of female authors use them to avoid gender discrimination.)
The city with the most bookstores per capita is Buenos Aires.
You should read Sofia Samatar:
"Sofia Samatar is breaking boundaries for you with every word, every image. Those lines that we are told exist between this world and fantasy, prose and poetry, realism and fabulism, oral and written language, she dims, elides. She writes about this world through other worlds, revealing the difference between realism and realness. Her characters are real and familiar even when they're automatons made for the king, ogres in colonized Africa, ghosts haunting the living to have their stories told."
Something about inheriting a print book collection is just better than inheriting a loaded Kindle.
Everything about Dirtbag Tess of the D'Urbervilles is my favorite.
All white dudes own these books. Laugh, and weep. (Then laugh and weep at the deleted comments. This is another example of why we should ban men from literary readings.)
At the Los Angeles Review of Books, Elena Avanzas Álvarez writes about millennial femininity, crime fiction, Luckiest Girl Alive and the constructed self:
"You are a lie. We all are. Every day we wake up and put on an outstanding performance. Our gender, our social class, and our relationships are carefully crafted to meet a set of expectations — a topic no longer limited to seminars in critical theory. We can find evidence of this new phenomenological era, for instance, in the female protagonists of recent popular fiction. Consider the 'cool girl' rant in Gillian Flynn's Gone Girl, a how-to guide for achieving self-awareness of one's fluid femininity. Especially in the realm of crime fiction, where the reinvention of self is prelude to conflict, asserting control over that performance becomes the centerpiece to great stories — and even greater social commentary."
At Lambda Literary, Roz Kraveny, author of Tiny Pieces of Skull, discussed "the trans tipping point," how things have changed in the 40 years since her transition, the pressure to be beautiful and more.
Nepalanta: A Journal Dedicated to Queer Poets of Color is working to grow.
At Diversity in YA, Lisa Freeman wrote about her book Honey Girl, conflicted homophobia against yourself, secrets and more.
At Lambda Literary, Julie R. Enszer wrote about Erebus by Jane Summer and Fanny Says by Nickole Brown and the way the two poetry collections use a documentary style to powerful effect. Sara Rauch interviewed Kristy Logan on moving through grief, world building and more.
At the Lesbrary, Kalyanni reviewed Pissing in a River by Lorrie Sprecher, noting her frustration with "the chasm between what [it] is and what it could have been."
Carmen wrote about Leah Lakshmi Piepzna-Samarasinha's Bodymap. Mey wrote about so many comics. Melanie wrote about queer Canadian poets you will love.
Book Things To Do In Person
May 15, Stanford: An intergenerational conversation about and celebration of This Bridge Called My Back: Writings by Radical Women of Color will be held at Lathrop Library, Bishop Auditorium (518 Memorial Way). Signing and reception at 5:30 p.m., reading and presentation at 7 p.m.
May 16, Stanford: Part two of an intergenerational conversation about and celebration of This Bridge Called My Back: Writings by Radical Women of Color will be held at the Black Community Services Center (418 Santa Teresa St.). Bridge Artists' Panel at 10 a.m., "Theory in the Flesh" — Activism and/vs. Academia, Student-led Intergenerational Break-out Sessions at 1 p.m., Feminist of Color Organizing Panel at 3 p.m.
May 19, New York: Roxane Gay is reading as part of Girls Write Now's 2015 Chapters Reading Series at the Scholastic Auditorium (557 Broadway), 6 to 8 p.m.
To 30 May, lots of places: Poet Andrea Gibson is on tour! And is going to a lot of places across the US and Canada, and to a few places in the UK. Maybe somewhere near you?
6 June: If you're a girl between ages 12 and 18, you should submit your writing to Grlhood by today.
7 June, New York: Imogen Binnie is leading "Why Would Anyone Even Read This? Writing Compelling Trans Fiction," a workshop associated with Bindercon, at the Powderkeg Writer's Space in Brooklyn (33 Flatbrush Ave.), 2–4 p.m. Register online.
19 June, New York: Quiara Alegría Hudes is reading as part of Girls Write Now's 2015 Chapters Reading Series at the Scholastic Auditorium (557 Broadway), 6 to 8 p.m.
1 December: Submissions for Topside's short speculative fiction anthology by trans writers are due.
Know of a queer event with literary merit? Send it to us! The Liberty Lit is bi-weekly.