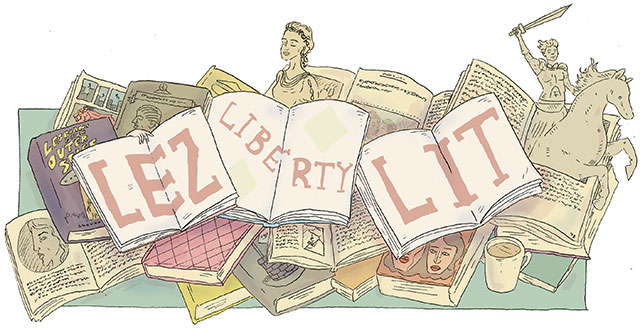 At Midnight Breakfast, MariNaomi wrote about people of color, tokenism and stereotypes, and interviews several cartoonists, including Elisha Lim, Yumi Sakugawa, Jennifer Camper and more, on writing and visually portraying people of color.
A canon of books for girls is so important.
You should know these five black sci-fi writers, including Octavia Butler, Nnedi Okorafor and N.K. Jemisin.
There are also more women in sci fi now, but still not enough.
Mallory Ortberg's Texts from Jane Eyre is a delight and a treasure, and before or after you purchase it you should read her interview with the Hairpin, on which Texts From was born, and her interview with the Guardian for any lingering questions or misandry. Then you should read Sarah Mesle's excellent essay at the Los Angeles Review of Books on Mallory, misandry, and dismantling by appropriating in literary criticism:
"I turn to Ortberg's work in moments when I have been patted on the head by older men who don't see it a problem that they will never imagine me as more than a child; when I am told (overtly or implicitly) that whatever I do it will never be as important as what a man does; when yet another male talent is revealed as abusive and the world fails to respond. I turn to Ortberg when I, like her, feel rather proud to wear the 'misandrist' mantel. I turn to Ortberg when I want to say to the men I love that 'your request of 'gotta hear both sides' has been denied.'"
If you have a certain personality type, lists of books can make you infuriated and obsessed.
Fanfiction is revolutionizing publishing.
Some people like to argue that you should finish everything you start including books, and I do not necessarily agree with them (or with any pro/con list in which a perk boils down to "it builds character"), Juliet Lapidos makes a compelling argument.
At the New Yorker, the excerpted introduction from a new edition of To The Lighthouse explores how Virginia Woolf wrote "some of the most luminous fiction of the twentieth century."
J.K. Rowling wrote a new canon Harry Potter story and it's about Umbridge.
"Reading ignites the miraculous alchemy of associations that is the hallmark of the human mind."
The Atlantic has some great advice on reading poetry: "The very best way to read a poem is perhaps to be young, intelligent, and slightly drunk. There is no doubt, however, that reading poems in old age cultivates a desire to have read more poems in youth."
Casey the Canadian Lesbrarian reviewed Anatomy of a Girl Gang by Ashley Little, writing, "Although there is a shred of hope at the very end of the story, overall Anatomy left me feeling utterly hopeless, cynical, and suspicious of the world. It's to Little's credit that this book absolutely lives up to what the blurb calls 'a narrative punch to the throat.'"
At the Lesbrary, Nicole reviewed The Melody of Light by M.L. Rice. Anna M. reviewed Never Too Late by Julie Blair. Jess reviewed Carry The Sky by Kate Gray.
At Lambda Literary, Mel Morrow reviewed Tell Me Again How A Crush Should Feel by Sara Farizan. Julie Harthill Clayton reviewed The Lightkeeper's Wife by Sarah Anne Johnson. Anna Furtado reviewed Deep Merge, a book that is surprisingly not about the perils of rapid u-hauling by Linda North. Stephanie Glazier reviewed Spheres of Disturbance by Amy Schutzer.
Events To Watch Out For:
November 20, New York: Ari Larissa Heinrich, the translator of Qiu Miaojin's Last Words from Montmartre, will talk about the book, Qui's life, and the translation process at Bluestockings (172 Allen St.), 7 p.m.
November 23, New York: The Everyone Is Gay book is launching at Bluestockings and there will be cat jokes (172 Allen St.), 7 p.m.
Know of a queer event with literary merit? Send it to us! The Liberty Lit is bi-weekly.
---
What We're Not Reading: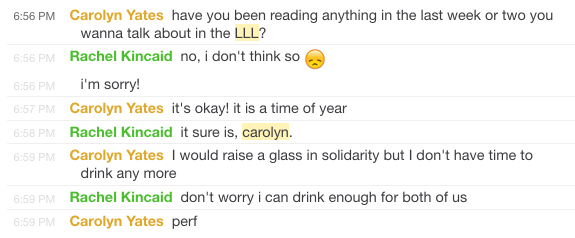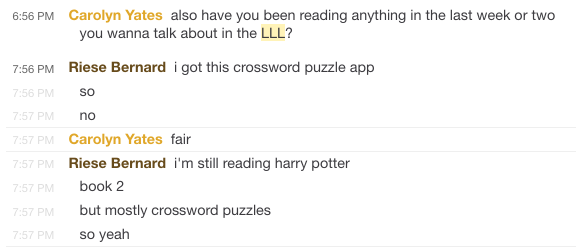 ---
Books! They are really great. You just won't believe how great they are. You may think that the Internet's great, but that's just peanuts compared to books. In Lez Liberty Lit, we talk about literary shit that's happening that you should probably care about.
The name "Liberty Lit" was inspired by the short-lived literary journal produced by Angela Chase at Liberty High School in 1994.