Feature image via peaceandloveinthekitchen.com
---
The holidays are approaching, and all of us are feeling the financial crunch; a year is coming to a close, which means (unpaid) holiday break for many of you, and slow work for those of us who freelance. For me, the end of the year means prepping myself for tax season, buying/making presents, and increasing my therapy sessions—all of which add up, leaving me few funds to entertain with.
Luckily for me (and for you!), I'm a resourceful sort. Are you dreaming of throwing a big-budget party on a teacher's salary? Fantasizing about Gatsby's glitz while pocketing that non-profit paycheck? Working the seasonal grind just to get discounts? Never fear! Fancy redemption is possible, and it comes in a little, inexpensive can.
Behold: canned smoked oysters. Ever had them? They are fantastic. They taste amazing in a sandwich, with crackers, in salad, paired with fruit, and, best of all, in a dip to share with all your friends.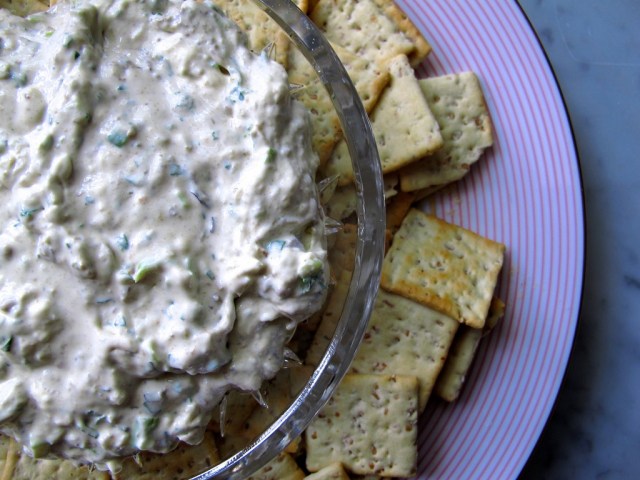 You will need:
1 (3.75 oz) can smoked oysters (Trader Joe's and Whole Foods have sustainably-caught options!)
3 oz yogurt cheese (from this recipe here), or 3 oz of cream cheese if you don't have time to make your own!
1 pinch lemon pepper
1 teaspoon hot sauce (you can substitute Worcestershire sauce if you don't like it spicy, but only if you can pronounce it)
To do:
The day before the party, mash up oysters in a medium bowl and add cheese, sauce, and lemon pepper. Allow to chill for 24 hours for the most flavor. This dip can be served with water crackers, gluten-free rice thins, or pumpkernickel toasts, if you're feeling particularly fancy! Enjoy!