Feature image via shutterstock.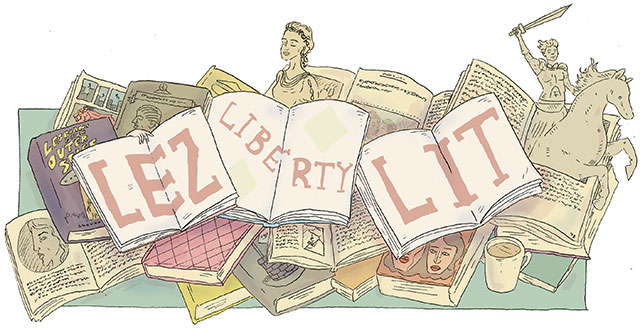 Hi and welcome to this week's Lez Liberty Lit! How did we make it to 100 of these. I have no idea.
Things About Queer Books (And Other Books Relevant To Your Interests)
At the Toast, Sarah Kuhn writes about Asian superheroes and the challenges of representation:
"When there are few representations of something, the ones that exist matter more. While I can convey the reasoning behind this from an academic standpoint (stories are important; we internalize who gets to be the hero; if we never see ourselves as the hero, we never believe we can be that in real life), it's harder for me to put the emotional side into words. I know it's a visceral thing. I know my heart still beats faster whenever I see a woman of color onscreen or on the page getting to Do Stuff. Looking for that representation feels like searching for a wifi signal in the desert, all of your internal circuits lighting up when you finally find it. Suddenly all of the hopes you've held onto for so long get pinned to that one character. Because if she's not what you want, what you've been reaching out for so desperately, how long will you have to wait for another character to come along?"
Quebeckers are good at swearing. (This made me homesick.) (Also PSA for Americans: Canadians pronounce "about" correctly.)
Malinda Lo's favorite YA fiction about lesbian, bisexual and queer girls includes The Miseducation of Cameron Post, Kissing the Witch, Tell Me Again How A Crush Should Feel and more.
"My bookshelves came to double as trophy cases, each book a piece of literary taxidermy that I had slayed." How I learned to stop worrying and empty my shelves.
YA needs to accept asexual characters.
Philosophy needs to pay attention to early modern women philosophers.
American adventure literature needs more women.
What Lambda award winners are you most excited about? What about forthcoming queer YA releases?
A lot of books have been set in California.
The way we talk about history and sexuality is neat.
Reading is connected to eating: "The long, turbulent relationship between reading and eating is invisible to modern eyes, yet in our media-soaked culture, it is more pertinent than ever. The unexamined language of 'devouring' idealises one kind of reading at the expense of others, leaving readers impoverished."
"Why is there less art about eating disorders than about other mental health issues?"
Why not make a zine?
Queers deserve cotton candy books too.
Here are five works of eco-fiction to start with.
And here are books to read for Pride month. And some Canadian books to also read for Pride month.
Just a bunch of covers of smut.
Another book by Roxane Gay is forthcoming (next year).
Casey the Canadian Lesbrarian reviewed Band vs Band Comix by Kathleen Jacques, "a collection of up-beat, adorable, femme-centric comics that couldn't be queerer if it tried."
Book Things To Do In Person
25 June, Durham, North Carolina: Editors S Andrea Allen and Lauren Cherelle will discuss a new collection of Black lesbian short stories, Lez Talk: A Collection of Black Lesbian Short Fiction, at the LRoomBNB, 7 p.m.
Know of a queer event with literary merit? Send it to us! The Liberty Lit is bi-weekly.
---
Books! They are really great. You just won't believe how great they are. You may think that the Internet's great, but that's just peanuts compared to books. In Lez Liberty Lit, we talk about queer books and literary shit that's happening that you should probably care about.
The name "Liberty Lit" was inspired by the short-lived literary journal produced by Angela Chase at Liberty High School in 1994.