Because you deserve to be the best dressed homo in the office. Read previous posts here.
Header by Rory Midhani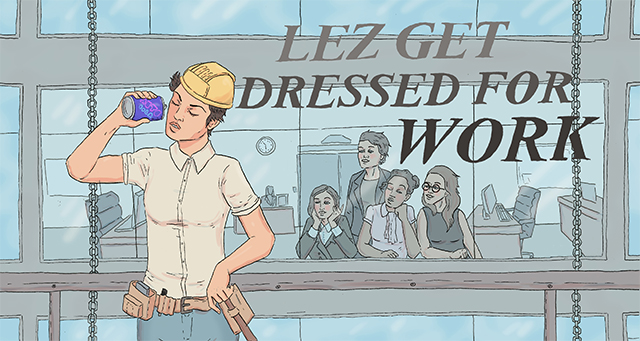 ---
So let's say right now you aren't at A-Camp and instead are sitting at your desk reading Autostraddle wishing you were at camp. Cool, same here. Cute girls are running around in matching camp t-shirts in nature and you and I are (probably?) in different places but are both staring at a screen. It's like we're looking at the same moon. Only it's not the moon because we're stuck inside, at work, in our work clothes. Great!
Maybe there are some people around you wearing suits. Are you wearing a suit too? Do you have to?
Unless you work in a super fancy shmancy corporate office where you have to wear a nice suit every day, you probably have some confusing wiggle room about how much of a suit to wear to work. Honestly I think having to wear a suit makes life a lot easier: you know you have to get dressed up and it's pretty much set how to do it (now, finding things that actually fit you within that category is obviously a different story). But if your work environment is somewhere in between suit and not-suit, you have approximately an infinite amount of things you could wear and how are you even supposed to decide on anything?
I find it helpful to have a go-to, formulaic silhouette for these situations. Today I'm going to tell you about my personal version of it, and you're highly encouraged to share your own. For me, when wearing a suit approximation, it's important that the outline of the outfit looks like a suit: pants (or skirt!!), collared top (which we've talked about), blazer, oxford shoes. But it's actually not a suit because it's not a set, and that's where your personality can shine through.
A suit is technically made of clothing from the same cloth. It's really matchy matchy. If you don't have to wear a perfectly matching suit, I want you to try something: go in the exact opposite route. In putting together your suit-not-suit silhouette, you shouldn't be looking for gray pants to match a gray blazer, because the materials will be slightly different and the colors slightly different and it will thus look slightly sloppy. You should be looking for a bright blue blazer to go with those gray pants, or something could even have a pattern on it. Get creative if your office allows it. Bright colors are fun too.
The exception to this is black. If the blacks match, the materials can be different and it's fine because black is a magical color. But if it's not black, the worst thing that can happen is that it matches-ish, and you don't want there to be anything ish about your outfit. So if it's made up of very different colors yet complimentary colors, you're color-blocking! Literally just blocks of color. That's really in style right now and I don't see it going anywhere. Also, stripes.
Okay, so now we've established why your pants and blazer can/should be different. Let's talk about shapes. My number one issue with the pants that generally come in pants suits is that wide, flowy leg situation. If you're into that, I applaud you and I'm certainly not criticizing you. However. Your work clothes should be a fancier, more professional looking version of what you would normally wear, because you are still you under all that. I don't ever wear flowy, wide-leg pants, and so the thought of suddenly donning a pair just to look professional is pretty counterintuitive.
Make a note of this: if you wear skinny pants or even super-straight legged pants with your blazer, you will look like a rockstar. I actually think wearing skinny pants and a hot blazer is the number one secret to sexy office style. It's so simple and yet I don't know why more people don't do it. Tapered ankles, you guys. Life changing. You can even taper your own ankles if you know how to sew. If you don't know how to sew, time to learn! When searching for skinny work pants online, try searching for "cigarette trousers." If your office allows for it, even go for colored skinny jeans with your blazer. Levi's legging jeans are a personal favorite of mine because they are tight but of a thick material, unlike jeggings, and they are just a teeny tiny bit slouchy, but not so much so that they look unprofessional. They just look fucking cool.
If you like wearing skirts better than pants, the same tapered rule actually applies here in the form of pencil skirts. Have you ever seem a femme in a pencil skirt not looking hot? I certainly haven't.
Blazers can also double as really fantastic transitional jackets. I'm sorry to say it's not summer yet (at least not in New York) and so you can wear your blazer as a light jacket and it will be great. Your blazer can be as traditional as it needs to be: meaning, it can be kind of a moto jacket or even a denim jacket if the situation is casual enough. Or it can be standard, which I promise will still look cute if you're following the instructions so far. Look at this outfit and tell me you're not feeling a confusing combination of lust and envy. This could be you on the way to the office:
In terms of shoes, I promise I will get more in depth with this in the future but my go-tos are all flat and lace-up. I love a good menswear-inspired shoe especially because I'm so femme that often my footwear is what I rely on to balance my look out. Also few things say office homo like rocking a tomboy femme style, and boyish shoes are a comfortable and stylish way to do just that. I'm literally never going to where heels to work and you can't make me. Okay? Thanks. Also OMG look at these cute shoes!
Okay, so what do you think? This is just my interpretation of a suit-not-suit that works for me. What works for you?