Because you deserve to be the best dressed homo in the office. Read previous posts here.
Header by Rory Midhani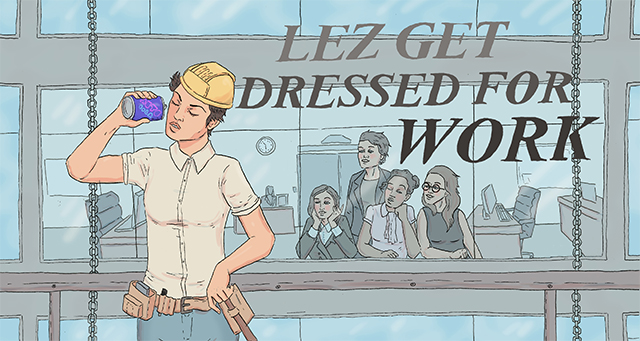 ---
Well creatures, it's been a long fucking road but it's finally here: post-Memorial Day territory. It's just a matter of time before our pit stains grow as long as the early evening shadows, and my pores are filling with dread. Having a job to go to in the summer is a special brand of hell and not just because of the precious beach time one has to miss out on. Between the heat outside, the air conditioning inside, the schlep to and from the office, and your sanity, dressing for work in the summer is real challenge. As a people who, in general, know their way around some layers, it can be jarring to suddenly have to make an outfit out of as little clothing as possible. And how do you wear as little clothing as possible while also looking professional and appropriate?
I had planned to write posts on this topic later on in the summer, but based on your feedback it seems you all need to talk about it like yesterday, so let's do it. This one is a femme-ier take on the problem, so if the following advice and conversation doesn't apply to you, hang tight! I haven't forgotten about the needs of your sweaty office bod, I promise.
Before we talk about clothes, I want to talk about faces. Specifically, the greasy puddle my face would be without the magic of Fresh's mattifying serum. This product has changed my life so much that I really can't talk about summer fashion at all without telling you to buy it. I put it on instead of a moisturizer and then put my makeup on top of it, and it totally de-greases my face for the day. Even if you don't wear makeup, this is a good thing to have. It will also help you out on those days that you don't have time/the will to shower before work. I also switch my lipstick out for a matte stain (Sephora Collection Cream Lip Stain is made of miracles) and I stop wearing liquid eyeliner because that shit runs in sweat like that. Instead, I go for a waterproof mascara and I actually just put my foundation on my eyelids instead of eyeshadow. This gives my eyes a bright pop and stays put for the day. I also put foundation around my lips to be extra sure the lip stain stays where it's supposed to. Between my natural greasiness and all the matte products at work, I end up in the middle at "dewy." It's a nice place to be considering the alternatives.
If you ever wear dresses at all to work, summer is your time. There is nothing, in my book, that feels better when it's a million degrees out than that perfect summer dress. Of course, searching for that perfect summer dress is something many of us spend our entire lives doing, and finding the perfect summer work dress? Femme, please. But listen you guys I promise it's out there! My favorite summer work dress is vintage, from Etsy. I love it because no one else has it, it's just 90s enough to look pretty gay (I don't know, I just feel like 90s fashion looks dykey, this might just be my feelings though), and most importantly it meets my personal qualifications of soft, loose-yet-form-fitting, ventilated, and work-appropriate when worn with a light cardigan. It looks like this, but is longer on me because my legs are shorter than this person's:
It's important that you have a go-to summer work dress because who the eff wants to plan an outfit when you're sweating your brains out? I did some femme sourcing and many of the fashionable femmes I spoke to agreed that the best summer dress for staying cool meets the following standards: cotton, knee- or midi-length, and super breathable. I also prefer to wear sleeveless dresses with a short sleeve cardigan or blazer so that I can shed the outer layer and free my armpits as soon as I leave.
If your office is on the fancier side of things, consider dresses with black and white color blocking. White because summer, black because fancy, and a dress because the aforementioned reasons. It will look super chic, and because of the two-toned nature of the dress, it'll trick people into thinking you planned a whole outfit when really you just put one thing on. This one would look cute on you:
One issue faced by the femmes I polled for this post was not the work dress, but things that surround the wearing of the work dress. Specifically, thighs. Thighs that chafe; bare thighs that now touch gross things like the subway when your dress rides up as you sit down; thighs that sweat and sweat and sweat with nothing to absorb it but your office chair. Anyone else ever leave a butterfly-shaped sweat stamp on their chair on a dress-wearing day? No? Just me? Cool. I hope no one from my day job reads this.
Luckily, there are things you can do about it. Wearing bike shorts under your dress, for starters, will definitely make a difference. There's also lingerie specifically made to address the issues that your thighs, though lovely, present. The brand Luvees comes highly recommended to me, and though I haven't tried them myself, their products are both pretty and claim to address inner thigh burn. So don't just suffer through it if this happens to you!
So what about the days when you don't want to wear a dress? For maximum temperature control, my personal non-dress solution involves an extremely lightweight sleeveless button down and similarly lightweight straight leg pants that can be rolled up. I love the Gap's broken-in straight khakis (see below) for work wear because the loose-ish fit makes them breathable but the leg is nicely tailored, and since they are women's menswear-inspired pants, they add that touch of andro which looks sexy (yet work appropriate!) with a femmier shirt. Throw some cute summer shoes on and you're good to go.
Okay femmes, let's hear it: what are your secret solutions for not drowning in sweat at work now that summer is upon us?