Families are messy and complicated, and holidays are messy and complicated, and there are dozens of movies about women taking home their boyfriends (and men taking home their girlfriends) for the first time on Thanksgiving or Christmas — and all the messy, complicated hijinks that ensue. Lez Bomb, by writer/director Jenna Laurenzo, is the first feature film to take that age-old formula and put a queer woman at the center of it.
Lauren (also Jenna Laurenzo!) is a Brooklyn-based writer in a relationship with a woman for the first time. She and Hailey (Caitlin Mehner) are incandescently happy, and have been for six entire months, and Lauren is ready to come out to her family. The plan is simple: Lauren will go to New Jersey for Thanksgiving an hour earlier than Hailey, casually tell her parents she's gay, and then pick up Hailey at the train station when she arrives for some delicious turkey and dressing and a warm, relaxing day with her entire family. Well, Lauren's mom's still in mourning for her father who recently died, and her dad's operating straight out of Robert Di Niro's Meet the Fockers playbook, and her brother is a lazy cad, and her one uncle is dealing drugs and her other uncle is recovering from cancer and her grandparents are nosy and super religious and her cousin is an angry youth, and oh yes, her roommate, Austin, whose relationship with Hailey is already cold and antagonistic, shows up announced. The simple coming out plan fails spectacularly.
I cannot stress enough that this is a true and traditional comedy of errors, brushing up against all the tropes that have been built atop the stock plot since Elizabethans embraced it centuries ago. Interrupted conversations, misunderstandings, characters witnessing other characters' hidden actions, secrets, confusion, delusion, innuendos innuendos innuendos, and gimmicky plot points galore. Also, true to Shakespearian form, everyone's kind an asshole. (Even the lesbians!) (But you're really going to hate most of these men.) Comedies of errors have always stressed me out, but what makes Lez Bomb work for me is Lauren and Hailey's relationship. In a movie full of purposeful contrivances, they feel real and anchored in a way that's still so rare on-screen — and I cannot resist two women getting a heart-pounding, big-gesture, rom-com happy ending.
I also love movies that get their hands dirty talking about how weird everyone's family is, and how sometimes it only becomes apparent to you when you bring home a person to meet them for the first time. All families have so many different group dynamic going on inside them; introducing a new person to the mix is always a loaded experience. And, the other side of that coin, which is how the one-on-one alchemy you share with your partner comes under a special kind of pressure when you're with your families, especially when your partnership defies tradition.
It's also fun (and uncommon) to watch a coming out story presented in a way you've never seen it before. Even if they're not traumatic, on-screen coming outs are hardly ever whimsical. No one ever launches a turkey at a bridge and tunnel drug cartel during them, just for one example. As a person who's been writing about LGBTQ pop culture for over a decade, I can always tell when a screenwriter is well-versed in queer film and TV canon. It didn't surprise me when I heard Laurenzo say one of her mentors is Rose Troche and that her research for Lez Bomb included casually cueing up old episodes of South of Nowhere. Movies made by queer women about queer women just feel different.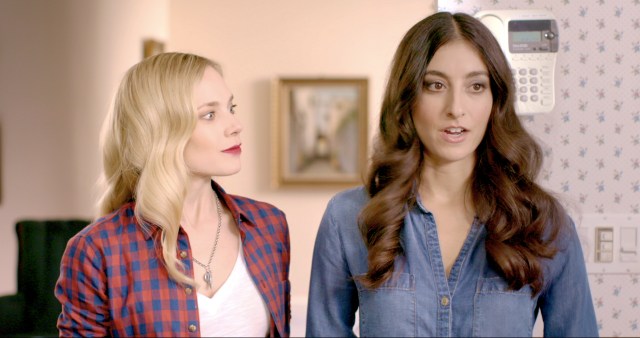 Lez Bomb was one of the most anticipated films making the rounds on the LGBTQ festival circuit this year. I saw it in a packed theater at NewFest. It makes sense: It features an absolutely all-star cast in Cloris Leachman, Bruce Dern, Kevin Kane, Steve Guttenberg, Bobby Farrelly, Elaine Hendrix, and Deirdre O'Connell (who is brilliant and hilarious and heartbreaking as Lauren's mom). It also doesn't hurt that Laurenzo, whose main work before this was the short film Girl Night Stand, is attached to Peter Farrelly's Oscar-buzzy Green Book. And while reviews have been mixed, and while Lez Bomb certainly doesn't hit all the shots it takes, I think it's a really important (and entertaining) step forward.
How many other queer feature films can you point to that are maddening comedies and sweet rom-coms, wrapped up like the warm holiday films we grew up watching about straight people? Queering heteronormative tropes is certainly my favorite way to spend Thanksgiving.
Lez Bomb opens in NYC at the Roxy Cinema and in LA at Universal Cinema AMC at CityWalk Hollywood on November 9th. You can also preorder it through iTiunes.