St. Patrick's Day, every non-Irish person's favourite excuse to get piss drunk, talk in an annoying accent all day and cover everything in Green is coming up once again. But why celebrate an embarrassingly tacky version of someone else's religious holiday when you can hold a party for the patron saint of cat ladies, Gertrude of Nivelles, instead.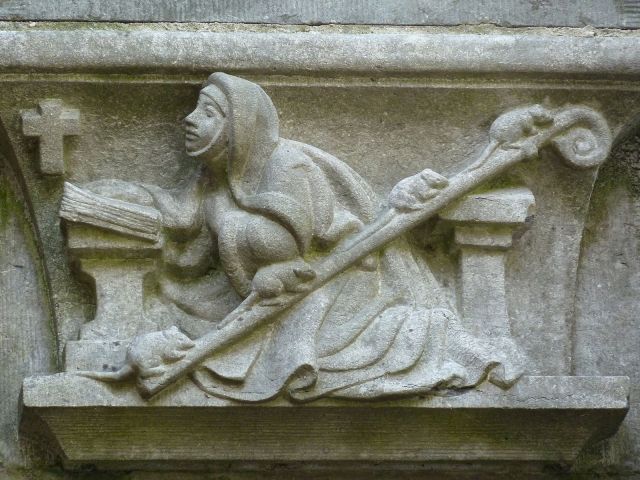 We've talked before about the possible, and sometimes outright flaming, queerness of medieval nuns before. After all, an all female community featuring gardening, fibre arts and a thriving women only arts scene sounds like a great alternative to our capitalist hellscape even now, never mind when it was the only alternative to heterosexual marriage. Though not as obviously queer as Benedetta Carlini or even our fav Hildegard of Bingen Gertrude made her aversion to marriage known early on and with extreme prejudice. At the horrifyingly tender age of ten the King offered her a brilliantly dressed and high born peer of roughly similar age for a husband. Gertrude responded by swearing at the king, her father and the boy in question before announcing she "would have neither him nor any earthly spouse save Christ the Lord." Though this remarkably daring outburst — if indeed it actually happened and isn't just a bit of narrative padding in her saintly biography — was most likely a matter of age rather than inclination Gertrude remained unusually firm in this resolve, managing to make it all the way to twenty two with not a husband in sight.
A chance encounter with a wandering Bishop (something Bishops apparently did way back when) led to Gertrude and her mother founding a convent together, finally securing for Gertrude a lifetime's reprieve from earthly marriage. The years since her father's death had been full of unscrupulous suitors pestering her for her hand, on the grounds that she was very beautiful, very rich and exceptionally well connected. Marriage to Gertrude would mean an immediate promotion to the most powerful family in the land, as first her father and then her brother had occupied the position of Mayor of the Palace; a position roughly equivalent to the Hand of the King if the Hands were all members of the same family and had been slowly undermining the monarchy for generations. Gertrude and her mother had even gone so far as to shave her head to try and turn men away in the years leading up to the convent, something that wasn't just a turn off for medieval men but was specifically a prelude to taking religious vows. Not that this stopped men from trying; Gertrude was such a catch politically speaking that even after she and her mother had settled down and taken their vows they faced fierce opposition from the royal family and her own brother, who still wanted to marry her off.
Gertrude and her mother Itta persisted, however, and eventually convinced everyone to leave them the hell alone to get on with such nunly activities as building a kickass library, collecting bits of dead people (holy relics) and operating a backpacking hostel for Irish monks running away from vikings. After her mother died Gertrude took over running the place, which, perhaps not coincidentally, is when she started having visions. Like her fellow Abbess Hildegard, her "wonderful lights from heaven" sound suspiciously similar to migraine symptoms — something burning the candle at both ends and eating insufficient food, as Gertrude with her love of holy fasting was wont to do, can induce. Her dedication to overwork and asceticism likely contributed to her early death, with some speculating failing health is what led her to resign as abbess three years before she died, aged only thirty.
While Gertrude's aggressive dodging of marriage gives off major lesbian vibes it also doesn't entirely single her out from every other virgin nun saint of the period. What pushes her firmly over into this is clearly a lesbian coded saint come on now territory is her association with cats. As we all know, cats are the wlw's animal of choice (though huge dogs and weird reptiles are apparently catching up fast? Why though? Answers in the comments please) and Gertrude, swearing at kings to avoid getting married Gertrude, is the patron saint of cats. Also of travel (that thing where she kept housing runaway Irish monks), gardening for some reason, and mental illness. Just calling us all out here with our indoor herb gardens and citalopram prescriptions and that mood board of Paris at least half of you keep under your beds.
It turns out that her association with cats gets a little weird, in a recent-CGI-horror-Cats sort of way that definitely ups the queer factor somehow. No, she didn't have a fur catsuit she could unzip her way out of (we hope), but her patronising of the lesbian's best friend has less to do with actual fondness for the purring furballs and more sort of being a cat in a weird sympathetic magic sort of way. Apparently bread baked by Gertrude and water fetched from her well miraculously kept rats and mice away. She even pulled a cat-lady Saint Patrick, driving out the mice and rats (size of area unspecified) through prayer rather than snakes.
So this year, instead of using your famine fleeing ancestors to try and convince equally drunk strangers to kiss you, party like its 659 by drinking beer and petting some cats. It's what Gertrude would want.