Hi there! Are you trying to take photos with more of a ~vibe~? Do you want to try some new things that will give your photos texture and emotions? Have you been thinking, wow, adding cherry chapstick to my photography will really make it look cooler but I'm not sure where to start? Well I am so glad you asked!
I like messy photos – I like to capture moods and emotions in a slightly surreal aesthetic. I love incorporating old and broken things into my photos. I also use textures and trash (literal trash) and things you have in your house right now. These tips will work with everything from phone cameras to pro cameras! You can pick up items on your desk as you read this and start experimenting. 
To demonstrate a few tricks I made my friends (one of whom you might know) go to Coney Island on a cold winter day because why not! Also we ended up building a little story that should probably become a picture book? Or a movie? Would you see this movie?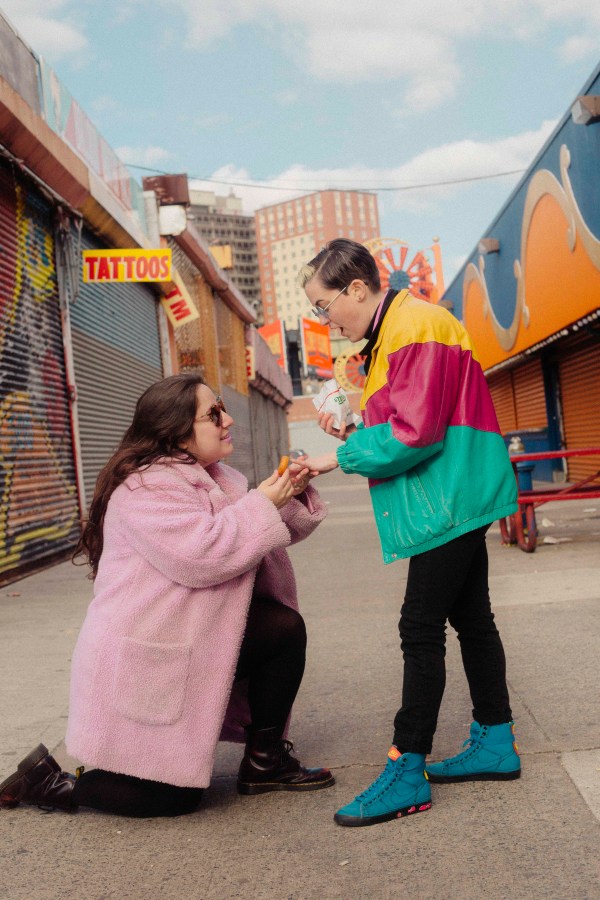 The wonderful models are Vanessa and Shelly!
Okay we're back. Lately, I have been very into hazy photos. To add that slightly soft slightly timeless look to your photos you can use pantyhose! Or a rainbow sheer scarf! Or any fabric that you can see-through if you pull it tight over your lens! In my opinion, anything is worth trying.
Here's an example without and with:
Next! Chapstick! Vaseline! Lube? Whatever you have! The key here – and I cannot stress this enough – is to order a cheap UV lens filter that goes on the outside of your lens. If you are using your phone or a disposable, this is less important as long as you have the proper cleaning supplies. 
You want to smear a small amount in a circle around the edge of the filter (or lens) – you can play around with where it is as it will blur whatever is covered. For concerts, I put a tiny bit around the edge and it makes the lights really fill up the frame and twinkle.
For this I used cherry chapstick because I forgot vaseline and then I went and rolled in sand dunes so my lens was covered in chapstick and sand. I liked it so I kept it. (Note: It was very hard to clean so I was grateful I did not apply it directly onto the lens.) This is also applied very liberally and way more than I would use to produce a subtle effect.
If I can leave you with any tip it's just to literally put stuff in front of your lens. The most well known options are prisms and crystals but you can use your phone if you set the screen to black and hold it along the edge of your camera! Cut open a ziplock bag and stick the camera through it! I've even cut open a paper cup and shot through the bottom. 
Once you've taken these amazing fun new photos where some things worked and some things really didn't (life is a journey) it is time to edit! Get wild, make cool art, alter reality, send me what you make!
Here are some bonus images!