Non-avid readers of poetry, when asked to think about what poetry is, will list off names from the "literary canon." Usually, these poets are white, male, and deceased. Many of them have been pioneers in craft and form but contrary to popular belief, poetry did not die with them. It continues to be an ever-evolving, changing form.
Poets like June Jordan and Audre Lorde have paved the way and inspired the voices of many black poets for generations; their impact cannot be overstated. However, I've noticed we celebrate our poets when they have passed and not as much when they are here on earth with us. We have to recognize the past while giving love and recognition to those we still have.
In a sense, we never really lose a poet. Their work lives on with us through books, memories of seeing them read, or video evidence of performances. Here in 2020, we can start to form new memories and associations with these eight wonderful poets. I believe they are the face of reviving the genre. I always want to push poems on people, so I'm also presenting you with some of their recent or upcoming works. Head to your favorite, local, indie bookstore and pick up a few of the collections on this list before the month is over!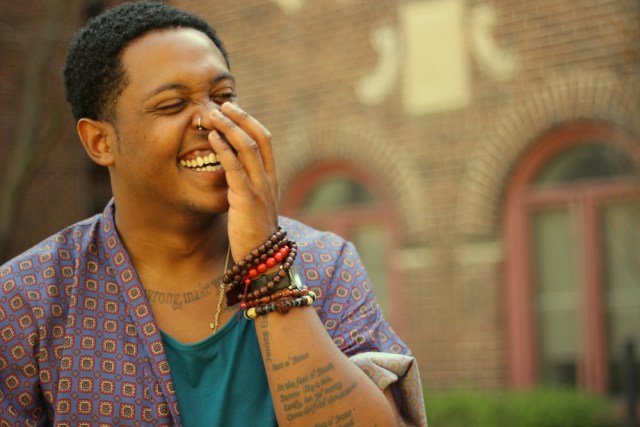 Danez Smith is a Black, Queer, Poz writer & performer from St. Paul, MN. Danez just released a collection of poetry called Homie (Graywolf Press, 2020), which you can buy and open for a secret surprise! They also are the author of award-winning  Don't Call Us Dead (Graywolf Press, 2017), winner of the Forward Prize for Best Collection, the Midwest Booksellers Choice Award, and a finalist for the National Book Award. Their first collection, [insert] boy (YesYes Books, 2014), was the winner of the Kate Tufts Discovery Award and the Lambda Literary Award for Gay Poetry.
Why Danez
I first was introduced to Danez Smith when they came to my city to do a reading as a Cave Canem fellow. Immediately I was electrified by their performance energy, voice, and general aura. They co-host one of my absolute favorite podcasts, VS (versus), with poet Franny Choi. It is a hilarious, moving look into poetry as craft and practice through conversations with some of the most dynamic poets of our time. When listening, I'm always struck by Danez's ability to get to the seed of a thought in a poet, and their ability to make that seed erupt into fruit or flower. The same magic is done in their poems. Smith's poems often start with an almost conversational voice that sharpens to deliver devastating lines. Many of those lines celebrate the triumph of blackness in a world that wants to shun and harm it.
A Poem to Start With
Come, tonight I declare we must move

instead of pray. Tonight, east of here,

two boys, one dressed in what could be blood

 

& one dressed in what could be blood

before the wound, meet & mean mug

 

& God, tonight, let them dance! Tonight,

the bullet does not exist. Tonight, the police

 

have turned to their God for forgiveness.
New or Upcoming Collection
Follow Danez on Twitter

Donika Kelly is the author of Bestiary (Graywolf, 2016), winner of the 2015 Cave Canem Poetry Prize, the 2017 Hurston/Wright Award for poetry, and the 2018 Kate Tufts Discovery Award. Bestiary was longlisted for the National Book Award (2016) and a finalist for a Lambda Literary Award and a Publishing Triangle Award (2017). She received her MFA in Writing from the Michener Center for Writers and a Ph.D. in English from Vanderbilt University. She's an Assistant Professor at Baruch College, where she teaches creative writing.
Why Donika
I began reading Donika Kelly's collection Bestiary after I had finished my own manuscript of poetry. It's a stunning collection that handles grief and abuse through images of mythical beasts and creatures. The first poem I had ever read by her is the one I have linked below, and to this day I recite parts of it to myself as I move throughout my life. The action of writing her name in the sand, the syllables perfectly timed, can carry me through a bad moment. Kelly's poetry often takes the reader into the dark territory but emerges with understanding and love. Bestiary as a collection is imaginative, stunning, and leaves the reader in an almost meditative state, contemplating the lasting effects of trauma on the mind and the language we use. It as anchored by love poems written from the perspective, or out of the perspective of different mythical creatures: werewolves, centaurs, mermaids, etc. These poems allow the speaker to say the unsayable, which is a confrontation many poets come to at some point in their careers; how to write the hard poem. Bestiary is a masterclass in writing the hard poem.
A Poem to Start With
The moon rose over the bay. I had a lot of feelings
To the ditch lily I say I am in love.
To the Jeep parked haphazardly on the narrow
street I am in love. To the roses, white

petals rimmed brown, to the yellow lined
pavement, to the house trimmed in gold I am

in love.
Collection to Read
Follow Donika on Twitter

Justin Phillip Reed is an American poet and essayist. He is the author of Indecency (Coffee House Press, 2018), winner of the 2018 National Book Award in Poetry, winner of the 2019 Lambda Literary Award in Gay Poetry, and a finalist for the 2019 Kate Tufts Discovery Award. His second full-length collection of poetry, The Malevolent Volume, will be released in April 2020. He is the 2019-2021 Fellow in Creative Writing at the Center for African American Poetry and Poetics. Reed received his BA in creative writing at Tusculum College and his MFA in poetry at Washington University in St. Louis, where he served as Junior Writer-in-Residence.
Why Justin
This poem linked below is one of incredible sight, one that rings with a painful truth that many black women know. To be seen in such a way by someone who is not a black woman is necessary and fraught with emotion. Reed's poetry is poignant and filled with that same sense of urgency depicting vivid and imaginative pictures of black life. Some of his poems feel like sermons, others read with playfulness and musicality that is a sign of reverence for language. The images in his poems are so vivid and jarring at times that reading them silently, I can feel the tension in my mouth and body. That visceral reading experience is rare and deserves to be celebrated.
A Poem to Start With
Pushing Up Onto Its Elbows, the Fable Lifts Itself Into Fact
Collection to Read
Unlike missing Black girls, taking Black girls is a Western custom. It seems likely that such a statement will soon appear inaccurate: the white space in new textbook editions will have nothing to say about it, if the white spaces behind those textbooks have anything to say about it. That Black girls are quintessential American palimpsests is not a question but an anxiety. _________ would rather forget that Black girls were made receptacles for what the authors of Liberty and Independence would not speak.

Angel Nafis is the author of BlackGirl Mansion (Red Beard Press/ New School Poetics, 2012) and the founder and curator of the Greenlight Bookstore Poetry Salon. She earned her BA at Hunter College earned her MFA at Warren Wilson College. Her work has appeared in The BreakBeat Poets Anthology, The Rumpus, Poetry Magazine, Buzzfeed Reader and elsewhere. Nafis is also a Cave Canem fellow, like many of the other poets on this list. With poet, musician, artists and partner Shira Erlichman, she started the ODES FOR YOU TOUR. Along with poet Morgan Parker, she runs The Other Black Girl Collective, an "internationally touring Black Feminist poetry duo." Nafis was a recipient of the Ruth Lilly and Dorothy Sargent Rosenberg Poetry Fellowship from the Poetry Foundation and in 2017 she was awarded a Creative Writing fellowship from the National Endowment for the Arts.
Why Angel
I found Angel Nafis on twitter through interactions with Danez Smith, and a few months later a friend bought me a copy of the BreakBeat Poets' Black Girl Magic volume, in which one of Angel's poems was published. What I love about her work is that everything feels so excruciatingly timed and rhythmic. This may be a by-product of being versed in both spoken word poetry and page poetry, and also just being an incredibly observant poet. So much of my enjoyment of poetry is the rhythm, so it is lovely to be able to read a poet that values it as well. Even her poems without punctuation still read with an ease and delicacy that makes you forget you haven't seen a comma or a period at all. Her hold on the glory of language is palpable and that makes each word feel like something to reckon with. The line in this poem "lacerated like a web" actually makes you feel the laceration; it's evocative and painful, you can feel your body curling into the bruise of it. That's damn good writing.
A Poem to Start With
Angel bowled over like a promise.

Angel howling, adhered to a ribbon of prayer.

Angel, splayed like a galaxy.

Angel, viscera smooth and glistening.

Angel, dilated like a cashed check.
Collection to Read
Follow Angel on Twitter

kemi alabi has been published by The Boston erview, The Rumpus, Guernica, Catapult, Black Warrior Review, Best New Poets 2019, The BreakBeat Poets vol. 2 and other publications. Their debut collection The Lion Tamer's Daughter will be published by YesYes Books in August 2020
Why kemi
The poem I've chosen here is the only one that links to a book and not a poem, and that's because I really think you should read this poem as it appears in the context of this book. kemi alabi is a poet I think about a lot, and I can't wait for their collection to come out this year. They are an expert deliverer of gut-punching lines and stanzas. Whether writing in form or in free verse, you get the sense that alabi has physically endowed every word with an immeasurable force by hand. Lines land with a loud thunk, though the weight does not negate the grace. The staccato-esque style in which this poem is written allows for each word to carry its own weight, the spareness of words compared to the white space on the page makes sure the words are doing the heavy lifting.
A Poem to Start With
Mr. Hotep Says #Blacklivesmatter and He'd Kill a Dyke 
the dyke within

tires of

the nigger without.

sick of rope

when the brick

calls her name

same blood,

same alley,

wrong hands,

wrong headline.
New or Upcoming Collection
The Lion Tamer's Daughter (YesYesBooks, Forthcoming 2020)
Follow kemi on Twitter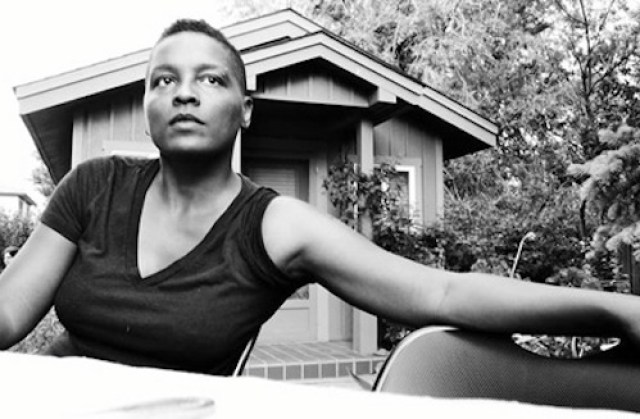 Dawn Lundy Martin is a poet, essayist, and conceptual-video artist. She is the author of Good Stock Strange Blood (Coffee House, 2017), Life in a Box is a Pretty Life (Nightboat Books, 2015) – which won the Lambda Literary Award for Lesbian Poetry, DISCIPLINE (Nightboat Books, 2011), and A Gathering of Matter / A Matter of Gathering (University of Georgia Press, 2007). Martin is a professor of English in the writing program at the University of Pittsburgh and Director of the Center for African American Poetry and Poetics. She's also the recipient of a 2018 NEA Grant in Creative Writing.
Why Dawn
Dawn Lundy Martin is a legendary poet who's work I've admired for years. Her poems are warm and urgent, and depict the trials and triumphs of life as a black person and a queer person. Martin is currently the director of the Center for African American Poetry and Poetics of the University of Pittsburgh, a program that builds off of the legacy of collectives like Cave Canem which seek to uplift and amplify the voices of black poets worldwide. When it comes to championing young black poets, Martin is certainly doing the work. Her poems often visit the violence that happens in domestic scenes and how the idea and space of a home can be tainted.
A Poem to Start With
Dear one, the sea smells of nostalgia. We're beached and bloated, lie

on shell sand, oil rigs nowhere seen. It's Long Island, and the weather

is fine. What to disturb in the heart of a man?
Collection to Read

Rickey Laurentiis was "raised in New Orleans, Louisiana, to love the dark." They are the recipient of many fellowships and foundational support including the Whiting Foundation (2018), Lannan Literary Foundation (2017),  and the Poetry Foundation, which awarded him a Ruth Lilly Fellowship in 2012. Laurentiis received an MFA in Writing from Washington University in St Louis and a Bachelor's in Liberal Arts from Sarah Lawrence College. Laurentiis was the inaugural fellow for the University of Pittsburgh's Center for African American Poetry and Poetics Fellowship and is currently working on their next collection of poetry on desire and pleasure.
Why Rickey
Rickey has been described as a "magician who can slow down time" and that description is very apt. You get the sense that whatever object they have presented before you is being stripped to it's most naked form. The language drips and covers. Each poem uncovers something different about the reader's own mode of thinking, they can serve as an interrogation and as a balm. I have been intrigued by their meditation on penetration in their poetry, both as a queer sex act and an act of violence. The poem I've chosen here pairs incredible violence with the tender act of the speaker almost reaching out to lick the feet of the men who have been murdered for their desire for each other. This image strikes me as reclamation and a way of praising the dead.
A Poem to Start With
This was my eyes' closed-eyed vision

This is what a darkness makes

And how did I move from that distance to intimacy

So close I could see

The four soles of their feet so close I was kneeled

Could lick

Those feet as if I was because I became

The fire who abided
Collection to Read

Xandria Phillips is a poet and visual artist from rural Ohio. They have received fellowships from Oberlin College, Cave Canem, Callaloo, and the Wisconsin Institute. Their poetry has been featured in American Poetry Review, Crazyhorse, Poets.org, Virginia Quarterly Review, and elsewhere. Their first book, Hull was published by Nightboat Books in 2019.
Why Xandria
This poem is a sexual delight that chronicles an experience that is common to many LGBTQ people – leaving a vibrator on through the night. It's a meditation on pleasure and intimacy that will leave you wanting more poems, more power. Phillips' work often deals with that intimacy and the greater question of being a vulnerable person in the world. Their poems confront the history and the present together in the same room, while discussing the intricacies of being a black queer person in a post-colonial world.
A Poem to Start With
Ode to a Vibrator Left On All Night
Remember the animal that after escaping,
returns to captivity. Choice crushed my

body into shapewear. Want for motion
free of direction folded me into cars

with strangers. I want when I want, and then
I wish for corrosion. This man and I both

nameless as rust in scrap metal garages
of memory. I am too versed

to lavish praise on stamina alone,
but I must admit, my girl has bars.
New or Upcoming Collection
Follow Xandria on Twitter