First of all, Jade Goodwin-Carter, if you're the girl who asked me on formspring if you should wear a tuxedo to prom and I said YES, I apologize for underestimating the ire school officials feel towards women donning menswear at major school dances. Everyone knows that wearing a tuxedo to a school dance is the number one cause of scabies and I clearly forgot that while thinking about how cute girls look in menswear.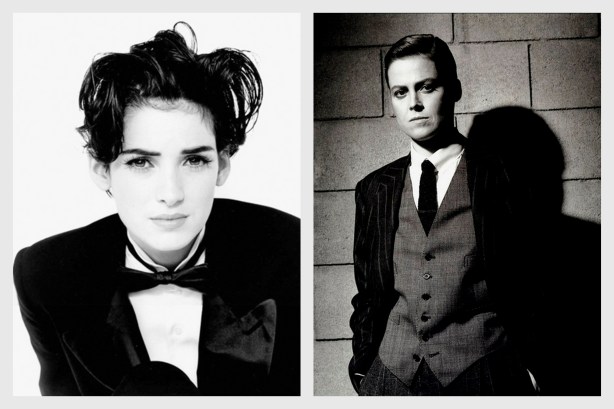 Anyhow, Jade Goodwin-Carter is a lesbian and attends St.Francis Catholic Preparatory School in Sacramento, California and she was told by school administrators that she wouldn't be allowed to wear a tuxedo to her school's Senior Ball.
Goodwin-Carter told News10 Sarcamento: "I was appalled, I didn't even think it would be a topic of discussion. I didn't think there needed to be a decision to make."
Apparently Goodwin-Carter needed to "reason with administrators" to be sure they knew that her desire to wear a tuxedo was unrelated to her desire to make out with cute girls. She specified: "I'm wearing it because I feel it's empowering to women everywhere, not as a statement."
But the school flipped out, which Goodwin-Carter says came out of fear that she'd appear "too manly" or "as if I was going as a man."
Obviously in this day and age of facebook petitions and riotious children, this decision wasn't going to fly. A Facebook group was started and instantly gained steam, while furthermore "students and even some teachers and parents expressed their dismay with the decision." Goodwin-Carter affirms that her supporters ranged from alumni to family members to her friend's family members and she actually couldn't find one single person to come out and say "I agree with this decision."
Within a few days, St. Francis School Administrators let Jade know that they changed their minds and she is free to don the formal attire of her choosing.
School president Marion Bishop was clear that the decision had nothing to do with Jade's sexual orientation:
"I don't want to point a finger at anybody, but perhaps it wasn't well thought out… She gave us her reasons for wanting to wear a tux and they seemed very legitimate. We were fine with that so we reversed our decision."
Jade Goodwin-Carter isn't convinced that the reaction was unrelated to sexual orientation:
"I think they didn't want to perpetuate the idea of someone being a lesbian. They didn't want to create controversy within the student body, people going to ball or the parents of people going to ball… I do think there's a consequence. (Their first decision) sent out a message of we don't accept women who look like lesbians to come into the ball."
High schools historically have a record of caring way too much about what people wear to prom and who people bring to prom and not everybody goes to McKinley High. You probably remember the Constance McMillen story from last year, or maybe just the gallery we put together of your  lesbian prom photos, which is probably the greatest thing we've ever done.
Congratulations Jade, you're gonna look positively dapper. Additional inspiration is at your disposal.