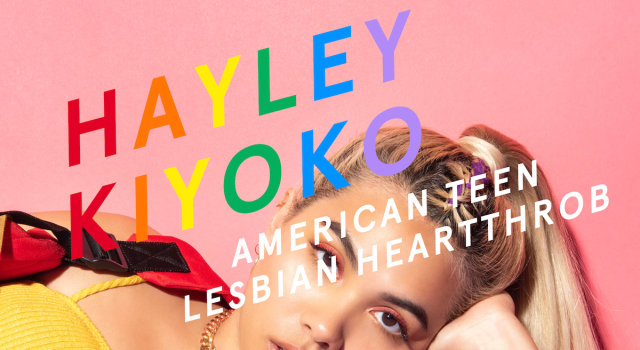 On the day after Hayley Kiyoko played Coachella for the first time — a dream she'd had since her first trip to the music festival as a teenager — I went to a photography studio in downtown Los Angeles where Hayley was getting her hair done and re-done and her outfits picked out and adjusted and removed and re-picked-out while photographer Lindsey Byrnes and her assistants unrolled giant sheathes of colored paper and taped them in place for Hayley to stand on while wearing the final outfits and final hairdos. She was being photographed for her first-ever cover story and Nylon's first-ever Pride issue. (Technically, Hayley has been on a magazine cover before, when she appeared as one of Lemonade Mouth co-star Bridgit Mendler's "BFFs" in a 2011 issue of Girl's Life, but this was her first real, solo cover story as the musician Hayley Kiyoko.)
Later, I'd grab thirty minutes with the 27-year-old musician/artist/dancer/actress on a couch in another sparsely-furnished room draped in a giant American flag, and later still I'd see her after the ecstatic sold-out show in Santa Ana that I attended with her publicists (her parents were there too), and then the week after that we'd finish up on the phone while she was Utah on her "Expectation" tour. She was warm and funny and insightful and everything you'd expect her to be.
I was hired to write the story by Gabrielle Korn, Nylon's first lesbian editor-in-chief and a former Contributing Editor for Autostraddle.com. (You may remember her columns How To Own It and Lez Get Dressed For Work.) This is Gabrielle's first summer as Editor-in-Chief, and thus this June marks Nylon's first-ever Pride Issue. She writes in her letter to the editor:
Since I joined staff as a senior editor in 2014, I've worked to increase our queer content online, from aesthetic representation to political takes. Stories that address queer issues have become some of our best-performing posts, evidence that our audience–you!–is made up of queer people and allies. In September of 2017, when we shifted to all-digital and I became Editor-in-Chief, one of the first things I did was change the monthly print themes to reflect what we'd learned from digital about what NYLON readers want, the queerness of our audience being a top priority. And, frankly, as NYLON's first-ever lesbian EIC, it's particularly important to me that part of the hallmark of my tenure here is making everything a little bit gayer. And that, friends, is how our Pride issue was born.
It's been a crazy week for Kiyoko — when I talked to her in April she was already visibly delighted by the fact that she'd shot a music video a few months ago that hadn't come out yet, and she wasn't gonna tell me the song it was for. "It's gonna come out, probably this summer," she told me, grinning. "It might come out right before the cover, or it might come out right after. But it's so good, I love it." That video — for her duet with Kehlani, "What I Need," debuted yesterday, and the internet lost its collective mind. This week, she starts doing press for the Facebook series "Five Points," Executive Produced by Kerry Washington, which debuts next week.
Although the opportunity to do this story came at an inopportune time — the immediate lead-up to A-Camp, and (surprise!) a breakup — I took it anyway, 'cause I'm so stoked about Hayley Kiyoko's existence and have been fascinated by her success as an out lesbian pop star, as well as her persistent refusal to stop telling authentic stories in her self-directed music videos. "Expectations" is my favorite album of 2018 and I've listened to it approximately every day since it debuted in March. We did a cover of "Curious" at A-Camp, and I noticed at least one cabin with one of Hayley's TWENTYGAYTEEN rainbow flags flying outside their cabin. I haven't been this excited about a pop star since I fell in love with Britney Spears in 1999, which probably made me gay.
I love that she loves girls too much to ever stop talking, let alone singing, about them. And if you wanna read me talk to her and talk more about that, then head over to Nylon Magazine right this instant.