We are living in 20GayTeen, the First Year of Our Lord Lesbian Jesus Hayley Kiyoko. Today she has released her first full-length album, Expectations, and she has delivered and surpassed any of those that we could have had. Because we are so blessed to have Hayley in our lives, here at Autostraddle we feel strongly that we need to do what is right and good: buy, download and stream Hayley's new album today. We're living in the future: we have the lesbian of color rising pop superstar we've been dreaming about. We have an album from one of the hottest young pop artists in the country right now where every love song is explicitly about girls. In-your-face, unambiguously lesbian songs being played on the radio and TV! We can show our enthusiasm and support by streaming Expectations today.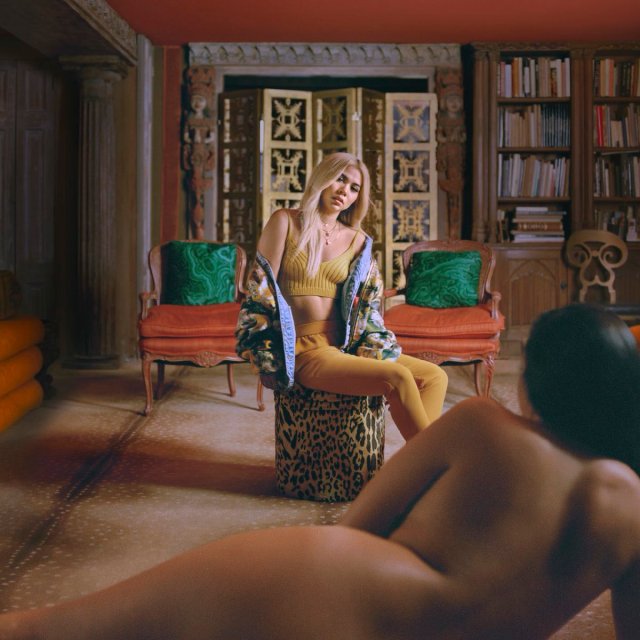 Expectations features a few song we already know, love and flirt with girls to, like "Curious," "Feelings," "Sleepover" and the recently-released "Let It Be." "Curious" is a total bop and so far my favorite song of hers. In it she sings about the girl she likes who's dating a boy, asking if he touches her "the way I used to." In "Feelings," Hayley talks about how she can't hide any of her emotions and never acts cool around the girls she likes — relatable, amirite? "Sleepover" is more of a quietly heartbreaking slow jam that's about unrequited queer crushes. Her newest single, "Let It Be," is a great song about trying to move on from love and finding the strength to keep going. Hayley Kiyoko has been releasing some of the queerest EPs and singles for a couple of years now, leaning into explicitly depicting feelings between girls in her songs and videos both, and she's finally stretching her creative wings to deliver a full album of lesbian bangers.
On top of delivering the gay pop hits we know and love from her, Expectations also sees Kiyoko trying out some new things and growing as an artist. It features a few things she's never explored before, like the duet with fellow queer pop star Kehlani, "What I Need." Songs like the back to back "Mercy/Gatekeeper," and "Under the Blue/Take Me In" are ambitious, both over five and half minutes long, and when Hayley reaches for the stars, she grabs a whole handful of them. For every total dance-friendly bop on this album, there's a really thoughtful exploration into how complex and interesting a really good pop song can be. When she returns to more traditional pop, she hits hard with "Wanna Be Missed," a guaranteed Lesbian Feelings classic, and the bouncing girl-power jam "He'll Never Love You (HNLY)." This album is fun to listen to from start to finish, to and never lets you down.
This is the gift we've all dreamed of since we were kids. This is the red carpet debut of a lesbian icon. Celebrate Gay Good Friday and Lesbian Easter with Hayley Kiyoko and Expectations.