BOOKS: 8 Awesome Books By Women: An '00s Bookshelf from Jezebel includes Alison Bechdel, Michelle Tea, and Riese's favorite book, Veronica by Mary Gaitskill. We thought we'd make a list for you featuring queer women, 'cause you've probs got someone to do holiday shopping for, and books make great gifts because you're not just giving a gift, you're also imposing a value system upon your beloved (READ, DINGBAT, READ!)
8 Awesome Books by Queer Women: An '00s Cardboard Box-Shelf
Obvs we'd like to echo the awesomeness of Rent Girl by Michelle Tea (2004) and Fun Home: A Family Tragicomic, by Allison Bechdel (2006), and add:
Name All the Animals: A Memoir by Alison Smith (2005): "An unparalleled account of grief and secret love."

Trace Elements of Random Tea Parties by Felicia Luna Lemua (2004): "Leticia Marisol Estrella Torrez is a young woman in her early 20s valiantly trying to find her place in a world of queers living life on their own terms."
Keeping You a Secret by Julie Ann Peters (2003). As discussed in "Riese & Laneia Read YA Novels Part #1",  Laneia said – "Definitely one of the better Lezzie YA books. Lots of feelings and an array of traditional GQBLT conflicts. I agree with The Riester – this was a sweet little read."
Sorry, Tree by Eileen Myles (2007): "In her signature short, piercingly demotic lines, Myles fiercely mines concatenated observations for the raw stuff."
The IHOP Papers by Ali Liebegott (2006): "The portrait of an artist as punk waitress."

The Other Side of Paradise: A Memoir, by Staceyann Chin (2009): "Jamaican performance artist Chin finds warmth and humor in her abject, parentless childhood."
Fingersmith by Sarah Waters (2002): "A damning critique of Victorian moral and sexual hypocrisy, a gripping melodrama, and a love story to boot."
EAT MAGAZINES: "Rolling Stone is about to take a leap into the entertainment industry, starting with a large-scale restaurant and nightclub in Hollywood. Chez Cosmo, Slate's Plates, and seven more restaurants based on magazines. "(@slate)
MOVIES: "American Film Institute's Picks its Top Entertainment for 2009: A Few Gays Allowed!" (@shewired).
BRITNEY & ANNIE: An interesting clash of strong women at bizarre moments in their careers: Annie Leibovitz is back to work and shooting Brit Brit's new Candie's for Kohl's clothing ad campaign.. (@hollywoodlife)
DRESSING GAGA: Jezebel has a great photo gallery of Lady Gaga's crazy outfits throughout 2009. There are so many good ones to choose from, but I think the Kermit the Frog dress is still my favorite.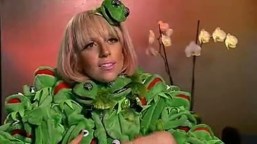 LADY GAGA: "Has Lady Gaga turned into a Fame Monster complete with an intrusive manager who would jump in and answer questions?" Lady Gaga evades questions during an interview in Singapore and her manager butts in and asks that certain questions are not asked. It's weird, is this a new stunt? You should watch all six parts, which are unedited, which adds to how weird it is. (Part 1 is below)
MEDIAITE "Um, has everyone in media lost their mind when it comes to media aimed at African Americans?" This Exists: 'Afro Picks' In Publisher's Weekly , Literally. (@mediate)
PRINCESS: The best and worst Disney Princesses suggests we've gotten "better" with age. (@starpulse) This is all in honor of The Frog and the Princess, which topped the box office last week. (@bossip)
LOHAN: At last good news for Lindsay — her Dad is going to jail! (@newser)
---
Before you go!
It takes funding to keep this publication by and for queer women and trans people of all genders running every day. We will never put our site behind a paywall because we know how important it is to keep Autostraddle free. But that means we rely on the support of our A+ Members.
Still, 99.9% of our readers are not members.
A+ membership starts at just $4/month.
If you're able to, will you join A+ and keep Autostraddle here and working for everyone?
Join A+