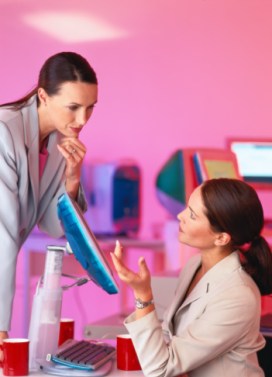 WORKPLACE: Above the Law reports on a "Girl-on-Girl Sexual Harassment" case they find "hot" and "special," rounding up their evaluation with the question, "Do you think employees suffering from Post-Lesbianic Harassment Syndrome should be entitled to some extra time off from work?"
Basically, plaintiff Jennifer Braude says her boss, Meredith Sossman, sexually harassed her pretty consistently for a long time, complementing her "dick-sucking lips," calling her "dirty hot," sharing her fondness for getting slapped during sex and asking her if she'd be up for a threesome. Though Sossman was fired, Braude feels she was penalized for "rocking the boat" and that her complaint was not dealt with immediately.
Jezebel has more nuanced analysis, wondering why it's so hard to find statistics on girl-on-girl sexual harassment and wondering if when it does happen, it's taken less seriously — and if so, should it be? It sounds like Sossman was just a douchebag. Maybe "douchebag" is the fourth gender.
I'd also recommend you check out this essay from nerve, published in 2005: "Where the Truth Lies: Confessions of a lesbian fired for sexual harassment."
CRIME: Mixed Verdict in Trial for South African Lesbians Death: Eudy Simelane, 31, was one of the nation's best female soccer players and a lesbian activist, "a tall, muscular woman who knew how to defend herself with her fists and her elbows. She could not have been easy to kill."
She was killed in April 2008, one of 18,148 murder victims in the 12 months that ended in March. Her best friend remembers their lesbian adolescence in Kwa Thema; dressing "butch" in pants and t-shirts and "jockeys instead of panties." They preferred girlfriends who were "looking beautiful with makeup and everything."
And then there's this:
The Simelane case has been central to a campaign to bring attention to attacks against lesbians and gay men. But sexual orientation was never established as a motive at the trial. Judge Mokgoathleng was uncomfortable with the term lesbian itself. "Is there another word that you can use instead of that one?wp_postshe asked the prosecutor.
ANTI-GAY JUDGE: Over Equality California's strong objection, the Commission on Judicial Appointments confirmed Gov. Schwarzenegger's selection of anti-gay Senator Charles S. Poochigian for a seat on the 5th District Court of Appeal yesterday.
OMG shut up already NOM!! An activist is Subpoenaed by NOM.
GOP: Healthcare Bill Has Antigay Bias: "Proposed legislation for expanded federal health care is discriminatory against same-sex couples and their families, says the executive director of GOProud, a conservative Republican group."
Say no to H8: Why Did Equality California Just Shit on the 2010 Ballot Repeal?: Geoff Kors is pissed that "after EQCA helped out LHC, they didn't even have the courtesy to run their final ballot language by him." (@queerty)
HIV IMMIGRATION: The ban on HIV positive immigrants has been lifted by the US Customs and Immigration Service. (@advocate)
NOW STRAIGHT PORN MAKES YOU GAY: Jon Stewart's latest work of genius, proving again & again that george w. bush is not the only idiot in the world who needs to be made fun of.
"Not to bust your bubble there, but you know there's one thing that 11-year-old boys like even less than homosexuality, and that's girls." -Jon Stewart