Lady Gaga sat down with Musicians@Google for an uninterrupted, high quality hour and 13 minutes of revealing, insightful interview. Set up as a Q&A, she tells the story of how she mailed Def Jam employees hand-painted disco balls and gummy worms precisely 1 month before she was dropped from the label in 20006, discusses the Springsteen/rock influences on Born This Way and her plans to co-direct the video for her next single, "Judas."
However, perhaps the greatest moment of this interview (for me) occurs when she name-checks MY OLD NYU DORM while referencing an old college friend who now works for Google:
"Andrew was an RA at Third North where I went to college [NYU], and he wrote me up for drinking in my room. So we go way back, Google."
Anyway, some highlights of these must-see 73 minutes:
Why she only tattoos the left side of her body:
"It was actually per my father's request. He asked that I remain, on one side, slightly normal. So, I only have my tattoos on my left side. I think he sees this as my Marilyn Monroe side and he sees this as my Iggy Pop side."
The rock sound of the Born This Way album:
"I would call it avant-garde techno rock. There's a lot of rock influences on the album, but not in a 'This is a rock music record' kind of way. It actually is quite steadfast in that it is an exploration in electronic music and in techno sonics. But I have sort of created a genre of metal dance techno pop music with a lot of rock anthemic choruses because that is the music that I love. I'm actually really obsessed with Bruce Springsteen. My father used to play a lot of Bruce Springsteen records when I was a kid, and he was blue collar America. And in a way, I related to Bruce because I watched my father, a blue collar American citizen, relate to Bruce and I think that in a social way, my fans feel blue collar. They feel like they're the underdogs that will someday be the winners. And I took the influence of Bruce on my father in my life to create this album. Lots of really big, almost big Def Leppard-style melodies in the choruses, but it's electronic dance music. It's very hard and very edgy, and I'm very excited for you to hear it."
How the processing of her Grandpa dying inspired the Bruce Springsteen-esque, "Edge of Glory":
"One of the songs on the album that is truly one of my favorites, it's called "The Edge of Glory" and it's kind of a sad story. Sorry to be a downer. But my grandpa died about five months ago, and my dad and I were going to say goodbye to him at the hospice, and I got out a big thing of agave tequila and my dad sat next to me at the piano and we started doing shots back and forth, and I wrote 'The Edge of Glory' on the piano and my dad and I cried. The song's about your last moment on Earth, the moment of truth, the edge of glory is that moment right before you leave the Earth. So that song can be played on the piano, but it's actually set to this giant, huge techno rock Springsteen-esque dance beat. I actually had Clarence Clemmons from the E Street Band come in and play saxophone on it. It's fucking beautiful."
On reality television:
"You will never see me do reality television. Don't even ask. It will never happen. It's just, I'm not that kind of person. My whole life is a performance piece. So I don't need to get my picture taken to feel like I'm in a moment of art."
On 'How do you find time for Stefani?'
"I love this question. Who are you looking for? I'm right here. Stefani is also who I am. Gaga is my nickname. It's like when you're a kid and your mom calls you 'Skip.' I really make no separation between Stefani and Gaga."
On second single "Judas":
"The song is about honoring your darkness to bring yourself into the light. And, it's really fun to dance to and sounds like it could be a pop [Judas] Priest record."
"When he comes to me I am ready
I'll wash his feet with my hair if he needs
Forgive him when his tongue lies through his brain
Even after three times he betrays me,
I'll bring him down, a king with no crown"
She also took the time to meet fans dressed in full Gaga-regalia for the occasion: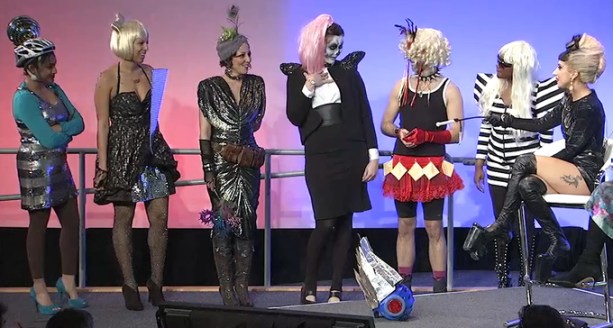 Here's the video from last week where she invites fans to submit questions via YouTube and Twitter. I like how the video looks like it was buried in a time capsule and recently unearthed. A fancy iPhone app of some sort, probs? You kids and your technology.