KT Tunstall is, it turns out, definitively straight. She is thankful for her lesbian following, but she's not a lesbian. She kissed and possibly did other things with girls when she was young, and it was not "just a phase," but also, at the same time, she is heterosexual. She does identify as genderfluid, and also Donald Trump apparently used one of her songs?
All this clarity comes to us by way of an interview in PrideSource, throughout which hope seems to almost spring eternal that Tunstall might be one of us.
From day one when she put a picture of herself in rainbow suspenders on her album cover, "all the gay community thought I was gay — and they still think I'm gay! They're just waiting for me to figure it out," she says.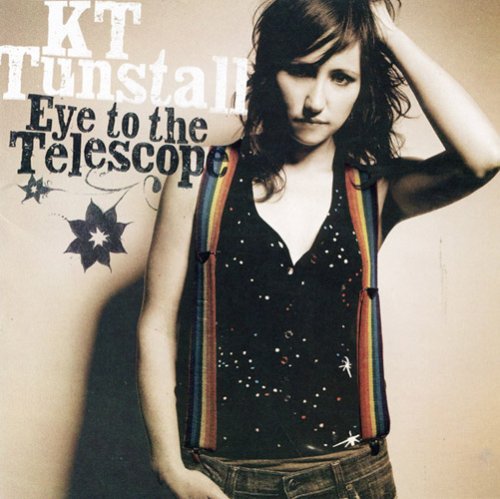 And, it seems, it's time they quit holding their breath. Although KT speaks fondly of engaging in sexual dalliances with gals, she's not looking for a girlfriend in the future.
"I think it would be disrespectful to call it a phase. It was part of life. It was learning about love and learning about lust and desire and sexuality and becoming an adult and experiencing people. It was a really important part of my formative years."
She also spends a lot of time praising young women like Kristen Stewart and Cara DeLevingne for being label-free — who cares about a label! That's the point! Meanwhile, KT decidedly uses the label of hetero, but it definitely wouldn't be a big deal if she weren't.
Other revelations from the article include that KT is a top-button-buttoning kinda gal, she describes herself as genderfluid, and she feels like she channels masculinity when she performs. She's leaning into her dyke appeal, and she knows it. From the interview:
I don't want to classify the last album, "Invisible Empire," as having a "lesbian folk" sound but…

(Laughs) Listen, I was playing folk music and I was buttoning up the top button of my shirt – that's all I need to say.
This raises some questions: Is KT queerbaiting us? Does KT know about bisexuality? Does she need someone to tell her? We may never know! It's important to trust people to own their own narratives, even if their heterosexuality seems really super gay. So hopefully she's happy, wherever she is.