Everybody's favorite real-life Shane Kristen Stewart turned quite a few heads this morning (mostly the heads of paparazzi who don't have a lot else going on) when she was seen leaving the home of her former paramour (and in this reporter's opinion, One True Love) Alicia Cargile. Depending on who you talk to, this is or isn't a huge deal – I mean, you leave buildings all the time, right? Who knows who lives there? Maybe it's your ex, maybe it's your uncle, maybe it's the post office, who can really say? The ever-classy Daily Mail made sure to note that Victoria's Secret model and apparent famous person Stella Maxwell (who has been dating Stewart for the better part of the last few months) was nowhere to be seen, a sure sign that the pair are headed for trouble, despite Kristen literally risking her life to take a good picture of Stella as recently as May 31st. While Maxwell and Stewart are reportedly shacking up in Stewart's Los Feliz home, the two have not been photographed together in at least a week (which is six months in celesbian time). Everybody knows a lesbian couple cannot spend more than three hours apart without breaking up.
Most glaringly, Stewart was seen leaving Cargile's home in the same outfit she had been wearing the day before, as she had been photographed pumping gas.
The star has also been recently seen roaming Los Angeles, running errands, having apparently "adapted her look perfectly to her peroxide blonde buzzcut" (whatever that means). What conclusions can we draw from this information? Well, it depends who you ask:
Kristen and Alicia are definitely sleeping together and Stella is OVER
Kristen and Stella are open or whatever and it doesn't matter what Kristen does
Kristen and Alicia are mature friends who crash at each other's houses sometimes, and last night Alicia did Kristen's roots while they watched Netflix and ate Cheetos
Kristen got lost on the way home from Lassen's and was staying at an Airbnb that just happened to be in Alicia's building
Kristen's entire wardrobe consists of identical outfits, like Daria: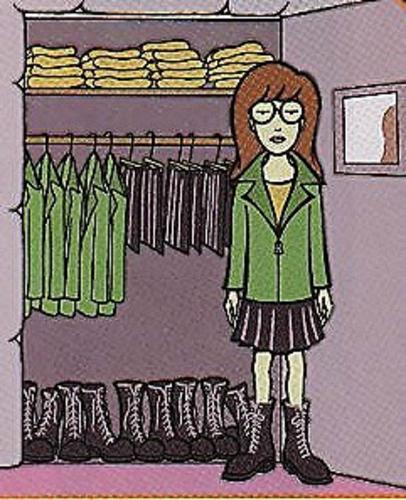 Draw your own conclusions. I for one have missed these two together. Have you ever visited your ex-girlfriend's home for reasons that may seem mysterious to people who have no real cause to observe your life? What were you doing? Tell me about it.