Hello, losers! Welcome to the LAST RECAP OF KILLING EVE EVER!!!!!!! That's right, this is the Killing Eve series finale recap, and I'm your host Kayla Kumari Upadhyaya. There is a lot to talk about! If you were waiting for episode 407 to air on television, you can now go back to that recap from earlier in the week (and all other recaps in the archives). I think you can probably anticipate me writing about this show again in a more zoomed-out + wide-angle fashion that looks back on the series as a whole, but I stopped myself from doing TOO much of that here for the sake of length! Obviously, as with any series finale, there will be some discussion of the road that got us here, but I'm going to try to stick to writing specifically about "Hello, Loserswp_postsas best as I can. And unlike my typical recaps, I'm going to move pretty linearly, because I think this particular episode calls for that. For the record, I know that a lot of my opinions below will be things people disagree with! I welcome that! I think most series finales are divisive, and I truly want to make space for any and all feelings, reactions, and emotions in the comments of this recap. I welcome differences of opinion! For example, one of my very best friends had a very different reaction to the finale, and that's okay! I respect it, and I also think she's bloody brilliant, so you should read her review!
Alright, let's get into it!
---
Since the pair aired as a two-part finale on television (even though that wasn't the rollout online), "Hello, Loserswp_postsopens with the same few seconds that "Making Dead Things Look Nicewp_postsends with.
Eve arrives on Gunn's island at the exact same time as Villanelle and Gunn's lovers' spat. Gunn, really giving Uhaul Lesbians some murdery representation, does not want Villanelle to leave her island. When Gunn sees Eve, she runs her down, tackles her, and says: "You can't have her. She's mine."
Thanks to her training with Yusef, Eve holds her own against Gunn. She chokes her with her thighs and digs her fingers into Gunn's eye sockets, scraping out her eyes. It's a brutal beginning. Villanelle, delighted by Eve's violence, watches from a distance.
"Were you watching that?wp_postsEve asks after, exasperated. Of course she was. So much of their relationship is about watching and being watched.
"You steal phones from corpses now?wp_postsVillanelle asks when Eve jumps right into business and says she wants her to decode the message on Hélène's phone. Again, she's delighted. Eve has gone all the way to the dark side. It's what Villanelle has always wanted, really.
"You know why I'm here,wp_postsEve says. "You want this as much as I do.wp_postsIs she talking about the mission or something more? Villanelle lifts Eve's bloodied hand for a closer look. I can't be the only one who found this bloody hand moment incredibly hot!!!!!!!!!
Executive producer Sally Woodward Gentle has called the series finale "operatic,wp_postsand that's definitely an appropriate description of this opening sequence: As Villanelle and Eve escape the island, the freshly blinded Gunn stumbles through the forest in pursuit of them, screaming "VILLANELLEEEEEEE.wp_postsA lover scorned and quite literally blinded by love chasing after a woman who has left her for someone else. Operatic indeed!!!! With some Biblical touches, too.
When Villanelle and Eve make it into the boat and away from eyeless Gunn, Villanelle waves. Eve throws up a middle finger. It's the start of what unfolds as a sexy, silly little romp between the two for the bulk of the episode.
But Villanelle isn't quite ready to let Eve back into her life. She told her she was done after Hélène. "I need you, Villanelle,wp_postsEve says. "I came all this way to be with you.wp_postsOkay, yes, she is absolutely talking about more than the mission. There's ambivalence in Eve's words, but barely. It's the closest she has come to being honest with Villanelle in a while. Eve spent so much of this season thinking she could compartmentalize Villanelle. She tried to literally compartmentalize her by putting her in jail. But the bridge between them never lifted, not really. Even though so many characters have warned Eve about continuing down this path, about indulging in the things that aren't good for her, she keeps making this choice. She doesn't look away from the violence, from the destruction. And so as viewers, we're not allowed to look away either.
"You're angry, I'm angry. You're hurt. I am hurt. That's life,wp_postsEve says. Villanelle responds by picking her up and spinning her around in a circle. It's a strange mix of cute and dangerous, which is fitting for these two. It looks like it could just be a playful couple thing, but it's also Villanelle reminding Eve she's in control. A nice straight couple hiking in the distance interprets it as the former.
In London, Carolyn is met by smug Hugo, who brings her to an MI6 safehouse to find out what she knows and what she's up to given that she has betrayed just about everyone lately and has probably lost her last shred of credibility at MI6. He manhandles some crockery (okay every single Carolyn line this season is a winner) while putting on a very bad show of intimidation. Carolyn asks him to unplug all listening devices, and after he claims he has, she starts revealing the honeypot scheme the Russians used against him, and he frantically rips a wire off his chest and runs away to contend with the Russian agent he's unknowingly dating. Oh, Hugo! I do love how useless and gullible and inept the men in power tend to be on this show.
Meanwhile in a bothy (a little cottage in Scotland — I did indeed Google it like the show cheekily instructed), Villanelle and Eve are playacting at being a real couple alongside the incredibly cringe straight couple that scooped them up on the trail. It doesn't take much for them to pretend. After all, they both have talked about each other and thought about each other as partners, as exes. They slide into this role easily. As if it were the truth. Because on a certain level, it is.
The straights ask how they met, and Eve and Villanelle choose the truth. "Oh she stalked me, drove my husband away, left me with nothing,wp_postsEve says. "She stalked ME. She put me in prison. She tongued my boss,wp_postsVillanelle chimes in. They play it off as a joke, and it is indeed funny (Villanelle's priorities here being Eve "cheatingwp_postson her with Hélène = incredible) but it's also real. This is a relationship whose origins were mutual stalking. Villanelle and Eve have always been both cats and mouses. Codependence courses through their relationship.
The straight couple met, because she gave him a kidney. A part of her is inside of him. Villanelle and Eve have something similar going on — but i n a more metaphorical sense.
"I think I might kill them,wp_postsVillanelle says while tending the fire. "I think I might help you,wp_postsEve replies.
The woman offers to do a tarot reading for them. COULD THIS BOTHY GETAWAY GET ANY GAYER????? Villanelle jumps at the opportunity to have her soul read, and the woman pulls cards for her past, present, and future. For the past, she pulls the Tower, which according to the woman "speaks of chaos and destruction in your past.wp_postsEve laughs at this. She knows all about Villanelle's chaos and destruction. For the present, she pulls the Lovers, but it's upside-down, signaling the opposite of unity. For her future, she pulls the Sun, which the woman coos at, calling it magnificent and holy.
It's a continuation of the exalted and divine path Villanelle has been on this season, which I wouldn't call a redemption arc by any means. She's still killing in cold blood. She's still manipulative and dangerous. But she has been attempting to be good, often as a way to get Eve's attention early in the season, and Villanelle's ego and narcissism make it so that she sees these attempts — even when they fail! — as angelic and pure. She literally sees herself as Jesus.
"Don't shove the Sun, Eve,wp_postsVillanelle says when Eve pushes her out of the way to have her own cards read. She only wants the last one, the future. And when she pulls it, it's Death. The camera circles in on it while haunting vocals pipe in.
Villanelle doesn't think Eve should take it too seriously: "It's just cards, Eve. There's no such thing as fate.wp_postsBut Eve wants to know that if there's no fate, what's this then, this gravitational pull between them. But I have to side with Villanelle here. Perhaps fate initially brought the two together, but both of them keep choosing this path, this bridge back to each other. I think Eve strongly wants to believe that everything has been fated, has been by chance. Because then it absolves her somewhat of all her most wicked choices.
"One of her organs is inside of him, and they still can't piss in front of each other,wp_postsVillanelle says.
And then, in a development that seems ripped straight from a fanfic (and I mean that in the best way possible), Villanelle and Eve have to share a single sleeping bag, an even more extreme version of the Only One Bed trope!!!!!!!! Here they are, entwined, fitting into one another. The image of them pressed together evokes the season one finale, when they laid in a bed together and Villanelle thought they were going to hookup but instead got stabbed in the stomach.
There is no stabbing this time. There is nothing that punctures the moment. There's just Villanelle lifting Eve's shirt and thumbing the scar on her back, a scar Villanelle gave her. So, yes, there's tenderness here, but it's laced with tacit violence, too. In any other context, this would look like someone just touching her lover tenderly. But it's difficult not to think about where that scar came from, to not immediately see the image of Villanelle shooting Eve in the back amid Roman ruins. This series finale contains zero actual flashbacks, but there are several moments like this that function like unspoken, unseen flashbacks, certain images and details in conversation with the characters' pasts.
"What are you doing?wp_postsEve asks. She turns to her, and they look at each other. Before anything more can happen, Villanelle suggests that they steal the straight people's stupid camper van.
We jump to that camper van cutting around winding Scotland roads. And again, it feels a little like we've dipped into fanfiction, or into Villanelle and Eve's fantasies. We're getting the buddy road trip of their/our dreams. Eve finds a bag of Revels and they both mimic and mock the straight couple from before, Sandra Oh and Jodie Comer getting to play around with their comedic skillsets. They jam out to "Don't You Want Me.wp_postsAnd they very much seem like they want each other. The Twelve, the mission, it all fades away for these moments.
After outmaneuvering Hugo, Carolyn meets Pam on a bench. Pam delivers the message that she killed Konstantin with a pizza cutter and then delivers Konstantin's message, too, that he always loved Carolyn. Unsurprisingly, Carolyn takes it all with a stoic, impossible to read face. Before Pam can walk away, she says wait.
Our roadtripping murder wives stop at a small roadside diner to charge Hélène's phone, and they split a plate of curly fries that Eve loads up with mustard, prompting Villanelle to call her a psychopath. They tease each other. There's no real need to playact at partnership the way they did at the bothy. This is real.
Back in the van, Eve deduces that The Twelve's meeting spot is at the pub MI6 employees frequented. She mentions a memory of Bill there. "You murdered him on a dance floor in Berlin,wp_postsEve says casually. "Of course, I remember Bill,wp_postsVillanelle says. "So do I,wp_postsEve says. Another one of those implied flashbacks. Another one of those reminders that Villanelle and Eve's relationship is, to say the very fucking least, complicated. As easy as it is to root for these two because of their chemistry and the potency of their desire for one another, there are these little reminders that we probably shouldn't be rooting for them. That their relationship has been defined at every turn by violence, manipulation, and murder. The show doesn't let us forget, and it shouldn't.
Carolyn and Pam sit on a dock, and Carolyn shares some more of the life advice she has been doling out all season. The first is just a personal anecdote that she looks exceptional in linen (again, Carolyn's lines this season have been exquisite). The second is this: "Emotions, or feelings as people like to call them these days, are at best an inconvenience and at worst a total scourge on one's freedoms. Guilt and shame especially. Don't let them take hold."
It's incredibly cynical, but Carolyn has always been incredibly cynical. The show has been, too. No character who clings to hope usually makes it out of this show alive. Konstantin was hopeful for a way out of The Twelve, and then he died.
Carolyn slides into the water, and Pam joins her. They float. It looks serene, but it's another soft moment with an uglier underside: "Don't open your mouth,wp_postsCarolyn says. "I've just seen a dead fox."
We smash cut from Carolyn and Pam in the dead-fox-dirtied water to Villanelle and Eve pissing in some bushes. They're squatting directly next to each other, practically pissing on each other! They're at the opposite end of closeness and intimacy from the straight couple from before, and Villanelle's words reverberate. Villanelle and Eve don't need to share an organ to feel this bound to each other.
After they finish and pull their pants back up, they walk back to the camper. Villanelle kisses Eve on the cheek. It's a little awkward, a lot adorable. It's a stark contrast to when Gunn kissed Villanelle on the head last episode. Eve pauses. She reaches for Villanelle's hand and pulls her in for a kiss. They pull apart, look at each other, and kiss some more (this is a personal favorite when it comes to kiss blocking—I love the kiss, pull away, kiss again pattern).
It's not their first kiss technically, but it's their first kiss like this. As they walk back to the camper, they don't! stop! kissing!!!!!! A walking kiss!!!!! Perhaps some of my favorite blocking for a kiss in television history?!?!?! Here they are, literally moving forward, together. Even when they get back to the van, it isn't enough. Villanelle runs around to Eve's side of the van, and we don't see them, but we do hear Eve's youthful giggle.
That's what I love about this explicit consummation of their seasons-long sexual tension. Instead of being messy, fraught, violent, it's just sort of easy, cute, and youthful! It's like teen love. It's a little unexpected and yet feels perfectly right. In a way, their relationship has always unfolded in reverse. They acted like jealous exes before they ever really, truly met. They've had the kinds of arguments and breakups that couples usually have after being with each other for a while. And now, at the end, it's their beginning. Their honeymoon phase.
When they arrive at the pub, Carolyn and Pam are already there, waiting for the same thing. Carolyn and Villanelle reminisce on Havana (and literally POUND IT), and Eve asks for a moment alone with Carolyn, so Pam and Villanelle go play darts in the other room, Pam telling Villanelle that Konstantin is dead.
Eve thanks Carolyn for plucking her out of that office job, for changing her life. It's a thank you and also a little bit of a fuck you (known as a "thuck youwp_postsfor any of you Bravo Dykes out there)
Carolyn has some life advice for Eve, too:
One of the great unspoken truths of life, Eve, is that people behave exactly as you expect them to. Take you for example. You're about to embark on some mad end game when in fact you know deep down you're just a woman who likes an inappropriately timed croissant on a hungover Sunday morning.
Carolyn says she had come here with different plans. "But now I'm going to behave exactly as you'd expected me to…and do something different,wp_postsshe says. It sounds like a warning. It sounds like an omen. But Eve doesn't read too much into it. She's too fixated on the mission again. And she receives on Hélène's phone a change of location. Carolyn says she can have this one, and Eve says it has always been hers. Hubris is often a dangerous thing on this show.
Carolyn and Pam sit on a bench again. This time, Carolyn laments the sheer existence of iced coffee before jumping into business. Pam asks who she's loyal to, and Carolyn says loyalty is a dubious virtue…except when it's to her. She offers Pam a job, but Pam chooses to walk away.
The Twelve apparently has decided to meet on a boat on which a gay wedding is also happening. You know what I always say: A gay wedding is the perfect cover for a secret evil organization staffwide meeting!
Eve and Villanelle make their way onto the boat, and they don't even need a cover story, because Eve is mistaken for the wedding officiant. Villanelle pulls her in for a kiss before she's whisked away. "Distract them,wp_postsshe says.
And then Eve has to improvise a wedding ceremony between two handsome gay men. Here's what she says:
"Relationships are a lot of work. They require effort, and you will have tough times. Sometimes, you will feel like you're losing your way, and sometimes you'll feel like you're losing each other. But beauty in your relationship will be found in the ways you reunite."
Villanelle and Eve have been in a continuous cycle of breaking apart and reuniting. Every time they do reunite, there's something a little different. So much of their relationship has hinged not on reality but on possibility. Yes, their attraction to one another is real. But it's also fantasy. This isn't your straightforward love story. It's an epic. And it's a violent one. Eve's wedding speech resonates, because yes, relationships entail tough times and work. And that has been true for her and Villanelle, heightened to its extreme. Because tough times for these two usually means death and destruction. Villanelle and Eve are real people, but they're also an assassin and a spy. There are parallels to draw between their dynamic and more "normalwp_postsrelationships, but there are marked differences, too. The confusing lines and boundaries are what make the show so compelling.
Villanelle barges into The Twelve's meeting weaponless and kills everyone, whose faces we never seen. Instead, the camera stays on Villanelle as she wrecks havoc, the action very stylized and bloody and spliced together with shots of Eve dancing on the dance floor. It's goofy and odd, and I always enjoy that side of Killing Eve's varied tones.
It's a little too easy, of course. Villanelle doesn't really have a plan or any weapons and yet slays a bunch of men no problem. She has the element of surprise working for her, I guess. But I also think there's almost a bit of magic realism at play here, which isn't entirely out of the question given the whole Drag Jesus of it all from earlier in the season. Villanelle has long felt invincible, and this season, she feels holy. She is The Sun. Frankly, I don't ultimately mind this neat and tidy wrap up of The Twelve, because I prefer simplicity to when the show has gotten too lost in the weeds of The Twelve. And the montage split between the killings and the dancing works for me!
Let me just go ahead and say this upfront: I didn't hate this ending. I do think it's imperfect and that it could have been executed slightly better in a couple ways that I am about to get into. But I did not hate it. It felt like a natural, if sudden, conclusion to this season, this series, this relationship arc.
I do think it could have benefitted from one more beat. From just slightly more dynamics.
Here's how it goes down: After slaying The Twelve, Villanelle finds Eve on the dance floor. They make eye contact, Villanelle walks away, and Eve follows. They go out to the front of the ship, and Villanelle tells her she did it. In the distance, the London Bridge where they once extracted themselves from each other only to contract right back into place is raised, severed. Villanelle and Eve embrace, and then Villanelle is shot in the back, her blood staining Eve's front.
Villanelle tells Eve to jump, and so they both do. They plunge into the water. But it's too late. Villanelle has already been shot multiple times, and then she's shot more underwater. Swirls of blood form what look like wings behind her. Eve tries to swim for her, reaches for her in an obvious homage to The Creation Of Adam, and loses her.
In the distance, Carolyn looms. She raises a walkie-talkie to say "jolly good.wp_postsShe ordered the hit in a play to get her job and power back at MI6.
Eve swims to the water's surface and screams. A title card reading THE END fades in. The bridge is still in the distance, on the precipice of reconnecting itself.
It's a bleak, relentlessly nihilist even, and abrupt ending. I don't have a problem with the hopelessness of it all, because hope has never really been a part of this show's foundation to me. In fact, the show is so much about the absence of hope and people's inability to meaningfully change. In previous seasons, we've seen Villanelle head down different paths, like returning to her birth family. But it always ends the same way: with murder. We've seen Eve try different paths, too, but they've been just a way for Eve to repress what she really wants. Hélène and Konstantin have warned all season that there's no way to really break free from The Twelve, and that ends up being true for them. The only way out was for them to die.
I do think the ending would have greatly benefitted from one more beat though.
It took me a while to parse this out, but I think Carolyn really represents The State. All season, characters have been talking about "the game,wp_posts"the rules.wp_postsDespite the fact that Carolyn loves to betray people and organizations at every turn, she most consistently plays by The Rules. And she most consistently treats life as a game to be won. Again, her decision to kill Villanelle is all just so she can get her damn job back. She doesn't see people as people but rather as political pawns, much like The State. She doesn't offer Pam a job because she cares about her; she offers Pam a job because she thinks that's her way back into MI6. And when it doesn't work out, Villanelle's death is her power play.
It might feel pointless, but I think the pointlessness IS the point.
Villanelle has eliminated all of The Twelve, but does that even matter? Carolyn warned two episodes ago that killing one just begets another. And even killing them all could have the same outcome. After all, what about all the people below them? Will they merely disband? Probably not! Someone will fill the power vacuum. But even beyond that, part of the implication of this ending, of The Twelve being annihilated but the violence still continuing, is that MI6, the CIA, and any damn "sanctionedwp_postsorganization are just as much of a threat and just as chaotically violent as The Twelve. All along, the lines between The Twelve and MI6 have been nonexistent. Carolyn is a perfect embodiment of that (which really reiterates my theory that she overall symbolizes The State). This sudden and pointless violence drills down into the idea that the call has always been coming from inside the house.
Villanelle's death doesn't render her the bad guy, doesn't punish her for her own acts of violence. Rather, the ending reiterates that EVERYONE involved is a morally corrupt character, that the violence is often a transparent and transactional means to an end, that the good guys will never win because it's not so much that there are good and bad guys but rather that the institutions are the true source of evil, and when people subscribe to those institutions (or are conditioned by them), they become their soldiers. Eve was never going to find personal meaning in this mission, because this mission began at MI6. It was poisoned from the outset.
All season, the storytelling and imagery has laid the stonework for a big, tragic ending. Ancient mythology has been invoked. Religious mythology has been invoked. Again, I'm thinking of that "operaticwp_postsquote, and indeed, the opera/theater house owned by Hélène is one of the most memorable set pieces of the season. But I think where the writers miss their mark here is in just how one-note the ending feels. Tragedy doesn't have to be so loud to still hit hard.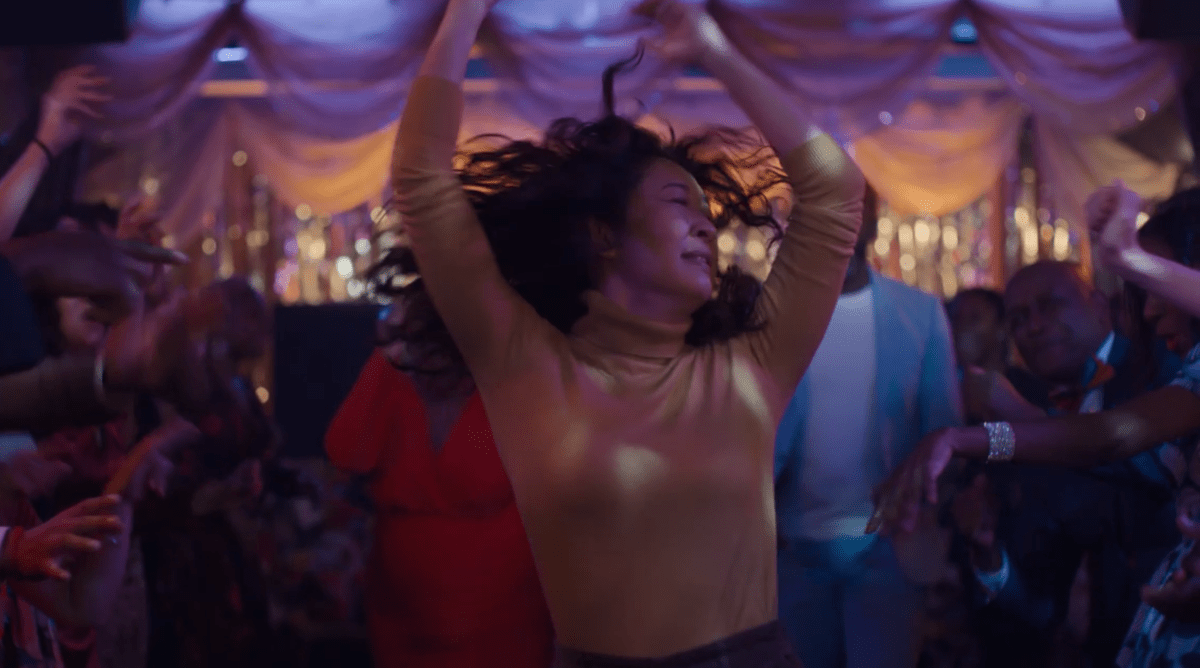 The thing about big tragic opera endings though is that there usually are still some dynamics. It's not all BANG BANG BANG. It's possible to be dramatic and convey finality and still be layered and thoughtful. That's where the ending doesn't work for me. It's not the overall details of Villanelle dying, of Eve left alone that bother me but rather the specific way it's executed. It needs another beat, even if that were as simple as Eve emerging from the water and walking away. I want that one glimpse of her moving through life without Villanelle.
I understand why people are upset about Villanelle's death so closely following the joy and release of Villanelle and Eve explicitly getting together, but I personally think it fits the show's overall narrative and overall tone. I also think it minimizes the entirety of Villanelle and Eve's arc. Like, yes, they don't have their big cinematic kiss until this episode, but that doesn't mean that everything that has come before it hasn't been intensely emotional, erotic, and even at times romantic. I'm a Villaneve Truther in the sense that I really do think they've been on-and-off dating for four whole seasons. I didn't need a big kiss to make it real (though I am very grateful for the walking kiss and will probably watch it a thousand times!). Some of my favorite writing about the Bury Your Gays trope is in this advice letter answer by Drew. Context matters. And all of the context of Killing Eve maintains that violence, death, and devastation are baked into this story.
I understand wanting a more ambiguous ending, too. But for all the ambiguity and ambivalence in Killing Eve's characters, their relationships, and the interpersonal drama on the show, the plotting has always been pretty clear-cut. Death, after all, is a pretty big part of this show. And death tends to be final. Again, I feel like all season has been laying the groundwork for a very final finale. Epics tend to have lachrymose endings, and I really do think of Killing Eve as an epic, especially given the themes and motifs of this final season.
I don't hate the ending, but I do think it could have been done better. I've always liked when this show gets messy, because these characters are M E S S Y. But there's something sloppy about the last few minutes in a way that doesn't entirely land. That said, the entire episode leading up to those last few minutes does play to the series and to the ensemble's strengths. Villanelle and Eve get to, for a moment, act out what it would look like if they had normal lives and were a normal couple. It's a lovely, satisfying fantasy. But it's just that: fantasy. Softness and romance subtly infected with danger. Their fraught past just beneath the surface, like a scar. They're like each other's wounds and salves all at once. This IS this show's version of romance. And the final few minutes don't undermine that for me, but I do think a little more care in the details and pacing could have gone a long way.
Goodbye, Killing Eve! Just like I'm sure Eve will never stop thinking about Villanelle, I'll never stop thinking about you.
---
SORRY BABY x
Again, I genuinely do welcome dissenting opinions! And if you're angry about the ending, by all means, be angry! Just also please no personal attacks.
I did a rewatch of the entire series heading into this last season, but now I want to do another rewatch. I'm not ready for it to be over!!!!!
While Carolyn's arc gets off to a slow start at the top of this season, Fiona Shaw deserves awards for her work in the second half of the season.
I know I included like way too many quotes, but I really loved the dialogue in this episode. One exchange that didn't make it in that I loved:


Villanelle: You're a lot today.
Eve: I'm a lot every day.

Seriously though, I highly recommend that Drew piece on Bury Your Gays, so I am linking it AGAIN.