For me — and for a lot of my clients — tarot is often about moving on. About next steps, changes and to-dos. We ask a question of the cards because a) yeah, we want to know what the heck is going on and what all this weird-ass energy is that seems to be surrounding us right now, but also b) because we want to know what to do, where to turn, or what our next steps should be. I usually turn to my cards because I'm seeking a healthy and informed way to move forwards and judging by the questions I receive, many of you do to.
The following cards seem to me to carry advice around ways or reasons to 'move on' — whether that's making a change, embracing life's flux, or simply walking away. And since tarot is 99.9% subjective interpretation and these are simply mine, I'd love to find out if you agree, disagree or have ideas of your own to add in the comments!
Cards shown are from the Rider-Waite-Smith Tarot by Pamela Colman Smith, The Wild Unknown Tarot by Kim Krans, the Dreaming Way Tarot by Rome Chio and Kwon Shina and The Collective Tarot decks.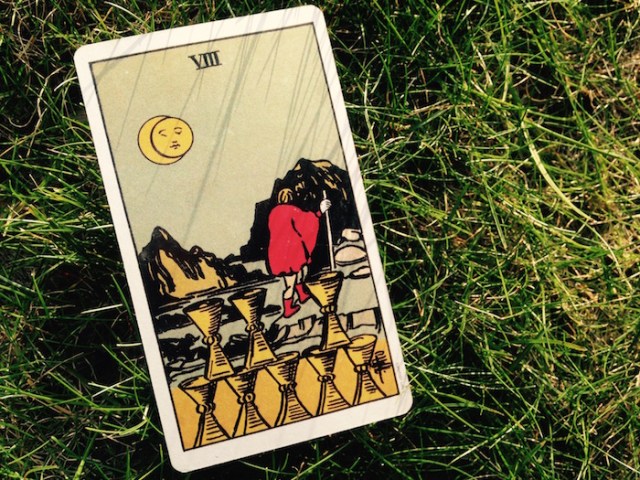 Eight of Cups
This card always sends a pang of sadness through me, often making me well up. For me, it signifies the moment when you make the difficult but ultimately wise and brave choice to walk away from a situation that's no longer working. It's like Dolly Parton singing "I Will Always Love You" — heartbreaking, yet honest, loving and wise. When you see this card, it's like things just aren't working out, and the kindest thing is to let go so that everyone can move on.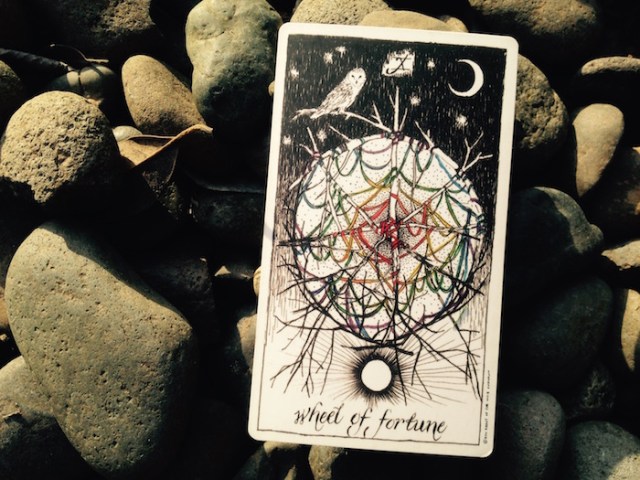 The Wheel of Fortune
This is one of the big 'change' cards in the tarot, and for me it represents the assessment of responsibility that takes place during a major upheaval. Depending on your world view, people have differing ideas about this card: as the wheel of fortune, does it say we have no free will, no control in this situation? Or does it encourage you to step up to the wheel and take charge to make sure these changes are the ones you want? For me, it's both, or rather, it's about asking that exact question. Assess where your responsibilities lie, and let go of what you can't control.
The Fool
The ultimate 'blank slate' card, The Fool is number zero — or rather, no number at all. This is all about new beginnings, about stripping away all of your baggage and starting all over again with a sense of wide-eyed wonder, innocence and a reclaimed self-belief that will allow you to embrace life fully and leap into the abyss believing wholeheartedly that the Universe has your back. The Fool says 'go for it. Make the change. Be bold.'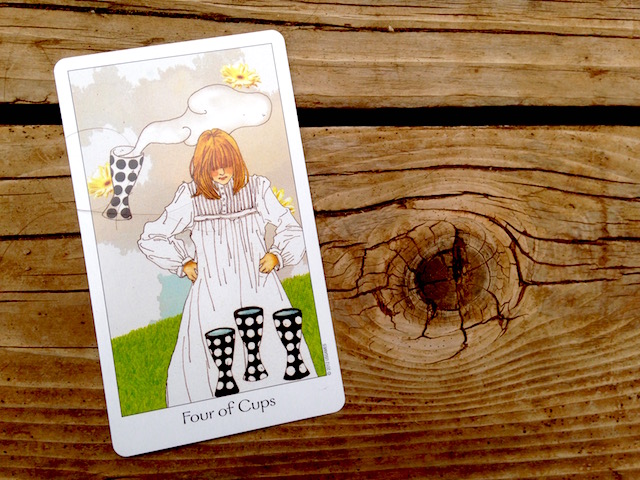 Four of Cups
I see this card as a prod to make a change. It suggests boredom, stagnation, a sense of being fed up with your situation… yet doing nothing to change it. In the Rider-Waite-Smith tarot, a figure sits beneath a tree, arms folded, apparently bored stiff with the three cups in front of them. Yet if they only turned their head, they'd see a tiny magical hand offering them a whole new exciting cup! This card says 'look up! Cool stuff is happening, you just have get out of that funk and grab hold!'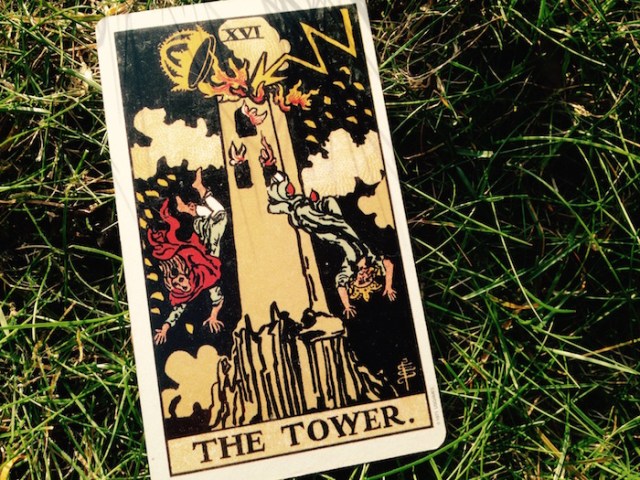 The Tower
Know that you need to make a change but don't know where to start? Stalling? Been ignoring the Four of Cups for too long? That's often where The Tower comes in. I know many people reading this are all-too-familiar with this card; people often speak of 'Tower moments' or the time that everything they thought was solid suddenly vanished from under their feet. It's shocking and terrifying and can totally break you down. But with the tower (aka the status quo) blown to bits and nothing but a pile or rubble and a suddenly open view ahead of you, you have the freedom to rebuild something that might be more to your liking.
Judgement/Liberation
There are so many biblical connotations in this card it took me a long time to make peace with it and realise that its message is powerfully, beautifully liberating. In fact, in The Collective Tarot, it's called 'Liberation' and that's a title I greatly prefer. This comes right at the end of the 'fool's journey,' right before the wholeness and complete fulfillment of The World. What must we do to get to this place of completion? Judgement/Liberation says we must face up to everything that has gone before, accept ourselves as flawed, beautiful, mistake-making, ever-growing works in progress, forgive ourselves for all the shit we got wrong, and with this real, deep self-knowledge, let it all go. It's nakedness, vulnerability. It's hard! We want to move on, to be reborn, but we shy away from facing up to our fears and regrets. Judgement says that doing this is the only way to rebirth.
Six of Swords/Six of Feathers
This card so often depicts a physical journey, it's the first thing that comes to my mind when I think of illustrations of 'moving on' in the tarot. It's about A Journey, The Journey, Crossing the Water. In a nutshell, it's like this: Some bad stuff happens. It plays on your mind. In order to process it, you need to transform the overarching concept of your pain into actual lessons you can learn from. So you start doing that, and it's brave and scary, and it's totally okay to ask for help, like a counsellor or a therapist or a friend or a stranger. And slowly but surely, with help, your whole bad experience becomes this powerful life lesson which you'll carry with you as you reach optimistic new shores where you're free to begin a new chapter.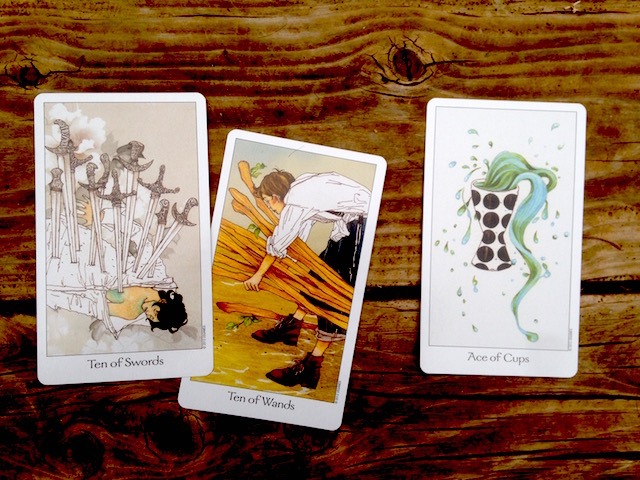 Aces and Tens in general
Tens indicate ends of cycles — the full process of a suit coming to a close. For example, the Ten of Swords (with swords representing our intellectual selves) shows us that you can just stop worrying — the angst has gotten too much and from this point onwards, the only way is up. It's time for a new process of thought. The Ten of Pentacles shows a world where you've achieved as much as you can in this particular project and it's been a success. Time to be proud… and then move on to the next challenge!
Aces indicate new beginnings and opportunities — gifts from the Universe, signs, doors opening. The Ace of Cups could be a spiritual awakening or love affair, the Ace of Wands, an exciting new idea that's got you all fired up.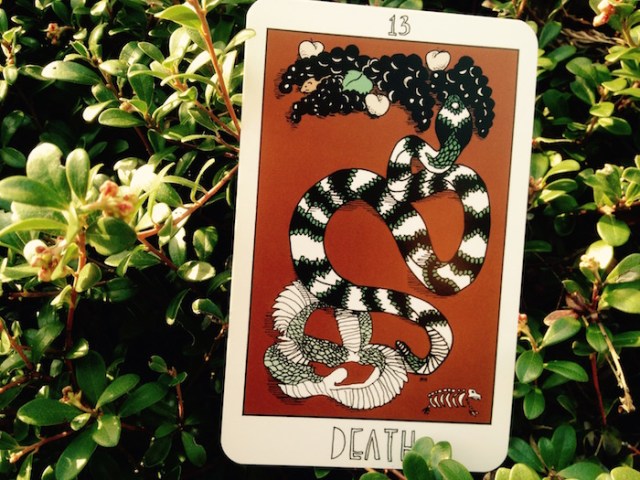 Death
The most obvious card on this list, I think, Death tells us that it's time for change. It's a point in our lives where we are asked to accept that we are different people, that stuff has changed us, that life moves forwards, and that it's time for a part of ourselves to die. We are asked to let go without mourning or regret, but with an understanding that life moves in cycles, one of which is ending. In this sense, it can be a little like Judgement, above, but here the process is less active, and more like allowing life's natural cycle of death and rebirth to take place. To me, this is incredibly graceful once you give in to it.