It's Sunday Funday and if this was the only thing you read until next week's edition, you'd think that everyone in the world loves gay people and that we should all just go outside and play. You in? I got big cats, big girls, and other big deal news. AND DOUBLE THE CUTENESS.
Lesbian Running for Mayor in NYC
Christine Quinn is attempting to become the first openly gay mayor of New York City. What more appropriate time?
Quinn is currently the council speaker, and she has raised almost twice as much as her challenger for the 2013 mayoral race. That's $1.32 million for a lesbian running for mayor in New York City. It's a huge deal. The deadline for fundraising was on Monday, and it looks like Quinn will raise close to $6.4 million for primary fundraising – the limit for the race.
Unstoppable? Hopefully.
San Diego Gay Pride Has A Military Unit
200 active-duty troops and vetarans marched in San Diego's pride parade on Saturday. It's the first time a military contingent has ever been a part of a pride march in the United States.
Many service members said they were moved to participate because of the slow, painful, and awkward repeal of DADT.
Weddings on Broadway, In Restaurants: Because People Love Gay People in New York City
+ On July 25, gay people in New York City will have been able to legally marry for a day, and now they can choose to do it in public. At St. James Theatre on Broadway. Ceremonies will be held on the steps of the theater following a performance of "Hair." I know, right? From the press conference:
"It's not just a summer of love," Rory O'Malley, a star of "The Book of Mormon" and a co-founder of the gay-rights group Broadway Impact, said at a press conference Wednesday in front of the St. James Theater. "It's a summer of equality."
+ Carol Anastasio and Mimi Brown have known each other for about 20 years and they just want to get married. They even ran out to the courthouse after the marriage vote in NYC to do it, but didn't realize they had to wait for the law to go into effect. They were featured in the NY Daily News, everyone read about them, and now, Old Homestead Steakhouse in the Meatpacking District is going to take care of it – for free:
"We're going to supply everything but the rings," said Old Homestead Steakhouse co-owner Marc Sherry. "We're doing it first class. This couple deserves a wonderful wedding."
"A Waria Has A Woman's Soul"
A new film, "The Waria," follows three transgender women in Indonesia for a narrative about love, intimacy, and their lives as a part of the trans* community there. It looks beautiful, and maybe heartbreaking too.
Atlantic City Gets Gayer
Atlantic City has been without a place for the gays to congregate / drink / proposition each other since the Brass Rail closed in 2007. Now, it's reopening – with the additional company of 3 more gay establishments. (Including the first-ever gay casino.)
And I quote: "The gay life is coming back to Atlantic City."
Chicago's 26-foot Marilyn Monroe
I love Marilyn Monroe because she was a classy lady and she had a pretty smile. Do you like Marilyn Monroe? Do you like tall chicks in general? Because there's a 26-foot Marilyn in Chicago and she's even wearing 26-foot-tall-person-size white panties. "Forever Marilyn" was unveiled Friday at Chicago's Magnificent Mile.
Parents Love Their Gay Children
A Note to My Kid is a website that encourages families to share their unconditional love for their queer children with everyone in the entire world. It also serves as a safe space for kids looking into resources to come out to their families. It also serves as a space for recounting memories, and confronting fears – but always ending with love. I'm crying:
I love you and have always been proud that you're my daughter. It doesn't matter to me who you love or find a connection with as long as you care for them, they care for you, and you are happy. That's really all parents want for their kids, and what constitutes a parent's greatest fear – that their child won't be happy. One thing I pray every time I'm on my knees at Church is that you and your brother will find fulfillment and happiness in your careers and your personal lives – in whatever form that comes.
Eva Longoria is About to Have Lesbian Sex
"Without Men" will star Eva Longoria as the de facto mayor of a village left manless when guerillas are recruiting new soldiers. So what do the women do with themselves? They try to go on. They fill the roles of their men who are gone. They sweat in the hot Latin American climate they live in, while all stuck close to each other. And they will have lesbian sex. So there.
A disclaimer: I am slightly aware that this film looks a little, um, gender-normy. But the thing is, Eva Longoria is having lesbian sex in it.
NFL Player Apologizes for Using Gay Slurs
Pittsburgh Steelers player James Harrison used gay slurs to attack the NFL commissioner, Roger Goodell. And even though he still hates the commissioner, he apologized to the gays on Facebook:
"I also need to make clear that the comment about Roger Goodell was not intended to be derogatory against gay people in any way. It was careless use of a slang word and I apologize to all who were offended by the remark. I am not a homophobic bigot, and I would never advocate intolerance of gay people."
Lindsay's Latest Photoshoot
They freed Lindsay and now she's in this "grope me in a taxi" themed shot by her friend and photographer Tyler Shields:
Totally Gratuitous Shots of Celebrities in Their Swimsuits
Gawker gave me a gift and created a gallery of totally gratuitous shots of celebrities in their swimsuits. So many girls. So much string. And so many sailboats.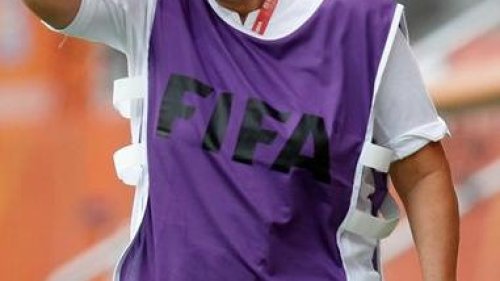 Cher and Lady Gaga Are Working Together
Just look at these tweets! Lady Gaga even refers to people like me who love Cher as "the gays." It's almost like she knows who I am.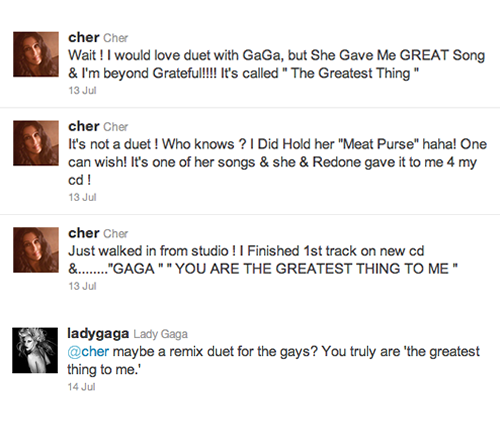 (Psst, you already know this song because it's one of Gaga's unreleased demos, and it lives on YouTube.)
Optimists Age Better
People who think the Bourbon bottle is half full will look better drinking it as they get older.
Twice the Cute, Part One: Kitten DJs
Kitten DJs.
Twice the Cute, Part Two: Mama Lions and Cubs
There's nothing cuter than lions being affectionate, or than mama animals in general.