Happy Sunday Funday! This week I went shopping for groceries, work clothes, and fun clothes. I want to cry imagining the money I've spent stacked neatly in single dollar bills. Do you guys think I'll ever pop a band? Stay tuned.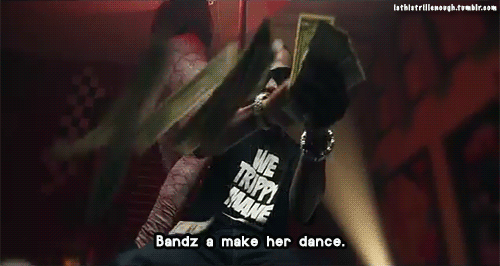 From Prop 8 To No H8: A Mormon Story (With A Happy Ending!)
How's this for "coming around?" Wendy and Tom Montgomery are the parents of a Mormon family from California who went door-to-door for Prop 8 and now work to find acceptance and loving community within the Mormon church for their gay son.
The discovery shook his mother to the core.

"I felt like what I saw his life would be – what I expected his life to be – as a Mormon boy was now gone," she says in the video. "I saw him preparing for a mission for our church – gone. I saw a temple wedding – gone. I saw him being a father – gone."

Suddenly their son's conflict and depression made sense to the Montgomerys. But the church's view on homosexuality confused her: "God views it as a sin," she says in "Families Are Forever." "But I looked at a boy who had never done anything wrong, a pure innocent child, no way sinning or choosing this."

… I hugged him and said, 'Jordan, this changes nothing. … You are perfect in our eyes. … We will figure this out.'"
Vietnam Considers Gay Marriage
Vietnam could become the first Asian country with marriage equality.
Meet The First CONFIRMED Out Latina Federal Judge
Nitza Quiñones Alejandro has now made history.
Quiñones will take her place on the U.S. District Court for the Eastern District of Pennsylvania, along with fellow nominee Jeffrey Schmehl.

Prior to this appointment Quiñones presided over the Philadelphia County Court of Common Pleas, a position she'd held since 1991, where she presided over both criminal and civil cases.

Quiñones was born in Puerto Rico and grew up as part of a military family. She earned her law degree at the University of Puerto Rico School of Law in 1975, and has a bachelor's degree in business administration, with honors, from the University of Puerto Rico.

During confirmation hearings Quiñones put an emphasis on her sense of integrity and how vital it is to the work of a judge, saying,  "In exercising integrity, the judge must also be a good listener, patient, fair, impartial, courteous, reasonable, ethical, and decisive. I believe I possess these qualities."
American Apparel Doing Something That Isn't Sucking
It's rare, so it's worth celebrating. Happy Pride, bitches.
Exodus International and The Case of the Very Sincere Apology
Remember when Exodus International published an incredibly intense and emotionally sincere letter of apology to the gay community? I do, because I cried a single tear and you never forget the shame of getting caught crying on the Washington, DC metrorail system.
Plus, I also remember when they followed it up with closing their doors.
"Exodus is an institution in the conservative Christian world, but we've ceased to be a living, breathing organism,wp_postssaid Alan Chambers, President of Exodus. "For quite some time we've been imprisoned in a worldview that's neither honoring toward our fellow human beings, nor biblical."

Chambers continued: "From a Judeo-Christian perspective, gay, straight or otherwise, we're all prodigal sons and daughters. Exodus International is the prodigal's older brother, trying to impose its will on God's promises, and make judgments on who's worthy of His Kingdom. God is calling us to be the Father – to welcome everyone, to love unhindered."
You Go, Grrrl: Girls In Shorts Who Play Sports
+ In case you didn't notice, in case you failed to see, Abby Wambach is kicking ass.
What started out as a regular international friendly between the US Women and the Korea Republic squad, turned out to be a record setting performance for the 18,000-plus crowd that turned out on Thursday night for the evening match at New Jersey's Red Bull arena.

Forward Abby Wambach netted four goals in the first 30 minutes of play to surpass the legendary Mia Hamm as the all-time leading scorer in international women's soccer.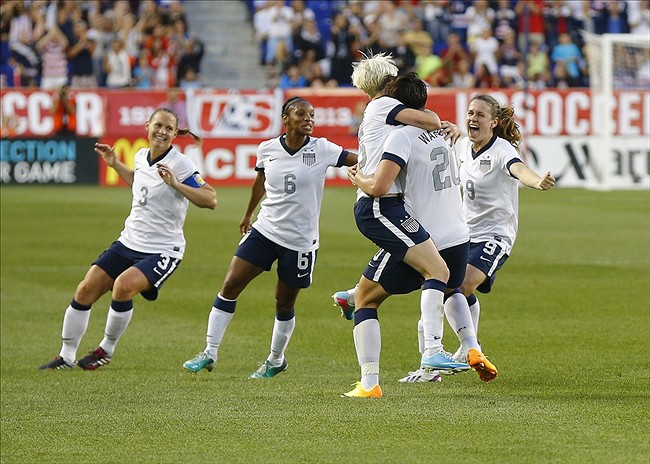 + The National Gay & Lesbian Sports Hall of Fame has announced many of its 2013 inductees. But it isn't too late to throw someone in the ring — they're accepting nominations until July 1st at gayandlesbiansports.com.
These Dogs Are Confused, Adorable
Why aren't I this cute when I get confused / stuck in mid-air?