Being famous sounds really hard. Having your personal life constantly photographed and dissected by the public seems like a lot of pressure, especially for a notoriously private person like the People's Girlfriend, Kristen Stewart. Recently, Stewart caught a lot of flak for attending an event sharply dressed in a maroon blazer, calling to mind Annie Lennox or Brigitte Nielsen. Not everybody saw Stewart's fashion sense that way; one eagle-eyed tabloid intern recognized her blazer as appearing strikingly similar to one worn by Stewart's ex boyfriend Robert Pattinson at a Twilight premire about a million years ago. It's no secret that fans have been waiting with bated breath for the Twilight actors to dump their current partners and reconcile, even though these two dated ages ago and both seem to have very much moved on with their lives. Conspiracy theories abound.
Still, what if Kristen were sending Robert Pattinson a message with her blazer? What if every time you wore an outfit, it was widely interpreted as a secret message to your ex from five years ago? I couldn't help but wonder — what other secret messages was Kristen sending with her ensembles? And to whom?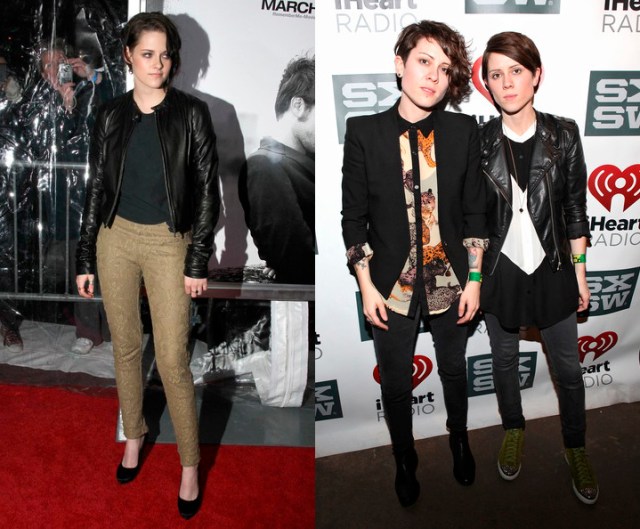 I learned very quickly that Kristen has been practicing the secret art of communication through fashion for many, many years. Here at the premiere of Remember Me starring ex-boyfriend Robert Pattinson, Stewart gives Rob a subtle hint as to exactly how gay she is by silently pleading with Tegan and Sara to come and save her from this movie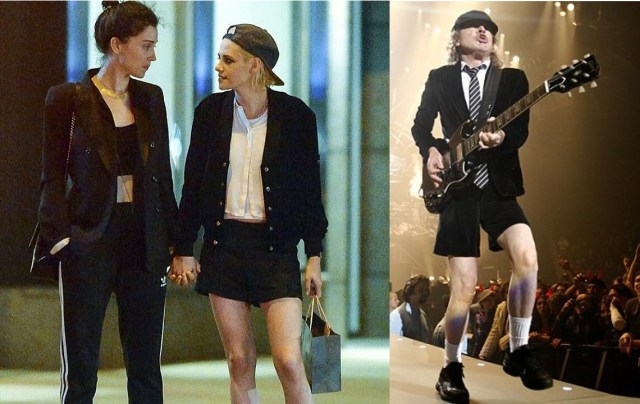 Now that she's dating famous guitarist  Annie Clark, Kristen has to step up her rock star game. She expertly used this outfit to send a secret message to Angus Young of AC/DC. The DC stands for Delevingne, Cara. This is no coincidence.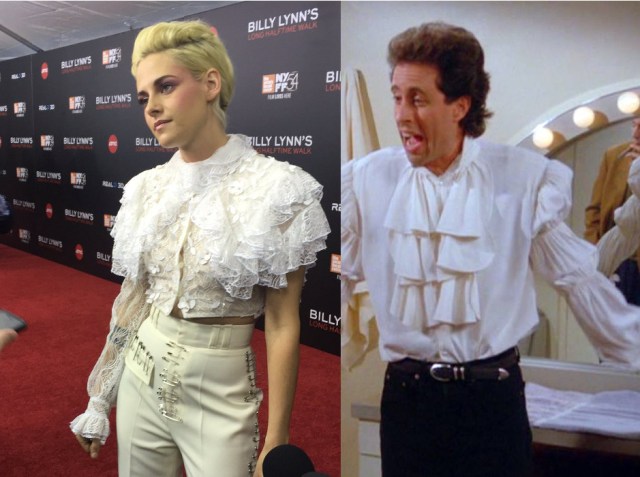 Kristen Stewart is on her way to steal your girl and there is nothing you can do to stop her. In a subtle homage to the flash-in-the-pan pirate trend of 1993, Stewart evokes Jerry Seinfeld's infamous puffy shirt on the red carpet for Billy Lynn's Long Halftime Walk.
Over time, Kristen has transformed from awkward vampire girlfriend to grouchy Hollywood hipster girlfriend — a Samantha Ronson for the 2010s some might say. For a walk through her favorite hangout (and Sam's too!), LAX, Kristen chose this low-key casual look that screams "I'm her roommate! We're best friends! That's why I'm walking three feet ahead of her."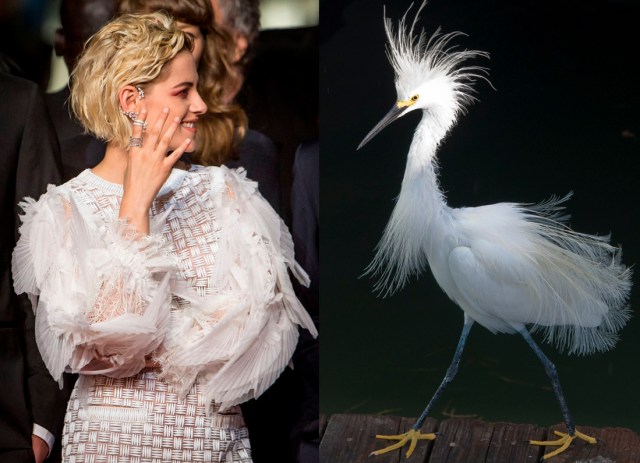 Even though she's busy being glamorous on the red carpet, Kristen still sends a secret message to this egret that she just can't stop thinking about him.