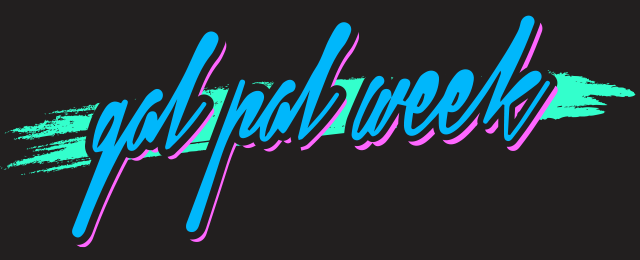 ---
Far too often our queerness is only discussed in three contexts: relationships, family and politics. But our queerness plays a role in our friendships with other queers, too, and that's what this series is all about. In honor of Gal Pal Week, welcome to "Interview With My Queer BFF," in which gals interview their best queer pals about their exciting queer paldom. And by "gal pals" we don't mean "girlfriends" or "wives" … we mean GAL PALS.
Today, Intern Chloe is interviewing her BFF Abby, who also happens to be Riese's fiancé. 
---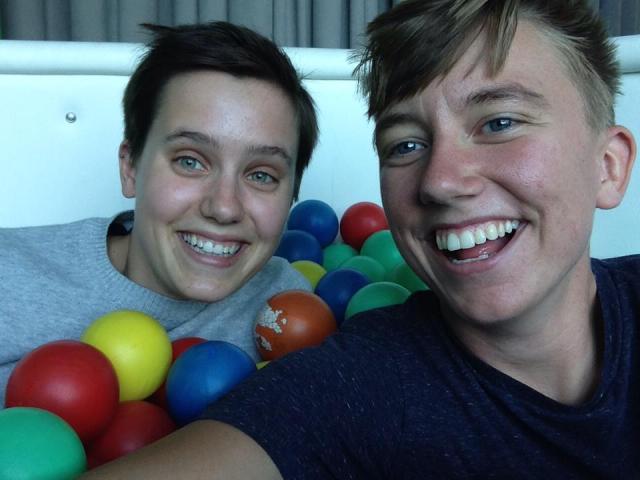 Chloe: How did we meet?
Abby: We met at A-Camp, May 2014, and I found out that you were basically an extension of me, in a lineage that I had no choice but to abide by. And we took romantic walks at sunset, we ate breakfast together, and then I forced you to be my best friend and confidant.
C: That's basically what happened, I think that pretty much covers it.
A: I think I pretty much just like forced you into a relationship with me with none of the benefits, thats pretty much what's happening.
C: So, why are we friends and not girlfriends?
A: We are both… (laughs) um oh that's a hard one. I think it all comes down to to I already fell in love with somebody else. It was like right at the same time. I don't know, that's a hard question.
C: I think that we're just too much like each other. I don't think that I ever would've, like… it would've been like having sex with myself?
A: Which is still great.
C: Which is kind of great and also kind of strange and also we immediately knew so much about each other.
A: Yeah, it was a very high stakes environment. Also I'm very much in love with you as a person. It's not like we have these weird boundaries, I don't feel like that exists necessarily, but… I don't know. I guess there just some level of that person already exists in my life. The girlfriend person. I love her in a way that I guess I'm just not available for that? But it's not that I love you any less. It amplifies it. I feel like that's tricky because girlfriends and best friends have kind of an overlap. It's a venn diagram. We're a venn diagram.
C: I'm single right now, but when I met you I had never met anyone who was so much like me and it felt that good, and it never occurred to me to be like "I should try to fuck this up by sleeping with you."
A: When you start dating someone in that way, there's that kind of inevitable, unless you're planning a life partnership with someone, that there's a feeling that this could run off the tracks at any time, and it was very apparent that that wasn't going to happen with you, therefore we have never dated. I think that's a good answer.
C: No, we're not gonna go off the tracks.
A: We're on the pal train… forever.
C: It's like the Caltrain, but with fewer disruptions to service. Do you think our friendship would be different if we were straight?
A: I can't even imagine a world in which I'm straight, I just can't even go there. All gay, all the time. I just feel like when you ask that question I see this Star Wars text going off into oblivion and it's like 'in a world'… and I'm like this isn't real, this is as real as Star Wars to me.
C: I don't feel straight ever.
A:I feel like straight girls are pretty gay regardless, in their friendships at least. If we were straight girls, I feel like we'd be those annoying straight girls, like "look at me and my girlfriend!"
C: We'd probably be really annoying, appropriative straight girls who are acting like lesbians.
A: We'd be so annoying, honestly, I feel like our friendship would be pretty much the same.
C: We're annoying anyways.
A: I would still have a collection of pictures of you around my house, regardless. Like my boyfriend would be on top of me and I'd be looking at a picture of you.
C: I'm pretty sure that happens anyways. Ok, next question. I want to ask you which of my exes did you hate the most but I feel like there's only one answer, you've only met one of them.
A: I have opinions on many of them. But yeah, I think you know. I guess in a way, like I totally respect and love you, and we're the same age, so I respect you as a fellow adult who can make their own decisions, but there still is an element of being protective of you. Just like I think you're very protective of me, so when anyone comes in the periphery, it's like "who the fuck is this" regardless, even if they're like, an angel. So anyone who wants to date you, I'm like "let me see your resume."
C: I guess you're supposed to be asking me questions, do you want to pick one now?
A: Yeah I do. Ok. What role would I play in your wedding?
C: Altar boy.
A: The pope? Can I be the pope?
Riese [shouting from other room]: Did you tell Chloe how she's gonna be your best man and walk you down the aisle?
C: I would love to walk you down the aisle! Can I wear a dad sweater?
A: None of us have Dads.
R: We have no men in our family, they all left or died.
A: Wait, so I would be altar boy in your wedding?
C: You could be the pope, I like that.
A: I don't know why I assumed the pope would be at your wedding.
R: The pope??
A: You are not being interviewed!
R: Don't you want to talk to me?
A: I'm really glad my girlfriend's like "listen to me!" I would be the pope.
C: I'm glad we sorted that out.
A: Wait, could I be the bride? I would be the bride at your wedding. OK, what's the most annoying thing about me?
C: There's nothing! That's a horrible question.
R: Also by the way I'm not here to spy, I'm just here because I just actually want to sit on the couch and you both are also sitting on it.
A: I mean you literally know all these things, you know that I'm obsessed with Chloe. You know that when I said what role I would play in her wedding I said bride.
C: No, no actually I do have an answer. The most annoying thing about you is when you're being intolerable with your girlfriend in public, and wondering why people act weird around you guys in public, and it's in the middle of you guys talking about anal sex making weird faces at each other, and I'm just sitting there, like kind of entertained and kind of embarrassed. I'm not even a third wheel, I'm like a trailer or something.
A: OK, well here's the most annoying thing about you, which by the way you don't even have to ask me, is obviously: you think you're a third wheel! And you won't just join in the fun.
C: You think I need to be more of a weirdo in public with you and your girlfriend?
A: No I think you need to pretend that you are also our girlfriend. The most annoying thing about you is that you are not also our girlfriend.
R: This is a really good segue into something Abby wanted to talk to you about already.
C: What did you want to talk to me about?
A: That you're not my girlfriend, I wanted to ask you out. It was gonna be really romantic.
C: I think Riese might be kind of upset.
A: Oh she's fine, don't pay attention to her. She's not even supposed to be on the couch.
C: What's the most embarrassing thing you've seen me through? I don't actually think I've done that many embarrassing things in front of you.
A: I hear about awkward things second hand. You know, it's so embarrassing when we go to a restaurant in Switzerland and you don't know how to speak Switzerland.
R: Isn't is so embarrassing when you go to a restaurant with somebody wearing jeans that had so many holes in them they almost had more holes than fabric?
C: I don't think I ever took Abby to a restaurant when she still owned those jeans.
R: Yeah remember, we went to the Burgermeister, and you're like you need new pants.
C: No, I was more embarassed by the two of you as a couple than I was by Abby's pants.
A: I don't think I've seen you through that embarrassing of situations. You're pretty level-headed. Which is good, for every embarrassing situation I get us into, you're very level-headed about it. I'm much more of an extreme person. You have your extremes, but they're more grounded. I'm flying at like 7000 miles an hour.
C: Sometimes. Okay let's just do one more. What have you learned from our friendship?
A: I've learned a lot actually. That you don't have to sleep with your friends for them to like you. Which for me is a really important lesson.
C: From me? I'm honored.
R: I remember when I learned that, it's a pretty big deal.
A: It is a big deal! That someone's gonna love me unconditionally, even if I don't have to fulfill something with you, makes me want to be with you all the more. And that's important. If I had to go on a Mars Rover tomorrow, the two people I'd want to see most are on this couch.
C: Aww.
R: I feel like you're implying that you're shipping me to Mars.
A: You're not in this, you're out of this! Also, I have learned to be more emotionally open with my friends, which is not my forte. I really appreciate that you let time happen in between when I have to talk about things. Like things will happen and people will find out and right at that moment people will be like, "Are you ok, do you have to talk?" and you always almost wait for me to come to you.
C: But I get that, because I don't usually want to talk about things.
A: But I think that's rare in a friend, and I think it's so nice that we're both that way, going back to how similar we are. I know that when I crawl out of my cave you're gonna be there. What's something you've learned from me?
C: Riese is gonna laugh because its gonna sound really corny, but I just remember this moment that we had at a camp, and we're walking off to have a talk for the first time, and you were like, by the way I'm not totally gay, I'm bisexual, and I just felt for the first time that I could actually just be completely honest and unapologetic about my sexuality. Even at a camp where I felt like I was sort of coming into my own as a more — I don't really like "masculine-of-center" but you know what I mean — but just my identity in general, that your existence and your total willingness to be like "this is who I am" but not in a "fuck you" way, but just in a really honest way, but you were just so honest about it that it made me feel like it was ok to be honest about my identity.
R: YOU GUYS!
A: You are not in this! Leave!
C: But also I have one more thing. I am always learning from you to fly by the seat of my pants a little bit more. You have this amazing way to be super spontaneous and also do things that make sense. When you just decided to move to California, it was totally crazy and went against all these plans that you had, and I was like "Abby that's totally crazy what are you doing,"and you had it completely logically planned out about how it was gonna work. I realized it doesn't have to be one or the other, that you have to be completely logical and following plans or you have to be completely spontaneous and making a mess of everything because you found a way to have both.
R: You can spontaneously make plans.
A: You can be like I'm gonna make this mess, but this is how I'm gonna clean it. I have already bought the mop.
C: You definitely bring me more out of my too-calculated world.
R: That you can be spontaneous and still safe.
A: Well guys! This is so sweet.