Welcome to Insta Crush, a new column on Autostraddle dot com where every other week we feature a queer Instagram account we love. I strongly believe that the way we all connect on Instagram is forging and fostering community in new and interesting ways, and I want to highlight the people – and pets – contributing to that endeavor. Much like Instagram itself, these interviews are a little slice of queer life.
Today's Insta Crush is Potato_Corgo, one of my favorite dogs in Portland, OR. Am I a little bit biased because I have met Potato in person and she immediately took a liking to my long swishy dress? Yes of course! But I'm also genuinely fascinated with the ways we as queers use Instagram to cultivate personalities for our pets. I'm not saying I'm going to turn this column into a Pure Pet Appreciation Zone (if you've met me you know I'm not a dog person or a cat person), but I am saying that this column publishes every other week and I am open to featuring more queer pets in the future! So if you are cultivating a weird / cute / fun Instagram presence for your pup / cat / bird / rat / hamster / snake / etc and you think you'd be a good fit for Insta Crush, let me know! This column is still so new, it can be anything we want it to be. It can sing, yell, soar, dance, or yes, bork. Join me in welcoming Potato the Corgi to Insta Crush. And check out this fucking adorable family photo (below) that Potato's humans, Cee and Pan, sent out to announce Potato's arrival to their friends and family. They sent a real tangible printed announcement in the mail for their dog, y'all! With a stamp on it!
Gosh darn it, I fucking love being gay.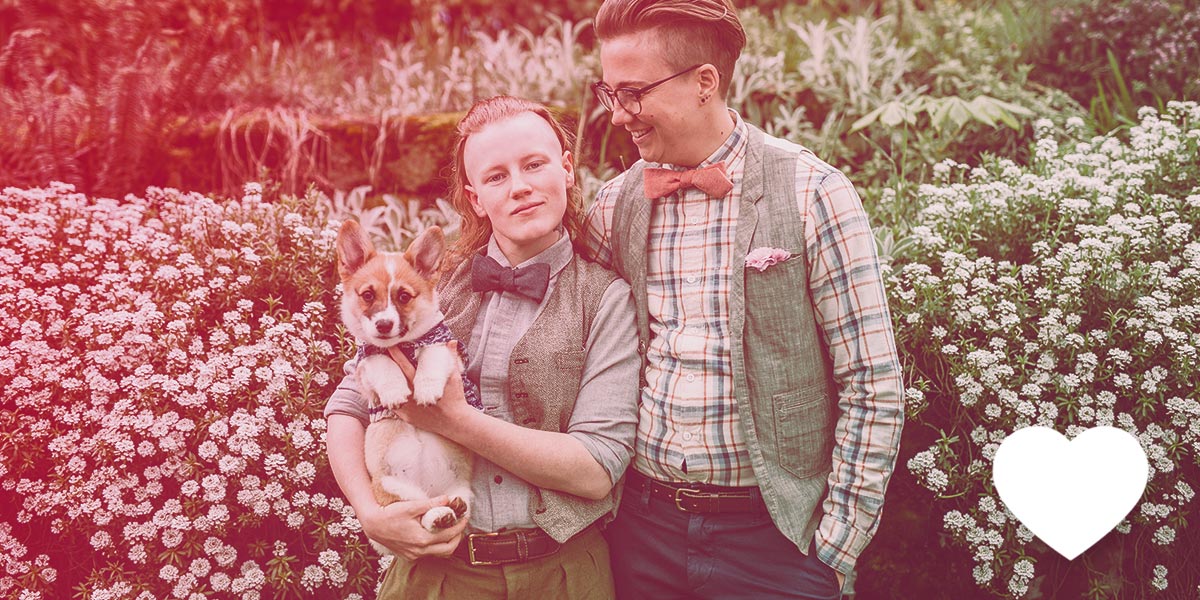 Does Potato run this Instagram account or is it run by humans?
Potato doesn't have thumbs or a smart phone so Cee mostly runs it.
Tell us about Potato. What's her deal?
Potato is a 5 month old Pembroke Corgi who lives with Pan and Cee in Portland, OR. She spends most of her day hanging out at the house trying to not get beaten up by the cats, practicing her tricks, and waiting for her evening park walk which is the highlight of the day. She's got some park friends which include some other corgis, a great dane and her best friend Frankie the Aussie Shepard.
How did Potato get her name?
She was a one week old tiny potato when we first saw her and the nickname stuck.
Why is Potato so cute?
Potato was specifically bred for cuteness and borkability. The cuteness is important to prevent being abandoned in a forest during bouts of borking.
What is Potato's favorite food?
Dehydrated chicken! Pan makes it in the dehydrator and Cee also eats it. But Potato is a dog so pretty much anything that is in her mouth is her favorite food.
What is Potato's favorite activity?
Potato loves anything outdoors but her favourite is camping by a body of water.
What's something the casual Instagram follower doesn't know about Potato?
Potato spent the first two months we had her barking incessantly, snarling, and generally being not a very nice person. All the lovely puppy pictures were moments between borks. She is a great dog now but we 100% would not corgi puppy again.
Do you (Potato's humans or Potato) have any other Instagram accounts you particularly enjoy?
Paul the Corgi is our favorite Instagram.
What are your goals for this Instagram account?
We want free shit, obviously.
What's the best part about pet Instagram?
Potato enjoys the validation.
What's the worst part about pet Instagram?
Being recognized. Sometimes a girl just want to go for a walk you know?
Should all pets have their own Instagrams?
No, don't want to dilute that pool of free stuff. Plus most pets just don't have what it takes – being famous is no walk in the park.
Is there anything else you'd like to share with Autostraddle readers that I haven't asked?
Potato is always looking for dog sitters and play dates, feel free to slide into her DMs ;)
---
If you have a suggestion about which Instagram account we should feature next on Insta Crush, leave a comment here or DM me at vanessatakesphotos.