Welcome to Insta Crush, a column on Autostraddle dot com where every other week we feature a queer Instagram account we love. I strongly believe that the way we all connect on Instagram is forging and fostering community in new and interesting ways, and I want to highlight the people contributing to that endeavor. Much like Instagram itself, these interviews are a little slice of queer life.
Today's Insta Crush is Gender Reveal, a weekly podcast that centers nonbinary & transgender voices. The podcast's creator and host, Tuck Woodstock, is kind, ambitious, generous in all the right ways and hyper-critical in all the right ways, and truly dedicated to serving their queer and trans community. Tuck is also my friend IRL, but I would say all of what I just said even if we'd never picnicked at the farmer's market or gone out dancing together. The work Tuck does to create a better world for queer and trans people is palpable and impossible to miss. Everyone who interacts with them, even for a couple of minutes online, can feel it.
I think you're really going to love Gender Reveal, and if you haven't listened to it already I strongly recommend it. We are lucky to have this podcast in the world. And we're lucky to hear from its creator today!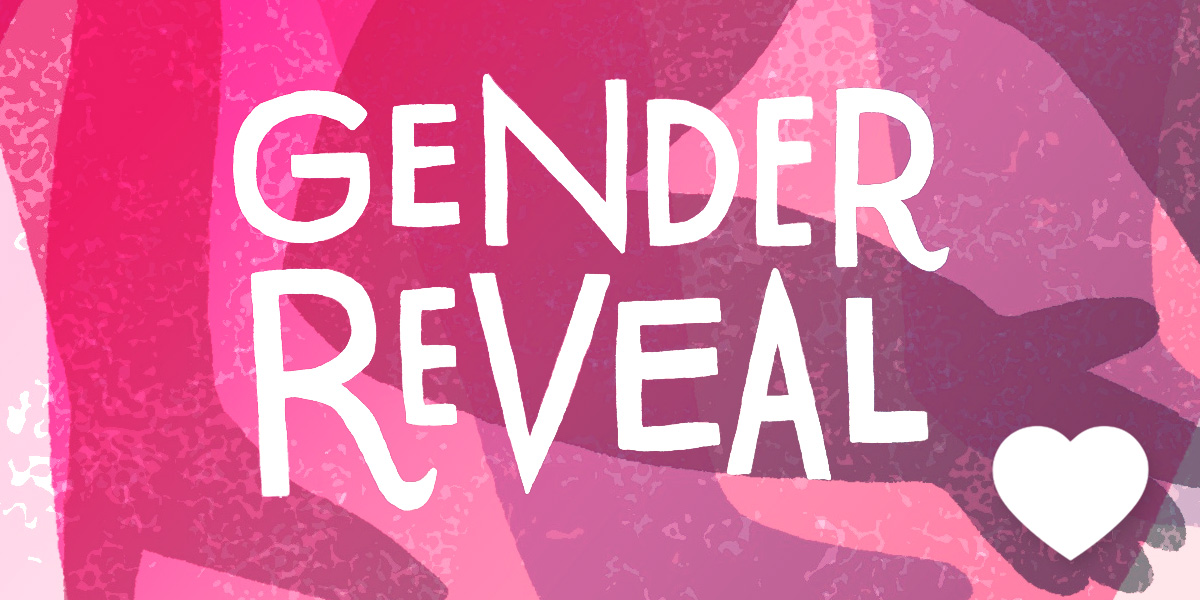 What is Gender Reveal?
Gender Reveal is an award-winning podcast about trans and nonbinary folks. Each week, we talk to trans artists and activists, answer listener questions, analyze current events, and hopefully get a little bit closer to understanding what the heck gender is.
Why did you decide to create this project?
WELL, VANESSA, IF YOU MUST KNOW, I was at a podcasting conference for """""women""""" in late 2017 that claimed to be nonbinary-inclusive but extremely was not. At this conference, I realized that all of the thoughtful, nuanced conversations that I was having with my peers (queer/nonbinary/trans punks) weren't being heard by the people who could learn the most from them, nor were they being heard by LGBTQ+ folks who lived outside of my beautiful queer Portland bubble and could really use a more robust and diverse trans community.
My primary audience is other trans folks — because I think that we deserve a space where we get to go beyond Gender 101 and don't have to explain ourselves over and over again — but I also wanted to create a space for cis people to listen in without taking up too much space or being scared that they were going to mess up somehow. In other words, this meme is incredibly real and I was trying to bridge the gap.
Can you explain some of the behind the scenes stuff? I think our readers who aren't familiar with podcast production would probably be interested in how you choose guests, what the interview process looks like, how editing works, etc.
I don't know how to answer this question so I will answer a different one! Many prestige podcasts put out like 6-10 episodes a year despite being well-funded and well-staffed. Gender Reveal is literally just me recording stuff in my bedroom on evenings and weekends (I work a full-time day job as a journalist and also teach equity workshops) and doing all of the pre-production, production, and editing myself. I calculated once that I probably spend 300 hours on the show per 15-episode season, which works out to a half-time job that's more or less unpaid. (I am grateful to be supported by our very sweet and generous listeners at patreon.com/gender, which is how I cover the show's expenses and sometimes pay myself like $1/hour.)
Did you have a specific goal when you launched Gender Reveal? Do you have the same goal now? Did you make new goals?
As a light-skinned biracial person, one of my goals is to amplify the voices of Black trans folks, Indigenous trans and two-spirit folks, and other trans people of color, because those are both the most marginalized members of our community and also, frankly, the perspectives that I care the most about. Specifically, I make sure that every season of Gender Reveal is at least 50% folks of color. (I'm very excited that this season is more like 67% BIPOC folks!) I especially love to learn about pre-colonial concepts of gender and hear how folks are tackling the concept of gender-neutral language in their communities.
I also try to maintain some kind of balance between trans women, trans men, and nonbinary folks, so that we hopefully have a wealth of representation across the gender spectrum. I know that ""the media"" stereotypes nonbinary people as thin, white, able-bodied androgynous folks who were assigned female at birth, and while I'm sure we have interviewed folks like that before, it's certainly not the only type of nonbinary person we talk to.
In an effort to support our trans community (and my pathological need to never receive payment for my labor), Gender Reveal also has a biannual grant program. This spring, we were able to give out more than $1000 in grants to five BIPOC trans folks doing incredible work, from a two-spirit Anishinaabe educator to a high school teacher developing trans-inclusive biology curriculum. So, one of my goals is to be able to raise enough money to give out more and bigger grants! (Currently, we offer $100-350 per grant, which is barely enough to do anything.) So many folks in our community can barely eat and pay rent, so the need for grants is enormous — and it's very difficult to fundraise because, again, transgender folks experience extremely high rates of poverty and most cis folks don't, uh, care about trans people I guess??
My other goal is to keep growing and gaining listeners so that we can 1) start doing live shows (yay!) and 2) gather enough resources and cred that I can do this life-changing work full time. (It turns out that having three jobs isn't sustainable, who knew?)
What do you enjoy about creating community online?
You and I have spoken before about the fact that, since we're both Professional Queers, queer and trans strangers sometimes pop into our inbox to share really intimate problems and secrets, or simply to try to be friends. And I'm so happy to hear from any trans person or podcast listener… but also, I simply don't have the bandwidth and resources to support everyone the way that they need and deserve! But by creating online community — specifically in our Slack community (bit.ly/genderslack) but also on Instagram and Twitter — Gender Reveal listeners and other trans folks are able to support each other in this really beautiful, tender, affirming way that I'm completely in awe of. I'm so so proud of the Gender Reveal community in their ability to affirm and support each other and I just… they're just amazing!!! I just love them!!!!
Online community also allows all of my coolest friends to meet and become friends with each other, which I deeply love. And, of course, most of the folks I interview on the show don't live in Portland, where I live, and online community allows me to shitpost my way into their lives, despite the distance.
What do you not enjoy about creating community online – or rather, what do you wish could be different, if anything?
Hmmm, I mostly wish that I didn't ever have to think about safety. For example, I want to make a database of trans journalists and media folks — because, you know, newsrooms generally love to hire clueless and/or transphobic cis people instead of, like, a single trans person — but so far haven't been able to figure out a way to make something that wasn't just a convenient way for everyone to get doxxed.
Other than that, I generally don't have many complaints, other than that I spend waaaay too much looking at my screens and my eyeballs are going to fall out of my head any day now.
What are your hopes and dreams for the future of Gender Reveal?
Oh gosh, my favorite thing about making Gender Reveal is all the folks who have written in to tell me that the podcast made them realize that they're trans/nonbinary. So I guess, uh, I'd like to keep helping people realize they're trans?!?!? What greater dream is there, tbh.
Ok, but also, I'd like Gender Reveal to reach a wider audience, and I'd like to do live shows, and I'd like to guest on other shows, and I'd like other podcasts/media folks/networks to support us at times that aren't just Pride Month, and I'd like to raise enough money that I can do this work full-time and also pay people to help and also increase our grant program!
I sometimes worry (perhaps unnecessarily?) that people think I want this show to grow because I'm a Leo Rising with a Big Ego who wants to Make Money, but honestly, it's more that I believe that creating affirming and diverse trans community is literally life-saving work, and I want everyone to stay alive and maybe even flourish.
Can you tell me about the cute kitten in some of the photos on the Gender Reveal IG?
YES, this is RUBY, aka Rhubarb Figg McBiteyface Woodstock. She is my CHILD and she is PERFECT! She's also the unofficial Gender Reveal mascot, and you can inexplicably buy a sticker of her in our merch store.
Do you have any specific episodes you'd point people to if they're going to listen for the first time?
Yesss, I'd point people who struggle with they/them pronouns to the Kirby Conrod episode. I generally point everyone else to the episodes with Vivek Shraya, Thomas Page McBee, Sonalee Rashatwar, or any of the advice episodes. However!!!!!! I think that my answer is different for Autostraddle readers! Y'all would probably like our interviews with Autostraddle contributors/friends Archie Bongiovanni, Mal Blum, Al(aina) Monts, and Gaby Dunn (our token cis guest!).
What are some of your favorite IG accounts?
@ihartericka, @riseindigenous, @betheastonart, @menswearselfcare, @webcomic_name, @labellesophie.
What's your favorite summer outfit or summer vibe?
I generally try to wear as little as possible in the summer, so I guess my favorite outfit is an aggressively queer crop top paired with a very short short and a dad hat. I'm also very into the shortalls I'm wearing at work right now. (It's hard to find shortalls that aren't for literal toddlers, but I did it.)
What's the best place to go hiking in or around Portland?
Oh gosh. I just did the Timberline Trail around Mt. Hood and it was really spectacular! (MANY photos on my personal Instagram if folks are interested.) There are lots of river crossings and some snow, so I wouldn't do the whole 40-mile loop unless you're a mildly experienced backpacker, but there are also lots of day hikes in that area.
What do you love about being queer and nonbinary?
The freedom to do whatever the fuck I want to do without worrying about roles or rules or expectations or societal whatever. Also, not having to worry about cis men's opinions on anything.
Is there anything else I didn't ask you that you'd like to share with Autostraddle readers?
Two things! One is that I wrote this article about trans podcasts that aren't Gender Reveal if anyone is looking for additional recommendations. Secondly, a friend and I are in the process of starting an official consulting company, but in the meantime, folks are welcome to reach out to me through my personal site (tuckwoodstock.com) about trans equity trainings or consulting. Most businesses/schools/orgs/newsrooms/etc are still struggling with how to, uh, be chill in a world where trans people exist, and I'm happy to help any way I can.
---
If you have a suggestion about which Instagram account we should feature next on Insta Crush, leave a comment here or DM me at vanessatakesphotos.