A few months ago, you may recall, I wrote about an indie platformer called Limbo. The game is wonderful and engaging and beautiful and, primarily, disturbing as all get out. (I still think about the giant spiders sometimes when I can't sleep.) A big reason why I wanted to play Limbo in the first place was because a friend told me about Inside, which is a newer release from the developer (Playdead), but I was unable to get my hands on a copy. Oh, how the world has changed in five months! On the downside, the United States of America is basically crumbling around us, but, hey, I did finally get to play Inside.
The best way I can describe the game is this: Inside is what would happen if Limbo dropped acid and had a mildly bad trip. A lot of the things that made me love Limbo — the unsettling atmosphere, the gorgeous use of light and shadow, the ambiguous story open for interpretation — are back in Inside and punched up to eleven. I feel like I say this in every review, but you should really go into this game with as little knowledge about the way the story unfolds as possible. And I super mean it this time!
(Spoilers and somewhat graphic, unsettling images below)
If you have played Limbo (which you obviously should), the setup for Inside will feel familiar. The game's description is about as minimal as it can get: "Hunted and alone, a boy finds himself drawn into the center of a dark project." (Though, just as I did with Limbo, I imagined my character was actually genderqueer because I do what I want — and I invite you to do the same.) Also similar were the gameplay style and simple controls, which made the game easy to jump into quickly.
Inside begins just as abruptly as its predecessor; you tumble down a rock cliff and suddenly you are alone in the woods with no explanation or instructions. And that is where the similarity in plot between the two games ends. While Limbo did have some other characters darting in and out of the periphery, Inside heavily features other people, mainly unnamed men in white masks at the beginning, and they can definitely kill you.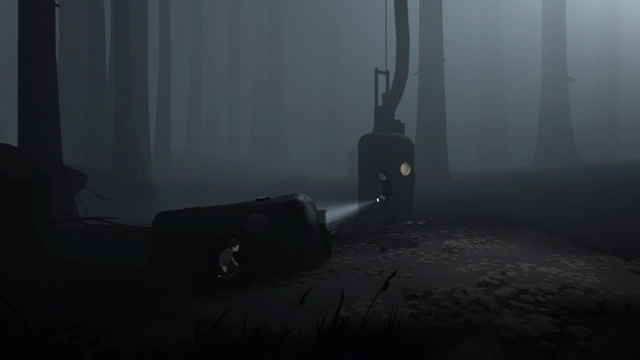 Speaking of things killing you, there sure are a lot of them in Inside! If I had to rank my deaths from least to most favorite (because that is a thing you can do when you play this game), I would put dog mauling way down at the bottom. Mostly I'm just glad that you are not able to fight back and hurt the dogs, because, generally speaking, animals are too good and pure for this world or any virtual one.
I did manage to find some fun and super gruesome ways to die, though, don't you worry. I think getting sucked through the blades of a fan takes the top spot on my fav-o death list:
As the game progresses, your character moves through many different settings — from the forest where you start out to a creepy, mostly abandoned farm and finally to a sprawling facility in various states of disrepair. Constant throughout the various backdrops is the incredible level of detail captured and the attention to light and shadow in the graphics. Inside has an uncanny ability to compose nightmare-scapes that are visually stunning and somehow beautiful in spite (or maybe because) of the horror they contain.
Just as impressive as Inside is visually, it is equally as awesome when it comes to the audio. Though there isn't really a traditional soundtrack, every sound-related detail has been thought through and brought to life to create an extremely unsettling atmosphere. When your character is very scared or stressed, their breathing actually changes to reflect that. Also, the composer, Martin Stig Andersen "made a workflow of processing synth sounds through [a human] skull using audio transducers and contact microphones, and then restoring them." Are you even kidding me? THAT IS METAL AF.
On the surface, Inside is about a kid trying to get inside a facility where horrible, unspeakable human experiments are being run — or maybe it's not (more on that later). But no matter how you interpret the story, the journey of the game is a hell of spooky, challenging, and fun experiences. Once your character outruns masked men with guns and dogs in the forest, they approach a rundown farm littered with pig corpses. It's here that the element of mind control is first overtly introduced.
As you make your way into the facility, it seems like things get weirder and weirder at every turn. There's even one point where you're almost caught by people in charge and you have to pretend to be mind controlled, mimicking other bodies marching in a line, in order to make it through alive. Even more disconcerting is that the people in charge have children with them, all watching eagerly and willingly. This is not a place for children.
There are even more faceless, soulless man-babies inside the facility. I really hated them at first, because they're incredibly creepy, but I'm going to be honest: they grew on me. They helped me out of some tricky situations and I started to feel like they were my pets. I don't really want to talk about it, I know it's weird.
A lot of the game takes place in and around water, and that's where you meet this other charming new friend:
Just kidding, fuck that thing. It's terrifying and it reminds me of the little girl from The Ring. That thing killed me a bunch of different times until one magical moment where, instead of murdering me in the water/drowning me, it plugged me into something glowy. From that point on, you can breath underwater and control the corpse babies without a special helmet.
If you think this game sounds weird, you are correct, but, also, it gets weirder. Eventually, you make it past all the ridiculous obstacles and end up at some kind of observation tank. There are hundreds of collared shirt wearing employees, for lack of a better word, gazing into the tank, and none of them seem to really care that a random kid is in the mix. Finally, you get into the tank where you find a horrifying flesh blob made up of multiple bodies (and parts) and it sucks you right up into it. I'm serious. You play the rest of the game as the flesh blob on a rampage, knocking down, killing, or crushing anything in your path.
The game ends when you (new, flesh blob you) escape the facility and roll down a hill, coming to rest in a patch of sun on a little beach.
So. What the fuck, right? Like Limbo before it, Inside is one of those games that sticks with you long after you finish. I'm honestly not sure I even have an interpretation of this game yet, though I have read and listened to several theories (my favorite being this one). But more than any one specific story explanation, I think the core joy of Playdead's games is all about the discourse that stems from their ambiguity. I love that you can dissect these games for hours, looking back at what seemed like small, insignificant background details and realizing they might be important plot points. I can't wait to see what they develop next.
Inside is available on Steam (Windows only), Xbox One, PS4, and my nightmares.