So. Man-made things you can see from space:
+The Great Wall of China
+The Pentagon
+Wealth and poverty
Don't believe me? Here're photos of Hyde Park (median household income $44,142) and Woodlawn ($21,482), two Chicago neighborhoods. Can you guess which is which?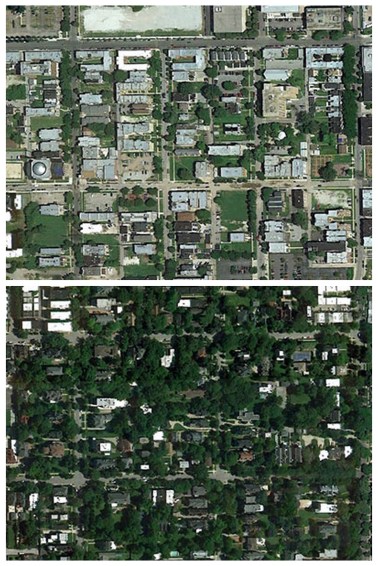 In response to a study on tree cover and wealth, Per Square Mile, a geography and urban studies blog, found pairs of photos from disparate neighborhoods on Google Earth to prove just how easy it is to see inequality. The author, Tim De Chant, argues that the trees (or lack thereof) aren't just about making the block beautiful, they keep homes and streets cool, clean the air of types of pollution that can cause asthma and allegedly even fight crime. The response from readers brought photos from Tanzania to Portugal and shows that it's more than just trees; it's the size of houses, the presence of cul-de-sacs and the crowding of blocks.
And while there's a lot we can see from miles up, there's a lot we miss too. Between education, gentrification, transportation, historical and present-day racism, immigration the politics of housing is a messy business. Pointing out what's missing from the poorer neighborhoods reinforces ideas about the dangers of "bad parts" of the city; while suggesting that many people in these areas are thriving, if not economically then artistically and socially, seems to overlook the obstacles they face. What these images do give us is a place to start. With some members of congress intent on turning knowledge into a limited resource, the more we see means the better we can talk about the places we live.