Few TV series have ever grappled with a relationship like the one between Grace Hanson and Frankie Bergstein, a once-antagonistic affiliation between two women connected only by their husbands that grew into a reluctant alliance that developed into a personal and professional partnership that evolved into a soul mates. I'm not even sure the show's creators, Marta Kauffman and Howard J. Morris, intended Grace and Frankie's connection to be so intimate and unyielding, but I suppose that's the rub of casting Jane Fonda and Lily Tomlin, whose on-screen chemistry is informed by their 40-year real-life friendship. The question of Grace and Frankie's first season was: how in the world are these two antithetical frenemies going to live together? The question of every season since has been: how in the world are these two best friends going to live apart?
Season six, which landed on Netflix this week, starts asking the question immediately. It's Frankie, of course, who's struggling with it the most. Grace married Nick in Las Vegas during the season five finale, and Frankie was bereft when the credits rolled.
She tries to shut down her feelings, but they manifest in the most Frankie way possible. By which I mean she installs a set of Grace and Frankie mannequins in the beach house living room as soon as Grace moves into Nick's place, and then tries to become best friends with life coach Dana Marino — of the best-selling book "You Need To Snap Yourself Out Of It" — who comes over to help her clean up her various Happy Meal toys and old welding magazines. "I love a dry martini," Dana says at the end of the day. "I love a woman who loves a dry martini," Frankie sighs. But it's actually Grace who buckles first and calls Frankie for help. She's thrown out her back and can't get off the toilet. Frankie slides in, giddy to be needed, grinning like a banshee, talking about, "Hey, lover!" to save the day. (She later calls herself Grace's "emotional support witch" and "soul mate slash guru.")
The toilet conundrum compels Grace and Frankie to try to invent a self-rising toilet seat — "the Helen Mirren of plumbing fixtures," Frankie calls it — in their never-ending quest to empower retirees to live their best lives. And yes, those hijinks are so Frankie and so absurd and hilarious, but it turns out they don't need a business venture to spend time together.
As usual, all of the non-Grace and Frankie plots weigh the season down. I know I should care more about Sol and Robert. They're a revolutionary gay couple! But man, I sure don't. Bud and Coyote and Mallory are fine and fun, but I'm not in it for them either. However, everything Brianna does remains literally perfect, including dressing up like Wonder Woman to help Barry keep his promise to his lesbian friends to be their sperm donor, and including proposing to Barry at the end of the season under the condition that they will stay engaged forever and he will never force her to get married. (He will also be allowed to eat her leftovers, but only when they order Ethiopian, Ramen, or Mexican.)
The question of season six quickly shifts from "Can Grace and Frankie live without each other?" to "Do they actually want to?" I had been expecting all the jealousy to come from Frankie, but Grace chooses Frankie so much, all the neediness and clinginess ends up coming from Nick. Grace loves him. She just wants to live with Frankie, is all. And at the end of the season, she gets her wish. Over dinner at a crab shack, Grace and Frankie reconcile after Grace sells out Frankie on the TV show Shark Tank. She tells Frankie not just that she's sorry, but that she misses her, and she misses herself: "The real me, the me I am with you." Frankie says, "I love that you." They agree that they are each other's first person — the first person they call when things go swimmingly or terribly or anything in between. It's unconventional, but it works for them.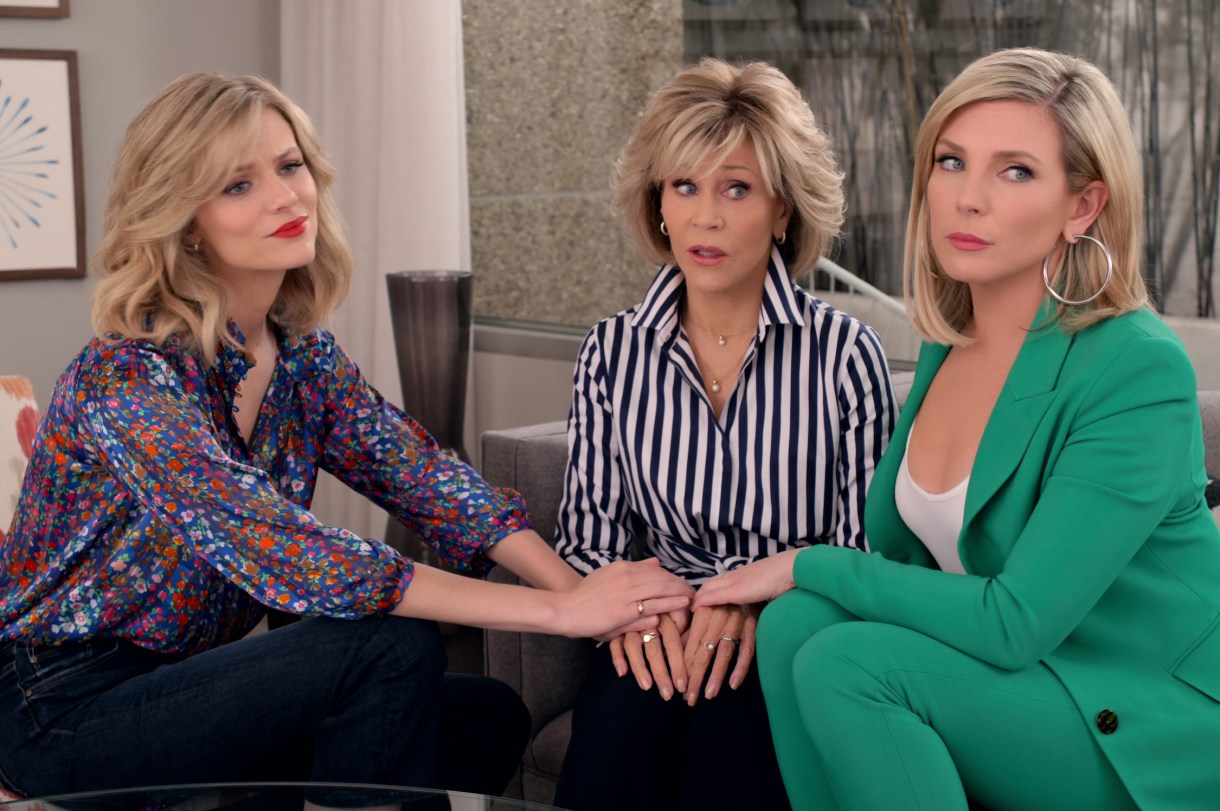 Grace doesn't have a chance to tell Nick his fears about Frankie are true. After 13 episodes of joking about his white collar crimes with his ex-wife/business partner Mary Steenburgen(!!!), he actually gets arrested for them. Frankie stabs his terrible couch until she finds $50,000 inside the cushions and she and Grace take off back to the beach house and hide it in the freezer. They find Sol and Robert there, without a place to go, because their Rise Up toilet exploded and flooded their house.
Maybe the seventh and last season will finally answer the question that's been keeping me up at night: Are Grace and Frankie ever going to say they're gay for each other or what?!