As a community we fight so hard for the right to marry that once that right is granted gays are full speed ahead to the altar. Whether your right to marry is freshly minted (hey New York!) or you're cruising along the engaygment trail, allow me to suggest a brief detour to protect yourself.
As an aspiring talk show host who also happens to be a lawyer and a formerly engaged Gay American, I know a lot about the ins and outs of marriage, legally and emotionally.
When I got engaged in 2006 I really thought we were going to be together forever, so much so that we each exchanged one another as beneficiaries on our retirement accounts at our jobs. Talking about money was hard, but we did it and were planning on a partnership agreement (at the time he hadn't changed his legal gender marker so we couldn't get legally married).
I had no idea that my partner was cheating on me for several months and would leave me six months prior to our wedding, owing me personal debt of around $2,000. I thanked my lucky stars that at least we hadn't gotten married, it was easy to change my retirement account beneficiary to my BFF and didn't get more financially involved than that. It was a huge wake-up call that relationships are never quite as they seem and even when you think everyone is being honest and using their best intentions that it is easy to lose your financial footing. Marriage is an even bigger financial risk than just cohabitating.
Marriage is a public acknowledgement of a private relationship. It is really fun, tender and sweet to participate in it on all levels. But marriage is essentially a certain bundle of rights granted to a pair of people who the state will allow to create this partnership and a lot of those are financial rights.
Getting married is, financially, like entering into a business partnership with someone. Ideally, if you enter into a business relationship, you'd do some sort of due diligence on their money management skills, create a budget and are transparent with one another about the business assets. We don't usually do that kind of due diligence on our future spouses, as conversations about money are sometimes uncomfortable and isn't it more fun just to talk about decorating the living room or what type of pet to adopt?
However, in the case of divorce, all of your assets are at risk, though you may have kept your money somewhat separate. Here you've entered into a personal relationship but, because the divorce laws exist in part to protect the financial interests of aggrieved or less affluent spouses, you've exposed yourself to a potentially huge financial loss.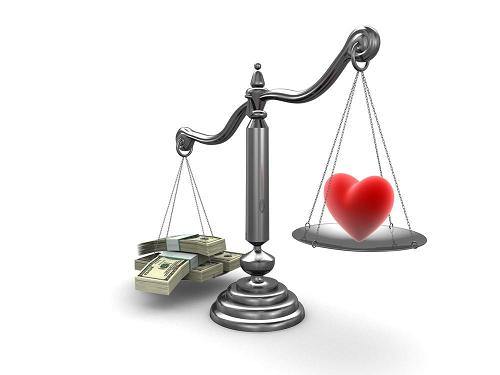 I heartily recommend prenuptial agreements to anyone considering getting married. Prenups are, essentially, pre-negotiated divorce settlements. There are a lot of different types of agreements, ranging from "what's yours is yours, what's mine is mine" through really complicated agreements that expire after a certain length of marriage or amount of progeny produced. All agreements are customizable to your individual needs within the confines of the matrimonial law of your state.
Having a prenup can save you a lot of money (much less legal fees creating a divorce settlement) and hurtful fighting during the dissolution of your partnership. I think that a prenup is an even more fantastic idea emotionally. If you are considering getting married to someone, you should be able to have conversations about money with one another. And if you haven't had a real conversation about your assets and whether and how you want to protect them there are likely a lot of values you don't know about your partner.
If you anticipate supporting your future spouse through school, if you are in school to get a professional degree, or anticipate either one of you having an increase in your earnings or potential earnings during your marriage, you should consider a prenup. If you are thinking about having children with one another, either of you will quit a job during child rearing, you should consider a prenup. if you have assets like retirement accounts, savings accounts, expensive personal property or real estate, an inheritance or might get an inheritance, you should consider a prenup.
If you are going for a plain vanilla agreement your legal fees should be about $500-$1000 (cheaper than a good wedding photographer, and far less expensive than a divorce). You'll want to find someone who specializes in matrimonial law. You can go to one attorney together or you can each have separate representation. Your local gay/lesbian law association (like LeGaL in NYC) will likely have a referral service you can use, and there are other ways to find good gay/gay-friendly lawyer referrals by googling around for gay yellow pages. If you call a matrimonial attorney they should be able to give you an outline of the process of obtaining one, and when you should sign it before your wedding date.
It is really hard to have conversations about money even in the best of emotional times. But having an honest conversation about your intentions, and setting up a plan for the future is a really important way to establish the foundation for a good future with great communication and hopefully no need to ever use the prenup.