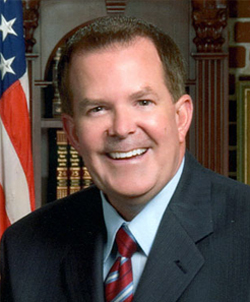 LYING:
Did you hear the one about the state senator who voted against gay marriage equality and Harvey Milk Day and who railed against the LGBT community as part of his "Traditional Family Values" campaign who turned out to be gay? It might sound familiar, perhaps because it happened last week and maybe you saw it elsewhere, or perhaps because IT HAPPENS ALL THE FRACKING TIME. (see: Outrage)
Roy Ashburn, California state senator, has a flawless anti-gay voting record, and was also arrested for DUI while leaving a gay bar with another man this weekend. "Roy Ashburn… has raised countless wads of campaign cash by cuddling up to the right wing of the Republican Party and has spewed out hateful anti-gay rhetoric to his conservative constituents, all in the name of getting re-elected. In the hours that followed Ashburn's arrest just after 2 a.m. Wednesday, speculation boiled over in the media and in cyberspace that there has been a really smelly cover-up regarding Ashburn's sexual orientation that has been going on for months, if not years. Apparently the mayor of West Sacramento outed Ashburn very matter-of-factly when he posted "It wouldn't bother me so bad to see Roy Ashburn at Badlands (a gay bar) with a boy if he didn't have such a bad voting record on gay rights." on Facebook six months ago, but it seems like no one noticed or cared at the time. Local news media now appears to have had information for a while that might suggest Ashburn was gay, but didn't print it because it "wasn't relevant." (@sdgln)
UPDATE 2:40 PM MONDAY: Senator Ashburn came out on the radio this morning. Also, he still thinks he voted correctly.
"I'm gay," he said. "Those are the words that have been so difficult for me for so long. But I am gay, but it is something that is personal and I don't believe — I felt with my heart being gay … did not effect, would not effect how I do my job. What happened through my own actions the other night changed all that."
On charges of hypocrisy: I believe firmly that my responsibility is to my constituents. On each measure that may come before me, I will take a careful look at it, and apply that standard: How would my constituents vote on this?
Is this gonna be the new rhetoric for outed politicians? It's not hypocritical 'cause it's not about THEM, anyhow? Lame.
Because it seems these days like the more anti-gay someone is, the more its' just a matter of time before it turns out to be motivated by interanalized self-loathing, we did a piece on this last summer. Evangelicals, Rapists, Tramps & Thieves: Why Anti-Gay Leaders Love to Sin, Are the Sinners.
For those keeping track of the members of the family values conservative movement who have joined the "Appalachian Hiking Club," you can add Ashburn to the list with Mark Sanford, John Ensign, Vito Fossella, Bob Allen, Larry Craig, Randall Tobias, Ted Haggard, Jim Gibbons, Mark Foley and our own native son, David Vitter.
PRE-SCHOOL PREJUDICE:
A preschooler will not be allowed back to school b/c their parents are lesbians. We talked about it yesterday in the "funday" post, focusing on how the GLBT community is rallying around the family. Today we report that um it doesn't matter.Basically they want to be able to teach anti-gay rhetoric without being interrupted by anyone who could offer a different version of events, like um, "my Moms are gay and I'm just fine!":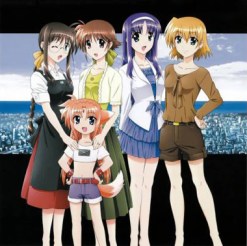 "If a child of gay parents comes to our school, and we teach that gay marriage is against the will of God, then the child will think that we are saying their parents are bad," explained Father Bill Breslin, the pastor who oversees the school. "We don't want to put any child in that tough position– nor do we want to put the parents, or the teachers, at odds with the teachings of the Catholic Church. Why would good parents want their children to learn something they don't believe in? It doesn't make sense. There are so many schools in Boulder that see the meaning of sexuality in an entirely different way than the Catholic Church does. Why not send their child there?"
GLBT PROTECTIONS: Virginia Attorney General Ken Cuccinelli II has urged the state's public colleges and universities to rescind policies that ban discrimination on the basis of sexual orientation, arguing in a letter sent to each school that their boards of visitors had no legal authority to adopt such statements." (@huffpo)
BLOOD:
18 US Senators have written to Margaret Hamburg of the FDA requesting a review of the ban on men who have ever had sex with men as blood donors. "We live in a very different country than we did in 1983. Today, the high-risk behaviors associated with HIV contraction are more fully understood and dramatic technological improvements have been made in HIV detection…. Reflecting the dangers associated with the window period, prospective donors who have engaged in heterosexual sexual activity with a person known to have HIV are deferred for one year. At the same time, male donors who engaged in protected homosexual sexual activity with a monogamous partner 26 years ago are deferred for life…." The signers of the bill include John Kerry, Kirstin Gillibrand, Dick Durbin, Daniel Akaka, Sheldon Whitehouse, Sherrod Brown, Frank Lautenberg, Bob Casey, Bernie Sanders, Russ Feingold, Mark Udall, Al Franken, Maria Cantwell, Carl Levin, Tom Harkin, Mark Begich, Rolland Burris, and Michael Bennet. (@metroweekly)
PROP 8:
"A federal magistrate is ordering several gay rights groups that campaigned against California's 2008 same-sex marriage ban to furnish some internal memos and e-mails to lawyers for the measure's sponsors. U.S. Magistrate Joseph Spero issued the order Friday as part of the first federal trial to examine if the U.S. Constitution prohibits states from outlawing gay marriages." As we learned in the Prop 8 trial, a lot of the h8ers' case rests on no one being able to see the internal workings of their organizations to find out exactly what their motivations and strategies were, so this could be a step in the right direction. (@mercurynews)
ROSEANNE:
After the suicide of Bryan Osmond, who may or may not have been gay, the Mormon church is facing renewed criticism on their strong anti-gay stance, mostly from Roseanne Barr. She has posted on her blog "marie osmonds poor gay son killed himself because he had been told how wrong and how sick he was every day of his life by his church and the people in it… Yet the Osmonds still talk lovingly about their church, saying nothing about its extremely anti-gay Crusade." along with the following letter: Dear Michael, if I had been your mom, I would have told you that some of the greatest and smartest and most artisitic people who ever lived were gay. I would have shielded you from bigots who tore at your soul, like the ones that unfortunately were closest to you. to all the gay mormon children out there in the world, I will be your mom! I love you!" There is no definitive word on Bryan's sexual orientation, and Marie Osmond is reported to be suicidal in her grief. (@examiner)
DADT:
General Petraeus has issued yet another statement questioning the usefulness of DADT. A few weeks ago he stated that most servicemen and women didn't really care if their comrades were queer, and today "General David Petraeus has admitted working with gay and lesbian CIA officers in the past. He stated on CNN's "Fareed Zakaria GPS" on a segment posted on the show's website. General Petraeus stated "after the 10 seconds of awareness wore off, the focus was on the professional attributes." (@lezgetreal)
SCHOOL:
The Mthwalume High School,which was closed down last month after two girls were caught kissing and then named 27 other girls as lesbians, now appears to be reopened with all 300 pupils back at school. "Commission spokesman Javu Baloyi said the commission wrote to the provincial department of education demanding answers. Lindani Mkhize, of the local branch of teachers union Sadtu, said the matter was resolved and the children were back at school on March 1." (@timeslive)
MINNESOTANS:
Minnesotan politicians and leaders are working hard to oppose Uganda's Anti-Homosexuality Bill. Democratic Reps. Tim Walz, Keith Ellison, Betty McCollum and James Oberstar sent a letter to President Obama urging him to speak out against the Uganda bill. The Minneapolis City Council has also passed a resolution condemning the bill, and religious leaders are speaking out as well. "It's a terrifying thing that a religious organization can justify the silencing or annihilation of anyone just because of who they are," American Prayer Hour organizer Rev. Laurie Crelly told TheColu.mn, a Minnesota-based LGBT news website. "We're defending a Christianity and a faith tradition that would be totally opposed to what's going on" in the US and Uganda." (@startribune)
ATLANTA EAGLE:
The lawyer representing those who were injured in the reprehensible bar raid that occurred at the Atlanta Eagle in September is looking for more plaintiffs. Currently fewer than half of the people present that night are part of the lawsuit, and there are only a few days left to join. Legal fees aren't an obstacle: "Please feel free to let people know they should not worry about legal fees, if that is the reason they have not joined the case. From the first day I took the case I agreed not to take a fee from the clients, and when the Southern Center for Human Rights and Lambda Legal agreed to join me in the case they both agreed, very happily, to the same arrangement. I would hate to think anyone is staying away from the case because of a concern about legal fees." You can go to atlantaeagleraid.com for more information about joining the suit – and if being a plaintiff makes you uncomfortable, you can always participate as a witness. (@joemygod)