Hello beautiful, and welcome to How To Own It, where store-bought fashion meets DIY crafts. Each week I'll be exploring an aesthetic theme, showing you some of the best ways to wear it and how to make it for yourself.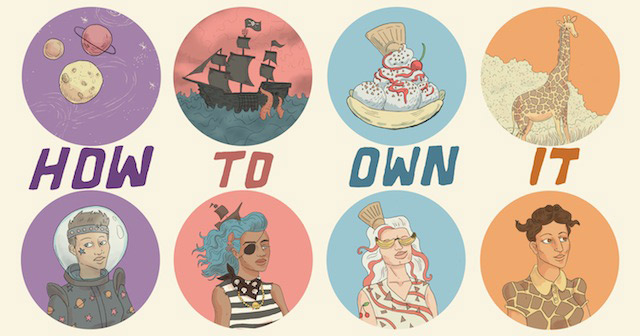 Header by Rosa Middleton
---
Not to be hyperbolic, but have you ever noticed that a single good fashion find can change your entire outlook on what to wear in general? Relevant example: a couple of months ago I thrifted an amazing gold dress (it's pleather on top and chiffon on the bottom, seriously a hard femme's dream come true) and now all I want to do is wear gold. I can't get enough of clothes that look like they are made out of gold leaf and I don't want to stop wearing it after New Year's Eve. So I did some digging around and found a whole pile of gold things for all of us to get into, because I'm hoping maybe you agree. Ready?
Here are some relatively femmey gold things that I've been crushing on. If you like the gold-tipped shoes (I'm in love with them), there's a great DIY about it on Studs and Pearls.
If you like the idea of gold but aren't as enthusiastic as I am about coating yourself in it, there are plenty of ways to have gold accents beyond standard feminine gold jewelry. When I wore the aforementioned magic gold dress to a wedding, my girlfriend wore gold-ish suspenders and a matching gold-ish bow tie, and it was a really good idea. Here are some other really good ideas regarding ways to wear gold that don't involve dresses and heels:
DIY Gold Cuffed Shorts
During my hunting for this post, I found myself most attracted to pairs of gold shorts. Coincidentally, this week I was going through old clothes at my parents' house and discovered a totally hideous pair of old black bell bottoms with some weird stains on them. They somehow still fit me, but were begging to be turned into shorts to get rid of that horrible ankle cut, and gold paint is obviously a great way to cover up a stain. The acrylic paint I've been using on clothes for DIYs so far has been holding up really well, so I'm going to stick with it.
You can do this with pretty much any item of black clothing, but to make shorts, you will need:
Black pants you want to turn into shorts, or just some black shorts
Acrylic paint in antique gold
A sponge
1. Cut your pants a few inches longer than you'd want them to be as shorts, because you're going to be rolling them, and also you can always make them shorter but you can't make them longer once they're cut. I'm going to make these super short because, why not? If I'm wearing gold shorts they might as well be hot pants.


2. Using a sponge, dab gold paint all over the shorts. Start with a small amount of paint and build up layers until you get the sheen you want. Make sure not to glob it on, because you want the black to still show through; we're not making solid gold shorts (though you should if you want to).


3. When the paint is completely dry, fold the shorts up about an inch and roll up once. You can sew the cuff down if you are extra motivated.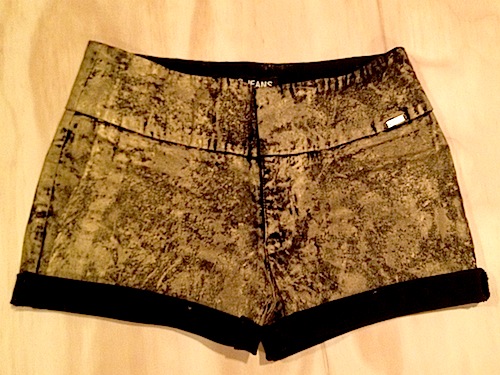 4. Wear with boots and dark sheer tights, and go do something exciting!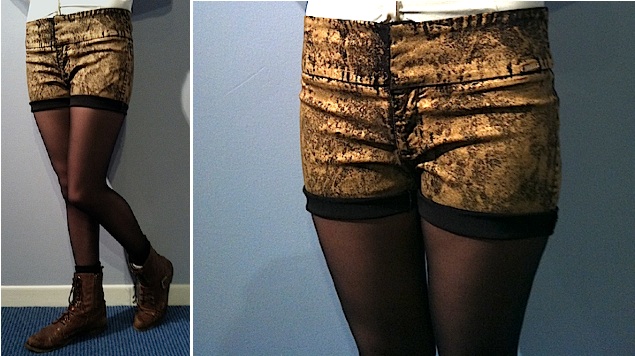 ---
Want to know how to own a look?
Email gabrielle@autostraddle.com or tweet to @Gabrielle_Korn.
Header by Rosa Middleton