In a conclusion to one of the most protracted and frustrating legislative gridlocks in recent memory, today the House of Representatives has finally passed the Violence Against Women Act – and it includes expanded protections for Native women and survivors in same-sex relationships. In what should have been a resoundingly uncontroversial vote, the bill passed with a 286 – 138 vote. The votes in its favor were made up of 199 Democrats and 87 Republicans.There were more Republicans voting against the bill than supporting it. Since the bill has already passed in the Senate, it now has only to move forward to President Obama's desk; he has said he will sign the bill as soon as he gets it.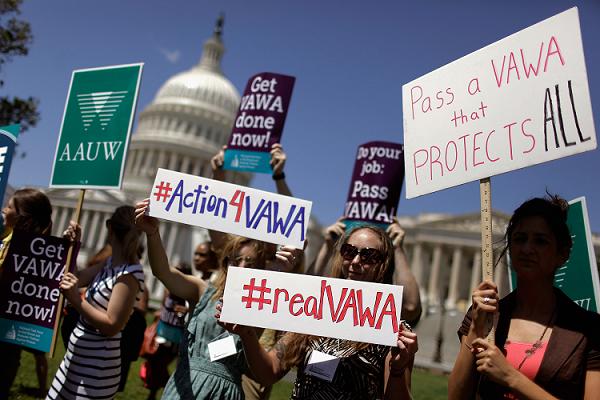 The bill originally lapsed in 2011, but when expanded protections were introduced that made it clear that queer survivors of abuse also deserved access to the support made possible by VAWA and gave tribal courts on Native land the power to prosecute perpetrators who abused Native women even if they themselves were non-Native, House Republicans balked at renewing the act. Conservative recognition of the gravity of abuse within same-sex relationships (or same-sex relationships at all) has never been adequate, and many Republicans felt that increased agency for tribal courts was unconstitutional. Eric Cantor proposed a counter-version of the bill which didn't include any extra protections, which was soundly voted down by Democrats and some Republicans. Eventually, with the outcry of anti-domestic violence activists and supporters of women's rights, a critical mass of Republicans were persuaded to support the version that the Senate had passed, largely due to the increasingly negative image the issue was giving the Republican party. (They are aware, perhaps, that a Republican presidential candidate hasn't had a majority of women's votes since 1984.)
The funding provided by VAWA is less than it has in previous years; there's been a 17% decrease from 2005, the last time the act was reauthorized. While supporters are disappointed, they also acknowledge that with lower federal budgets overall, the decrease isn't unreasonable. After President Obama's signing of the bill, $660 million of funding for shelters, consent and anti-rape education, survivor's advocates, hotlines, law enforcement training, and other programs can resume. This bill has also added stalking to the list of crimes which make immigrants eligible for protection regardless of citizenship status, and works towards education programs on sexual assault on campuses and attempts to deal with the backlog of rape kits.
Violence against women is an inarguable fact; it affects women regardless of political affiliation or voting record, although it's an even worse epidemic for women in marginalized communities. Over the past twenty years, VAWA has played a large part in reducing domestic violence by two-thirds. There is no conceivable excuse for having allowed it to lapse as long as it did — and no excuse for the fact that a majority of Republicans still opposed it. Although the Violence Against Women Act can give us powerful tools and support to decrease violence, it won't make violence disappear, and it's still up to us as people to work to end it. And in the same vein, even though enough Republicans granted this issue their support for it to pass, it's important to remember that it was largely political pressure, not a change of understanding, that accomplished it – and that most of their colleagues would prefer to see VAWA still under debate rather than helping women. It's also our job to work to change that, and to bring about a political climate in which women's lives are paramount, not an afterthought to petty Congressional power plays.