It's a well-known fact that making presents for people makes the world a better place. Not only are you taking time to create the perfect gift for your mother, brother, or girlfriend, you're making sure there's one fewer person at the mall and lessening the chance that someone will get trampled to death by the shopping masses. If you've got a little extra time and want to use your very own hands to show someone you love them, this is just the miniseries for you.
---
Hello crafts people and non-crafts people alike! Today we're starting with something easy: glue.
I saw these cute little tie clips and immediately wanted to get them for everyone. Turns out, they're $30 a piece! There was no way I was spending that much money on a tiny bit of metal. Instead, I got the materials and made one myself.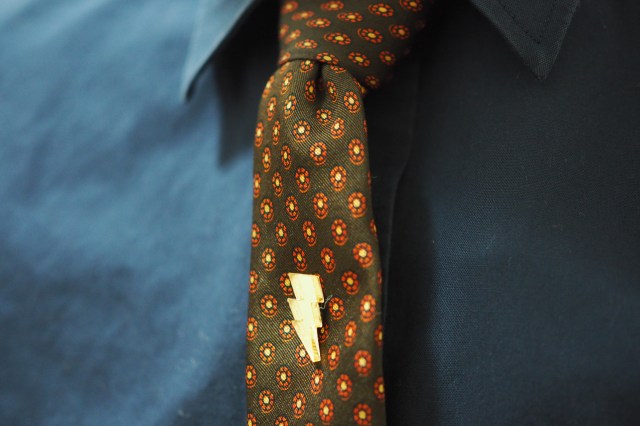 Although these little guys are called tie clips, there's no reason you can't wear them on your lapel, placket, or anywhere else.
---
You Will Need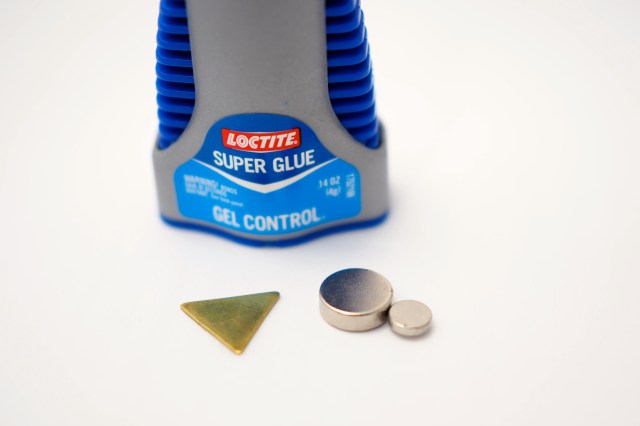 Big Scary Magnets – Okay, so they're not exactly big or scary, but they are some damn serious pieces of metal. You want to look for N52 (The N means that they're neodymium and the 45 tells you their strength on a scale from 35-52) disc magnets. If your charm is especially small, you might need to buy a magnet small enough to hide behind it (I used 1 x 6 mm). Because smaller magnets are weaker, you'll need to get a big honkin' one for the back (I used 10 x 3 mm).
Charms that tickle your fancy – Anything works here. Buttons, charms, cabochons, stones, you name it. I used lightning bolt acrylic charms, brass triangle charms, and pewter flag charms.
Superglue – Any kind will do, but I prefer gels because they don't let things slide around so much while they're drying.
Instructions
If your charm has a hook, use pliers to break it off and smooth any remaining bits of metal with sandpaper.
Glue one magnet to the back of the charm. If you're making more than one tie magnet at a time, be careful not to set them too close while they're drying. (I'm not kidding, one time I set a pair more than two feet away from each other and came back 10 minutes later to find them stuck together – both magnetically and, unfortunately, superglue-etically.)
That's quite literally it. Make a cute little piece of cardboard to stick your tie pin to (maybe one shaped like a tie, even) and give it to someone you love.