Ahh, the holidays! Your auntie whom you haven't seen since before you got your alternative lifestyle haircut decides that now is the perfect time to ask you about when you're getting a boyfriend. Your cousin Ray Ray, who is 34, but is still called by his childhood nickname, brings both of his baby-mamas to dinner and they actually got along! Watch out for your uncles though — they've been drinking brown liquor since the first game started and now they're in a heated argument over a game of spades. And yes, Reverend Grandpa, bless his heart, is still blessing the food after 20 minutes.
But it's all worth it because Granny, Aunt Mae, and everybody's mama threw down. The spread on the table is something you only get to see once a year, and regardless of the complicated feelings you have about your family, after the the blessing is over there are at least ten minutes of bliss as you fill yourself with some of the best seasoned food you've ever had.
Soul food: it's not just a cuisine, it's a lifestyle. Soul food is historically rooted in Black American culture and its recipes are decedents of West African cuisine that made their way across the ocean during the Trans-Atlantic slave trade. Just as Black culture is always evolving, I think soul food is evolving too. My granny would never make greens without fat back, but honestly, I don't know what fat back is and putting that in something I make doesn't sound appetizing (although my grandmother's greens are delicious). I'm also including a recipe for Jollof rice, which is a traditional West African dish.
So I guess that soul food is food that's made from the soul. It's rooted in the African diaspora, and it's made with love for people you love. My recipes might be different than your recipes, but what matters is that you make them with good feelings in your heart, good seasonings, and you eat them with good people.
---
Vegan Collard Greens
Recipe adapted from this one right here. Greens are a classic. Everyone makes them, and everyone thinks their recipe is better than yours. I like my greens a little vinegary and spicy, but maybe you like yours a little sweet. Use this as a base and adjust it to your needs!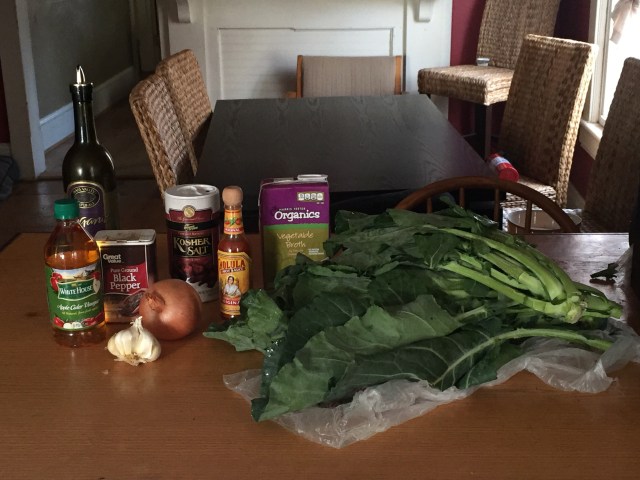 Ingredients:
2 tbsp olive oil
1/2 large onion, chopped
1 tsp red pepper flakes
1 clove garlic, finely chopped
1/4 cup AC vinegar
2 lbs. collard greens, chopped
3 cups vegetable stock
your favorite hot sauce to taste
salt and pepper to taste
Start by washing your greens. Once you've gotten off any dirt/debris that may have been there from the grocery store, then you want to chop them. Greens have a long hard stem that you absolutely don't want to eat. If you bring greens with hard stems in them to someone's holiday meal, you will get the roasting you rightfully deserve. Or, if your family is nicer than mine, they'll probably just not eat them and smile at you. To chop greens, you want to fold the big leaf in half, and cut it directly off of the middle stem. Once you cut off the stem, and your leaf is still folded in half, you roll the leaf, cut it into strips, and then cut those strips in half, if they seem a little long. Give them another rinse, and set them aside.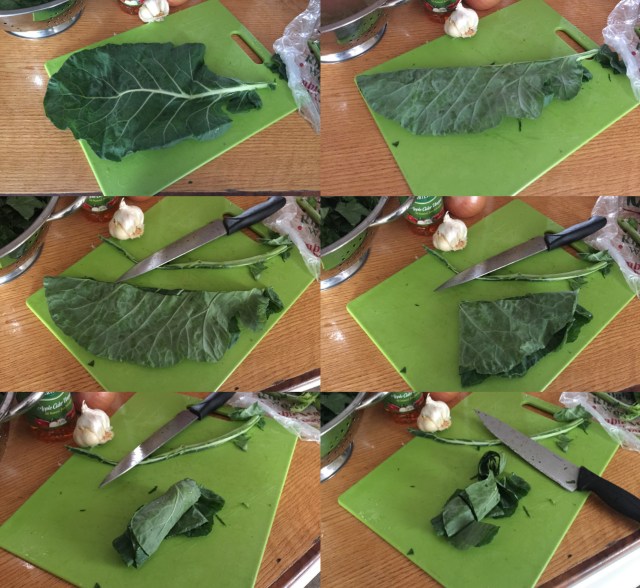 In a big pot, sauté your onions in the olive oil on medium low-ish heat. Another thing you should start doing here is seasoning. Give those onions a little salt and pepper! Don't be shy! Once they're nice and translucent (should take about two minutes), add in your garlic and red pepper flakes and cook for about another minute.
Then you want to add your greens to the pot. They will be far too big to fit, but you gotta just stuff them in there. It's gonna be fine, I promise. Leaving the top off, cook down the greens for just a minute or so, stirring so that you get the onion/garlic/red pepper mixture all throughout your greens. After about a minute, add your vegetable stock and vinegar. Season your greens with a little bit more salt and pepper. Leave the pot uncovered until the liquid starts to simmer (about five minutes), and then cover and cook until the greens are tender, or for about 40 minutes. About twenty minutes in, taste the greens — do they need anything? Maybe some more seasoning. Now's the time for adding that, and if you're me, some of your favorite hot sauce. Cover them back up again for another twenty minutes and you're ready to eat!

---
Macaroni and Cheese
This is an adaptation of my mother's recipe, which I believe is like her mother's recipe, which is NOT like my paternal grandmother's recipe. Mac and cheese is one of those things people fight about, so while I definitely believe mine is good, don't tell anyone it's the best.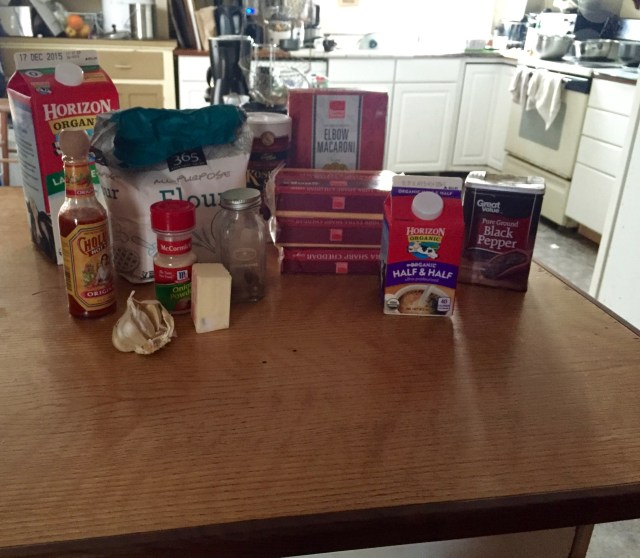 Ingredients:
4 cups cheddar cheese, shredded — I used about 3 cups of sharp cheddar and 1 cup extra sharp cheddar
1/2 stick of butter
3 cups of milk
1 cup of cream
2 Tbsp AP flour
3 cloves garlic
1 tsp salt
1/2 tsp pepper
1/4 tsp onion powder
1/4 tsp seasoned salt
dash of nutmeg
dash of hot sauce
1 lb. box elbow macaroni noodles
Bring a large pot of salted water to a boil to cook your macaroni. Cook it until just under al dente, about 7 minutes. Drain it and set it aside.
While your pasta is cooking, work on your cheese sauce! First start with the butter. Melt it down. I'm not specific about unsalted/salted butter because it doesn't really matter for this recipe. Just use what you've got. Once your butter is melted, add your garlic and get it nice and fragrant. As soon as the garlic is smelling amazing, whisk in your flour until it forms one big ball of butter/flour/garlic. It should look kinda gross (but it'll taste great!)
Once you've got that ball of thickening agent going, add in your milk and cream. Bring those up to a simmer, continuously stirring it. You want to melt that ball down into the sauce so that it can get thicker. Season your milk with salt, pepper, onion powder, seasoned salt, nutmeg, and hot sauce. As soon as it starts to boil, turn the heat to low and add in about 3/4 of all of your shredded cheese.
Stir this until you don't have weird globs of cheese in the milk, but instead have a luxurious cheese sauce. Take your drained pasta and mix it into your cheese sauce. Pour the cheesy macaroni goodness into a 9-by-9 inch casserole dish. If you're doing this right, you should have a little bit (okay, last time I made it I had enough for another 9-by-9 baking dish) of macaroni and cheese left over in the pot that you get to eat (or freeze and make later) while the rest is baking. Lucky you!
Cover the macaroni and cheese with the leftover 1/4 of cheese and cover your whole dish in non-stick foil. Put the dish into an oven preheated at 350 degrees Fahrenheit and bake for about 35 minutes on the center rack. After 35 minutes, take the foil off of the dish, and place it back into the oven. Cook for another 10-15 minutes, or until the cheese on top is golden brown and beautiful.
Serve to all of your friends, who, if you pull it off (and I believe in you!), will think you've really got your life together.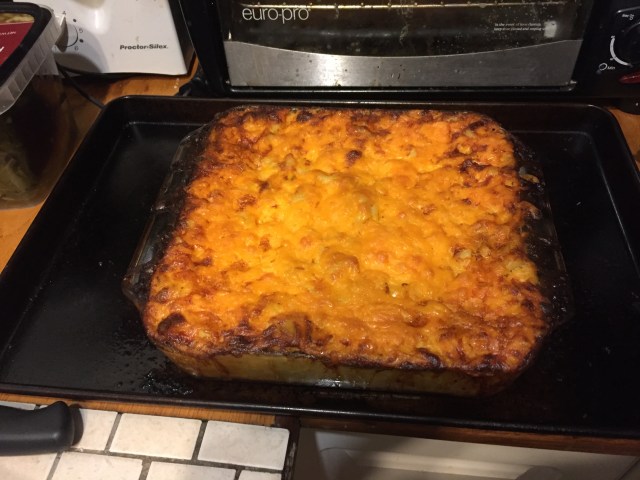 ---
Jollof Rice
Recipe by Tolu T.*
Because both of my parents are Nigerian, our holiday menu ALWAYS includes jollof, which is kind of a jambalaya-paella West African mix. And when I say always, I mean always. This is a non-negotiable. Jollof rice is a staple for Thanksgiving and Christmas (and birthdays. And Wednesdays. Fun fact: I'm actually 29% jollof rice). Typically, I just let my mom do her thing and only help with the prep work, because I have made jollof rice before, and it was not a great experience for anybody. This year, however, Thanksgiving was at my place, so I decided to stretch myself as a hostess by cooking the rice. The end result was a not-too terrible shot at one of my favorite meals.
This recipe is one-fourth jollof rice recipe from an easy-to-follow blog, and three-fourths looking at my mom and constantly asking "IS THIS RIGHT?!?!"
Ingredients:
2 cups rice (It helps to soak the rice for 5-10 minutes and then rinse afterward.)
1 Tbsp vegetable oil
1 cup of hot water
4 large tomatoes or 1 can of tomatoes
Red pepper, seedless and cut
1 onion
2 Tbsp tomato paste
Any spices of your choosing (my favorites include 1 teaspoon of paprika, 1 teaspoon nutmeg, and a dash or two of garlic powder).
1 tsp of curry powder
2 cups chicken or vegetarian stock
3 Tbs of butter
1 package of small frozen shrimp (this meat choice is optional. I love shrimp, but when my mom cooks jollof rice, she adds in shredded chicken near the end)
Maggi/bouillon cube (again, shrimp, chicken, or nothing, depending on your personal preference)
Salt and pepper for taste
Blend the tomatoes, pepper, and onion. At the same time, heat up the oil in a large pot. After about a minute, add in the spices of your choosing (for me, it was the paprika, nutmeg, garlic powder) and the curry powder. Allow the spices to sit for a couple of minutes, and then add the tomato-pepper-onion blend. Add the stock, water, and tomato paste, turn up the heat to high, bring what's in the pot to a boil for 5 minutes.
Turn the heat down to medium, and slowly add in the rice and the shrimp. Let the mixture steam up for 10 minutes.
Afterward, check to see if the rice is cooked. If not, add more hot water until it is. The key is to add a little water at a time so the rice isn't overcooked.
When the rice is done, keep stirring it so it doesn't scrape the pot. At the same time, crush the cube in. JUST A NOTE: my mom and I had a low-key debate about this step for a good five minutes. She was all "What are you doing I add the cube in when I add in the spices," and I was all "I'm sure it'll be fine it's totally okay, don't worry be happy," and she was all "I believe in you" with her mouth but her eyes were all "don't mess this up for us." Conclusion: our rices taste the same either way.
Add salt and pepper if needed, then add in the butter. Stir again for good measure, and then simmer for another 5 minutes for all the flavors to seep in.
Typically with jollof rice you can serve with whatever your heart desires (fried chicken, moin-moin, salads, turkey, wine, all of the above, etc.).
Congratulations! You've made jollof rice!
---
Sweet Potato Pie
Patti Labelle knows it, I know it, and you should know it too: sweet potato pie is better than pumpkin pie. Hard stop. This is a recipe that combines a lot of recipes and is pretty amazing in my opinion. Make it for your girlfriend's mom and I bet she'll show you her embarrassing baby pictures.
Ingredients:
3.5 lbs. sweet potatoes
1/2 stick butter, softened
1/4 cup sugar
2/3 cup brown sugar
2 eggs, beaten
1 tsp vanilla extract
1/2 tsp ground cinnamon
1/8 tsp ground nutmeg
1/8 tsp orange zest
1/2 tsp salt
3/4 cup sweetened condensed milk
1 unbaked pie crust (I used this recipe to make mine, but store bought is just fine)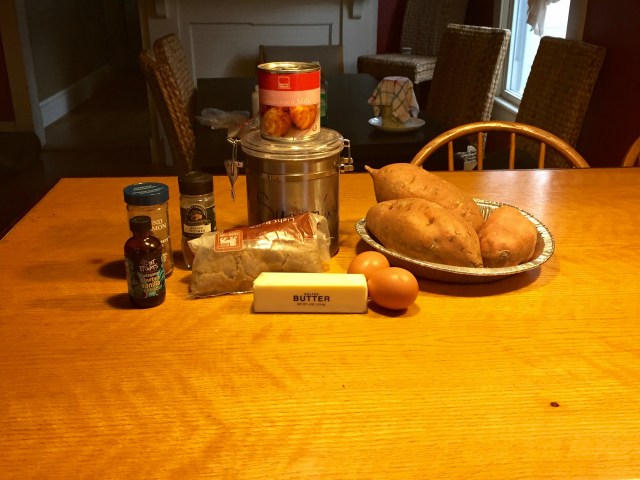 Preheat your oven to 350 degrees Fahrenheit.
Cook your sweet potatoes however you like. I baked mine for an hour in a 350 degree Fahrenheit oven, but you can also boil them or even just nuke them. Once they are tender enough that a fork can easily pierce them, let them cool and then peel them. Mash them up, and set them aside.
In another bowl mix your butter and sugars until they're creamy and pale colored. Add in the eggs, vanilla, cinnamon, nutmeg and salt. Add in your sweetened condensed milk and beat it all together. I'd suggest using an electric mixer if you have one, but if you're like me, a whisk will do just fine. And you'll have arms like Michelle Obama!!
Beat your mashed sweet potatoes into your butter and egg mixture. Make sure it's not lumpy, but if it is, I bet people will still eat it, because sweet potato pie is delicious. Pour your mixture into an unbaked pie crust that you've rolled out and bake on the bottom rack of your oven for about one hour. A fork should come out clean when inserted into the pie.
Makes two pies.
Serve warm. Get your life.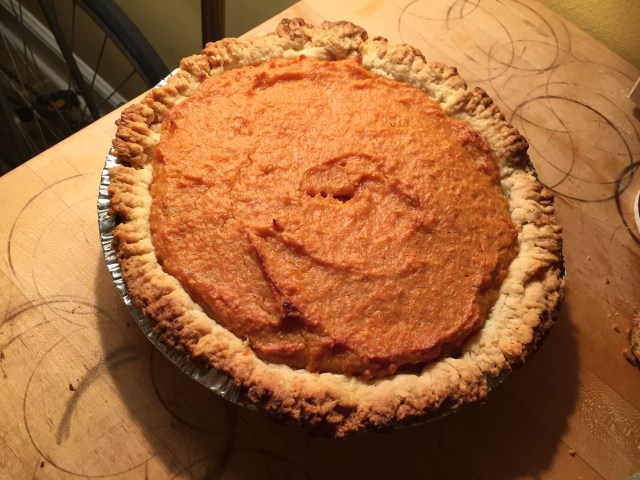 *Tolu Taiwo is a Nigerian girl currently residing in Tacoma, WA, and this is her first time making jollof rice that hasn't brought any family members to tears of sadness. All tips are welcome.