I've been a comedian for forever and a day. It all started back in New York — my odd and wonderful career. I learned quickly that if you wanted to be on a cool comedy show full of queer and allied acts, well, you had to make one yourself.
Cut to over a decade later whenI make the move to Los Angeles. Social media is king. I'm enjoying making my mark on twitter (@beckydonohue) and my blog. I start poking around the LA landscape for a new space and all I want to find is a collaborator who understands the digital arena as much as I do.
Enter Elvina Beck (@StartupKid) and my prayers were answered. (Yep, a prayin' lez. You can call me that, but I think "mantis" is much cooler.)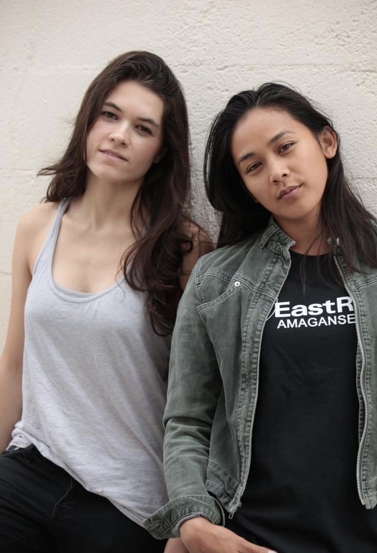 Elvina Beck is a 28 year old Russian immigrant raised in New Jersey. I came across her eclectic and interesting space on eventup.com. I figured if I wanted an owner that was social media savvy then she must have a web presence. Hell, I look at Yelp reviews when I'm trying to find a new doctor; this wasn't something I could skip in my hunt for a new comedy home. The PodShare is a pod hotel located in the heart of Hollywood. What Elvina wants to do is extend the "community" feeling that one gains in college, but often loses when they move to an expansive place like Los Angeles. I called her up and we arranged a time to meet.
I arrived to find a raw, industrial space with a couch, concierge desk and a flat screen tv that greets new arrivals. I rounded the entry and found a full kitchen. Turned left from there and — BLAM — I was face to face with THE PODS.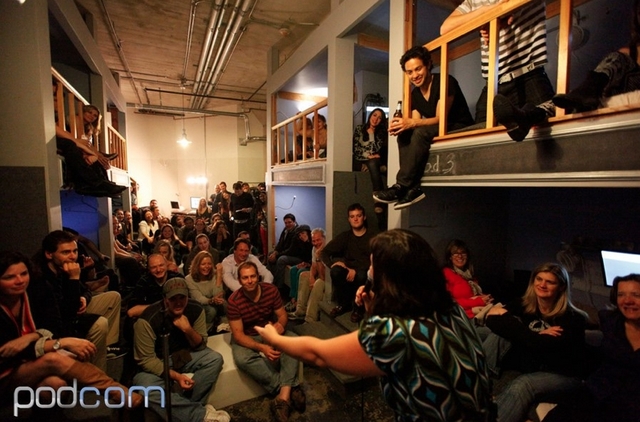 The pods are tripped-out individual beds each fitted with their own screens, Netflix and Hulu, memory foam mattress, electrical outlets and LED night light. You can access the web or watch a movie — all from the comfort of your own pod. The idea was Elvina's, but the pods were custom-built and then wired by her girlfriend, electrical artist (ok, engineer), Joni Colburn.
When I toured the space with my own Wifesy (an ex-veteran of the music business), I was unsure about running a comedy show out of the space and I mean, literally, out of the space. We throw some cushions down in the middle of the room, prop up a mic, and then present the best stand ups in LA. My Wifesy saw the potential, but initially I had my reservations.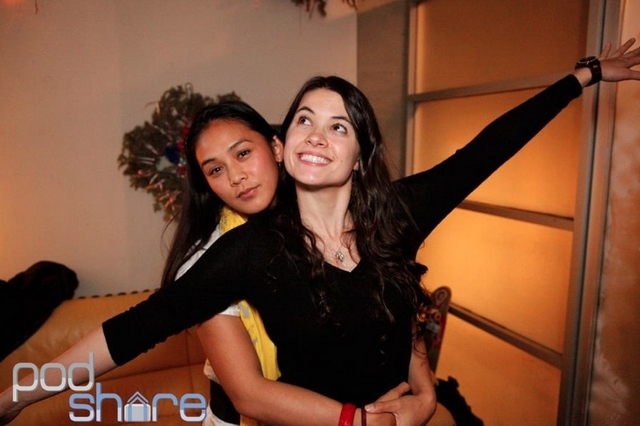 "What if people want to go to bed?" I wondered.
That's when Elvina stepped in. You see, this girl LIVES her mission statement. As she puts it,
"PodShare is the Zipcar of housing. It's a membership based, social network offline. To stay at the PodShare we do a light online background search on you. But, to become a member of PodShare and to return to any of our locations the guest has to be SAFE, SANE, AND SOCIAL. We want to build a community of likeminded folks, but as curators it is our job to fill the space with people who can co-exist. 98% of our guests are members, those that aren't just don't understand our mission."
It's a great pitch, but still I was still a touch leery. As a comedian, I had been privy to many a "comedy ambush" situation. I define a comedy ambush as a group of people out for a nice dinner when, previously unbeknownst to them, a comedy show erupts around their meal. Imagine that happening in your bedroom! That's what I pictured. But, Elvina reassured me, "We're going to let all of our guests know that a comedy show is happening here while they are staying. They are, of course, invited to the show — free of charge — but if for some reason that doesn't work for them we will give them a FULL refund."
Holy Awesomesauce.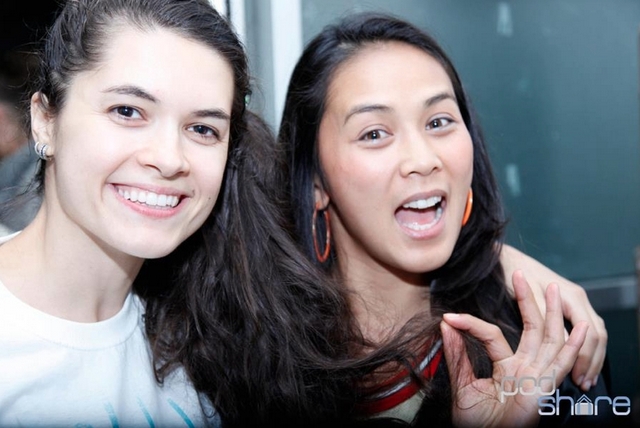 Nowadays, that's exactly what happens. A comedy show in the middle of some fancy pods with audience members filling up the beds to watch. It's like nothing you've ever experienced and — amazingly — it really works.
I'm convinced that like attracts like in life. Through that attraction amazing things can happen. (And no, I'm not channelling Oprah right now.) I think of myself as nothing but an extreme DO-IT-YOURSELF-ER. In today's entertainment business you have to be. Clearly Elvina is one too; I peppered the young, startup kid with a few questions to delve deeper into this fiercely independent streak that birthed what is now known as PodShare.
How did you come up with the idea?
PodShare came to me during a really hot shower one night. When I was 21, I backpacked around 6 countries by train and by foot to learn self-reliance and independence. I realized that people in America are graduating from dorm-style colleges and traveling in the next phase of their lives to stay in sterile hotels or motels. I didn't like the term "hostels" because it is a word associated with scary movies and bed bugs. However, Americans are social. They go to bars to meet people. It made sense to create a social community around hotel rooms (or pods) that can be thought of as a home-base for travelers in their 20's and 30's.
The staff at the PodShare is particularly awesome (a lot of them gay, even). Do you look for a particular energy or alignment with your vision when you hire someone?
I have an AMAZING team. We go out to lunch once a week to talk about making PodShare better. We blog and photograph our guests and really get to know them. If you look on YELP, we have 21 reviews with 5 out of 5 stars. That's incredible for a hospitality business. I get phone calls from startup kids asking me how we do it — the answer is our team. I look for authentic energy. In the interview I always ask this question, "What are you driven by? Money, power or sex?" Based on their answer, we choose our teammate.
What are your future plans for PodShare?
Expansion is inevitable. People love the brand and we love our super-fans. PodShare will have a membership system with a custom dashboard that connects every single person that has stayed in a pod. This dashboard will help extend the community experience beyond each person's stay.
We are looking for partners in different American cities. I am not interested in franchising, but rather partnering with investors who know and love their city. I see a PodShare in every major metropolis providing "ballers on a budget" an opportunity to travel and stay in a safe, sane and social environment.
Our next PodCom stand up show is at PodShare on Saturday, February 23rd and features Julie Goldman, Reggie Watts, Selene Luna and yours truly. It'll be followed up by another show on  March 30th.
You can help Elvina by liking PodShare on Facebook.