Earlier this month Twitter announced its plan to roll out a new algorithm to predict what you want to see in your timeline. By looking at what (and who) you heart and retweet, and what (and who) the people you heart and retweet, Twitter feels pretty confident it can figure out the top ten to twelve tweets that would welcome you back the best, every time you log on. You might be thinking that you are the person who knows what you want to see on Twitter and it's the people and companies you follow on Twitter you want to see (otherwise, why would you be following them?), in reverse chronological order. The way it always has been. Well, that's what you said when Facebook implemented its algorithm, and despite the way you wailed and stomped and gnashed your teeth, you adapted to it and Facebook is thriving. And so Twitter's algorithm is very probably here to stay.
Practically, what that means is when you open up Twitter, you'll see a handful of tweets that have been plucked out of time and stacked right up top. They should be tweets that occurred while you were away, and from people and companies and hashtags you engage with the most. (For now, you have to be following someone for Twitter's algorithm to display their tweets at the top of your timeline.) Most people are pretty upset about this, even though it's really just a minor change, and certainly nothing as drastic as the time Google pulled the plug on Google Reader to try to force people to use the wasteland that is now Google+.
But no one likes change and no one likes big companies telling them their business, so I'm here to help.
Starting right now, right this second, you need to implement Twitter lists into your life. For one thing, Twitter's algorithm has no effect on your lists, so when you open one up, you'll see every tweet from every person on your list, in order. And for another thing, you're probably following people whose tweets are adding nothing to your life (or maybe even turmoil to your life!) and now is your chance to filter their nonsense out of your world. Twitter's algorithm is actually providing you with an opportunity to take back control of the information you consume!
How Twitter Lists Work
There are two kinds of Twitter lists: public and private.
The people you add to public lists will know they're on your list, and other people will be able to see that they're on your list, and anyone will be able to follow that list. For example, we have five public lists on Autostraddle's official Twitter. You can follow our whole team, our senior editors, our comedy crushes, our cartoonists, and our A-Camp talent. Following a public list won't cause you to individually follow everyone on that list. If you're already following someone on the list, you'll still see their tweets like regular in your timeline. If you're not following someone on the list, you will only see their tweets when you click on the actual list.
And then there are private lists. You can add whoever you want to a private list — again, people you follow and people you don't — and they won't know and neither will anyone else. The list won't even appear on your profile if someone clicks your lists link.
How to Make a Twitter List
One of the worst things about social media is how often we get stuck following people we don't want to follow. (Or don't want to follow anymore.) Listen to me: You do not have to (and honestly should not) follow people who stress you out; who are butts; whose energy brings you down; or whose alchemy, when combined with yours, just doesn't feel good. Yeah, you can mute them and they won't know it, but any time someone you follow tweets at them, you'll see it. Lists fix that, with none of the guilt!
Step One
Decide what kind of list you want. I have a handful of private Twitter lists. One is for my real life friends whose every tweet I want to see. One is for people I kind of casually know and am interested in checking in with, but I wouldn't be upset if I missed out on their tweets. One is for pop culture critics I like. One is for political punditry. One is for celebrities I'm into. One is strictly an RSS feed for other websites. One is for local businesses in my area. And etc.! I think it's a good idea to make a list of people whose tweets you REALLY want to see first.
Step Two
Make the actual list. I'll do a sample one for you.
Open up Twitter and click your little face. Then click Lists.
Scroll down until you see Create a list. Click on that.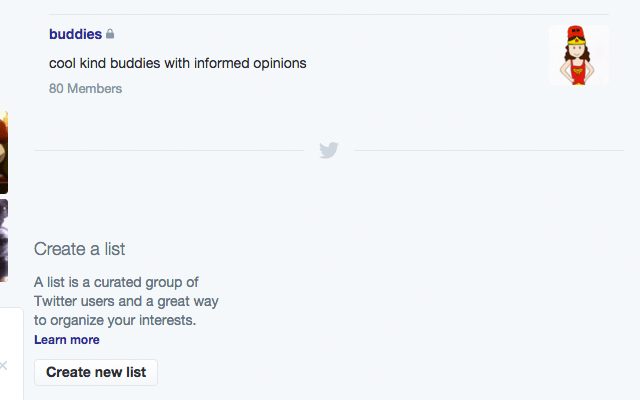 Name your list. You don't have to add a description, but you can. If you want your list to be private, make sure you check the box for private!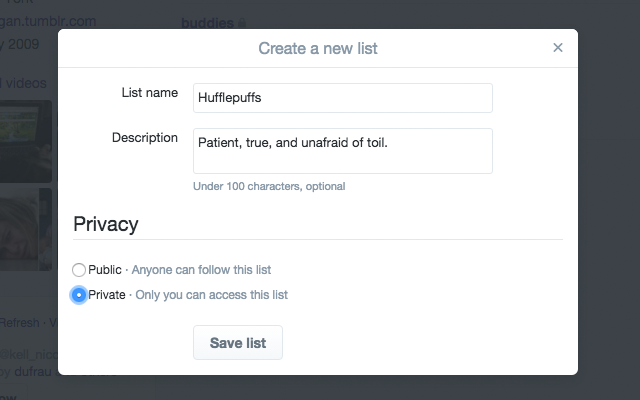 Once you click save list, Twitter takes you here, where you can search for people. That's fine. But I think a better way is to go to the list of people you follow so you don't forget anyone.
Now then, scroll down through the list of people you're following until you find someone you want to add to your list. For example, Sue Perkins is obviously a Hufflepuff, and should therefore be added to this list. Click on the settings wheel by the person's name, then add or remove from lists. (This is also where you come when you want to take someone off a list.)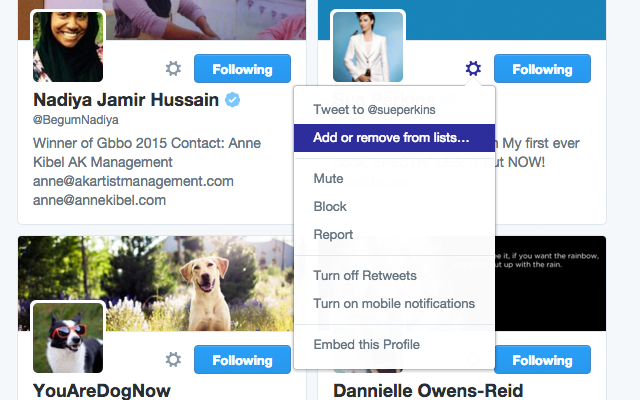 Click the lists you want them to be on. Once the box is checked, you can close out of this dialogue box. You don't have to do anything else to save it.
That's it. It's done. Now when you go to your Hufflepuff list, Sue Perkins will be on there, and no one will be any wiser.
Step Three
Be free! My Twitter bookmark on my bookmarks bar in Chrome defaults directly to my bosom buddies Twitter list. I've never been happier on social media. You can take back your life too!