Whitney's Team Pick:
Track Meet: A Girl-Meets-Girl Story is a film in progress by screenwriter Daniel Kim and Leslie Kwon — it features a queer interracial relationship between Jackie (played by Christine Ahanotu) and ex-smoker Kate (played by Dawn Collet) and, according to the film's name, takes place on a (somewhat symbolic) circle of running track.
Why should you care? Right now Track Meet: A Girl-Meets-Girl Story is raising money through a Kickstarter project — the crew is trying to raise $500 to go toward camera equipment and other production and post-production costs. So far the film has raised $205, and the project only has a few days left!
Judging from the trailer, the project is ambitious and runs on a tense, tightly coiled, dream-like atmosphere. In an email to Autostraddle, Kwon describes the film as an "examination of the potentially destructive nature of all relationships … The entire story is meant to feel kind of the way one would reflect on a particularly tragic relationship post-break-up,wp_postsshe said.
The synopsis of the Track Meet on its Kickstarter project page describes the film best:
Kate, a smoker, decides it's time to get back in shape. She goes to a track field but is distracted by another runner, Jackie. The chase ensues. The film presents the innocent beginning of their relationship while implying, through some darker imagery, their sexual connection and foreshadowing their future power dynamic. We're using a dreamy, eerie mood with intense close-ups of lips, sweat and blood.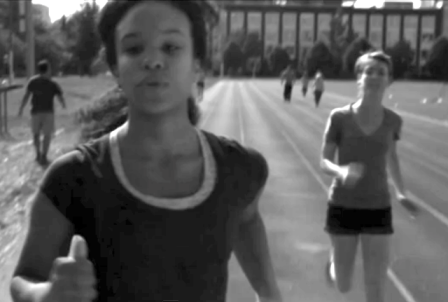 Kim and Kwon, both Korean Americans working out of Brooklyn, NY, are particularly interested in "representing minority demographics without nodding to the gimmicks or two-dimensionality that mainstream culture often over-uses,wp_postssays Kwon. Kwon is also planning to submit the film to various LGBTQA film festivals, including QFest, NewFest and the Seattle Lesbian & Gay Film Festival once the film is complete.
Check out the trailer, the Kickstarter page and Track Meet's official webpage to see if you can contribute to this indie film — if you pledge money to Track Meet, you'll get access to goodies like an invitation to Track Meet's screening party, copies of the finished DVD and mini-posters and the satisfaction of knowing that you helped out an indie (queer, minority) film project.