After several lifetimes of heated speculation from fans, it has been OFFICIALLY confirmed at last that Lesbian Jesus pop star Hayley Kiyoko and former Bachelor contestant Becca Tilley have indeed been dating for the past four years. Becca confirmed the relationship on her timeline on Friday May 20th, sharing a truly adorable photograph montage like the one that plays at the end of a movie when you've just uncovered the narrative's primary twist:
This news comes on the tails of Becca's cameo in Hayley Kiyoko's new music video, "For the Girls," which casts Kiyoko as the bachelorette entertaining a suite of female suitors, ultimately leading to a final mystery suitor pulling up at the last minute: Hayley's real-life girlfriend, Becca Tilley.
When Did Hayley Kiyoko and Becca Tilley Start Dating?
Following her time onThe Bachelor, a heterosexual dating program that features a lot of gowns and also prominently features popular flower "the rose," Becca Tilley dated fellow Bachelor-universe contestant Robert Graham for a period of "several months," but the two broke up in 2017.
According to Hayley Kiyoko's instagram, she and Becca met for the first time at Hayley's "Expectations" release party, which took place in April of 2018.
In May of 2018, they were captured together at NYLON's Annual Young Hollywood Party. Kiyoko's career was blowing up in 2018 and she appeared on the cover of Nylon Magazine's first-ever Pride Issue that June.
Around this time, Hayley was often spotted in groups of shiny-haired girls that included Becca Tilley and others from the Bachelor universe. Here you can see Becca and Hayley looking like they'd definitely scissored recently:
In December 2018, Kiyoko won the Rising Star Award at Billboard's Women in Music Awards and Becca RT'ed her speech, saying that she was "so proud" of Hayley. Tilley followed that post up with a clip of Hayley waking up from a nap while Becca described how much she'd enjoyed sitting beside her for six hours. Self-care!
In February 2019, Becca hopped on stage while Hayley was performing "Curious" on her "Encore" tour:
@HayleyKiyoko singing curious at her Encore tour with a cheeky little clip of @beccatilley5 at the end. 😍😍 #encoretour #Birmingham #curious pic.twitter.com/mivVXIr7Ce

— Katie Hooper (@katiehooper14) February 5, 2019
In September 2019, Tilley confirmed to US Weekly that she was happy and in love but "I like that [the relationship is] private and that it's my own." She continued: "I had a public relationship before and it just felt like I had a lot of people involved, which I know that's why they sort of watched me in the first place. I'm really happy and I hope to eventually start opening up about it more, but I'm happy with it being private right now."
She also told Entertainment Tonight in December 2019 that she felt "an instant connection" with her current Special Friend. "I've never had something so instant, like from the beginning."
In 2020, Becca said during a live taping of her podcast "Scrubbing In With Becca Tilley and Tanya Rad" that she was "95 percent" sure she'd marry her current partner. This gave her mystery Intimate Partner the code name "95p."
Throughout this intense period of speculation, neither Tilley or Kiyoko posted photos on their instagram feed in poses that could be interpreted as either platonic or romantic, which is a common practice amongst WLW couples who are not yet ready to soft launch their relationship but also have to acknowledge that they are indeed spending all of their time together.
However, they often posted selfies together on their instagram stories and on twitter and would sometimes post individual pictures of themselves on the same romantic vacation.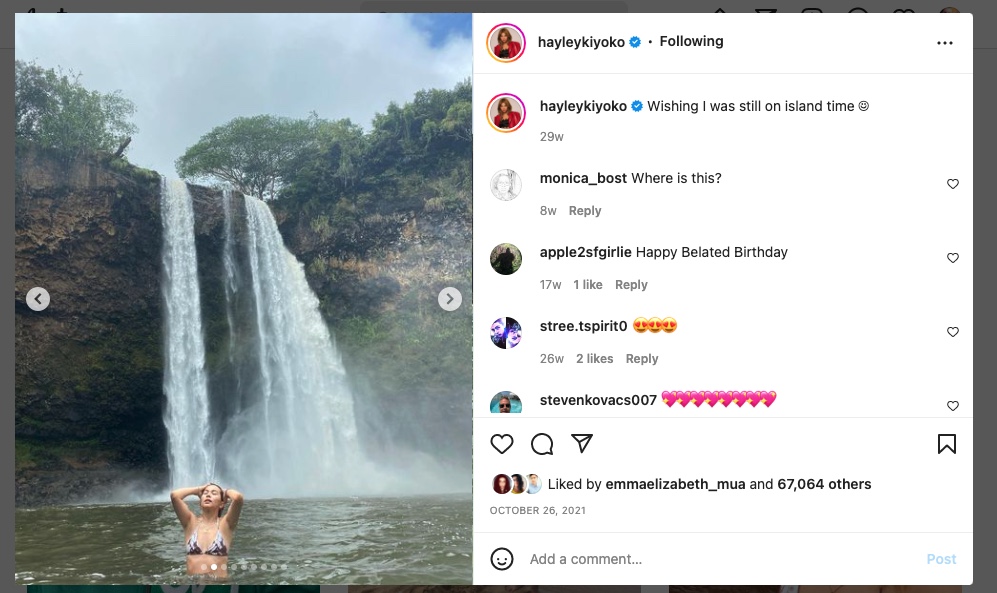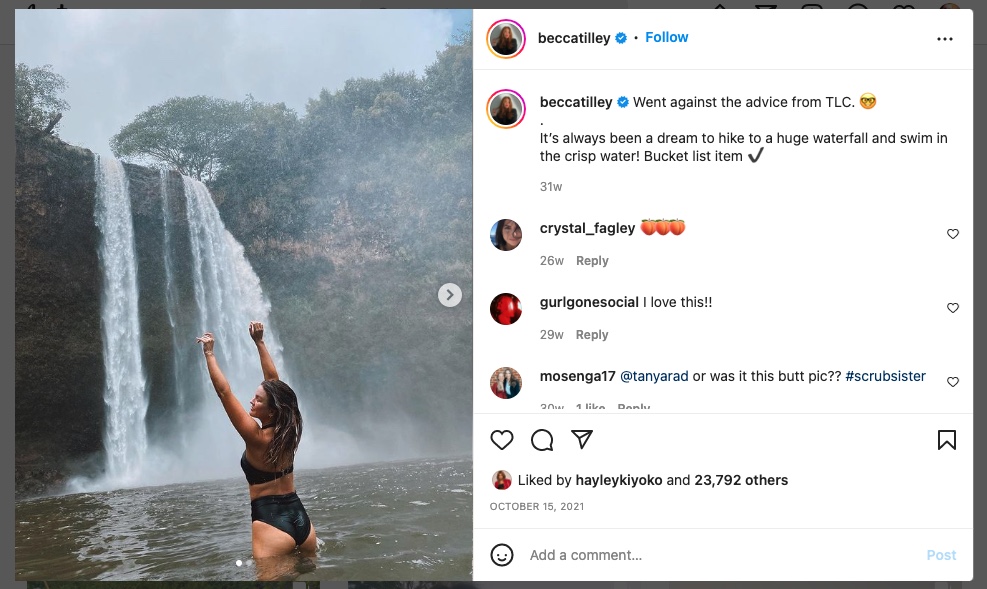 They also appeared together in Becca's TikTok, like this montage from a trip in July of 2021, or this dancing video from August 2021.
A month ago, Duexmoi posted a blind item on their instagram stories that appeared to be about Hayley Kiyoko and Becca Tilley:
On May 18th, 2022, Becca Tilley and Hayley Kiyoko attended the "Elle Hollywood Rising" event presented by Polo Ralph Lauren and Hulu in Los Angeles:
They were also captured kissing on social media at the release party for "For The Girls."
We are very happy for Hayley Kiyoko and Becca Tilley and also for ourselves, because now we can say they are girlfriends and not worry that it's not okay to say that they are girlfriends!
We hope that this relationship will encourage future Bachelor contestants to realize that instead of competing with a million other identical women for one mediocre man, they could simply start a fulfilling and joyful relationship with a beloved and massively talented lesbian pop star!!!