This piece was written during the 2023 WGA and SAG-AFTRA strikes. Without the labor of the writers and actors who are currently on strike, series like Nancy Drew would not be possible, and Autostraddle is grateful for the artists who do this work. The following recap/review of the Harley Quinn contains spoilers.
---
In its fourth season, HBO Max's (Just Max's?) Harley Quinn remains one of the smartest, funniest, most surprising shows on TV — and also one of the most rewardingly gay. New showrunner Sarah Peters has crafted the show's most cohesive season, despite the fact that Harley and Ivy continue to find themselves at odds with each other. Harley has joined in the Bat-Family, to try out this whole hero thing. Ivy has taken over the Legion of Doom from Lex Luthor, becoming its first woman CEO.
The hero side of things is regular Bat-Fam stuff, but Harley's having to balance a whole lot of new responsibilities. Villainy? Yes. But also she's the Most Famous Baddie in the World, so she's also got a PR team, NIL licensing, business conferences on the moon, #girlboss meet-ups, and a group of mentees called The Natural Disasters that idolize her. She's so busy, in fact, that she can't make room for a meeting with Harley, which leads Harley to shoving them into a time machine to travel to the future where they should both be retired and able to actually talk. What they find, instead, is the apocalypse — and also their adult daughter. She doesn't have an actual name because they could never decide on one, so she named herself after an Avatar character, even though Harley wants to call her Princess Ladyfingers.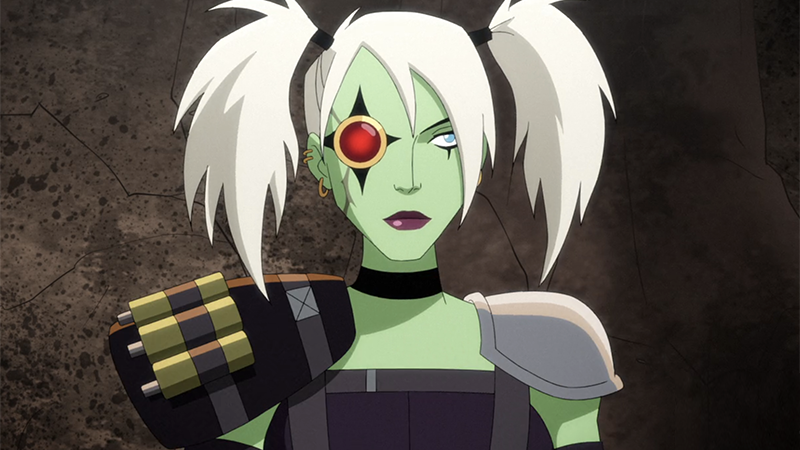 One of the best parts of season four is the mystery: Which Gotham villain is out here causing all the mayhem Poison Ivy can't pin down? Nightwing's death, for example. And, you know, the aforementioned apocalypse. Joker has returned to his villainous roots and takes credit for the murder, at least, but no one seems to believe him. Baby Shark from the future suggests that the whole mess was orchestrated by Lex Luthor, but he seems too like too much of an incompetent piss-baby to actually enact a plan to destroy civilization. No, I feel pretty confident that this season's Big Bad is going to be a woman. (Other mysteries include: Why is Harley kinda losing it, more than usual? Where is she sleepwalking? Why is she seeing her doppelgänger around town?)
But I want to talk about Princess Ladyfingers, who looks like Poison Ivy and Harley Quinn's actual child, with her DNA split right down the middle. She's got Harley's signature pigtails and Ivy's alluring eyes. She's kinda light green, with a cyborg eyeball. And she's an absolute nightmare! She hates both of her moms because they were so self-absorbed they never paid attention to her. The whole time she's complaining about this, Harley and Ivy are talking about how beautiful she is, and how gloriously evil, and how they're so proud of themselves, and wow they always knew they'd make the best parents. They're also relieved to find out she named herself after a character in Avatar — "widely considered to be the most culturally impactful film series of all time" — and that they had no part in that. The main thing they want to know about her is how she's like them: "Are you crazy like me, or vegan like Ivy?" Harley asks.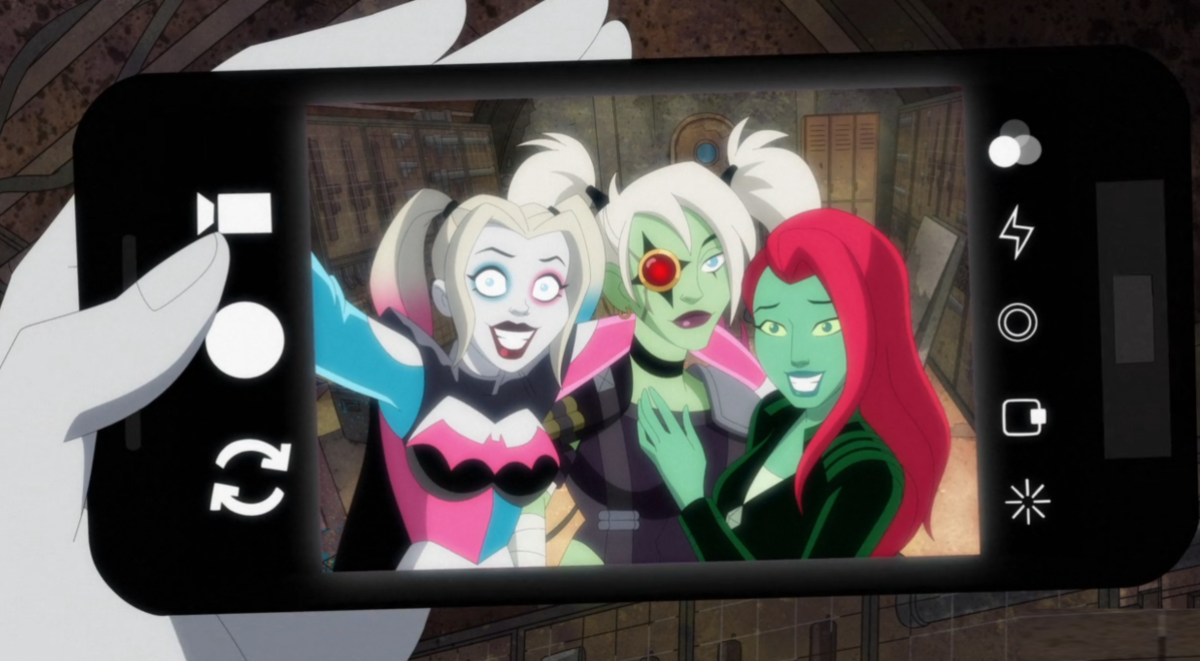 Truly, I cannot think of a pair of worse parents than Harley and Ivy, but it is RAD AS HELL to think that they're so endgame they have a child together! They're like the original comic book slash fic wlw couple! And look at them now! Even better: it's not just a timey-wimey rift. Harley Quinn's former showrunners, Patrick Schumacker and Justin Halpern, who are still involved with producing the series, promised last year: "Harley and Ivy will never break up in the series as long as we have a say. That's something that we never want to touch again."
I hope this isn't the last we see of Princess Ladyfingers, but if it is, I'll take comfort in knowing that she seems just as gay as her mothers.