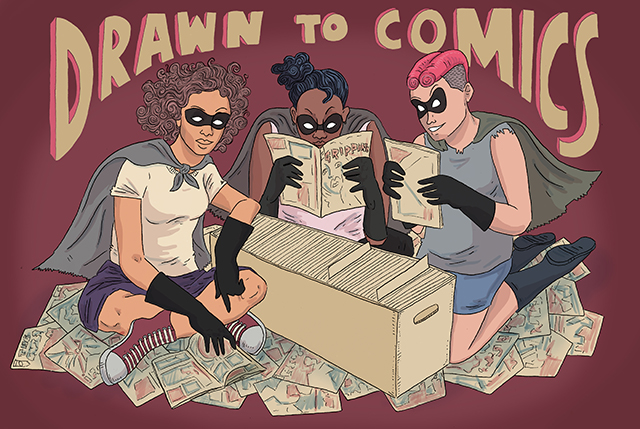 Kate Beaton, the writer and illustrator of one of the best webcomics of all time, Hark! A Vagrant, recently released in five parts a long form comic about her time spent working on the oil sands of Alberta. These vignettes tell about tragedies, loss, daily interactions and the lasting effect that working there had on her. If you're unfamiliar with the Athabasca Oil Sands, they're the largest known deposit of bitumen in the world, in the form of semi-solid crude bitumen, sand, clay and water. Beaton worked there for a while to pay off her college debt. These comics deal with Beaton's memories of her time there and how she's still trying to work out her feelings about it.
Ducks is about part of my time working at a mining site in Fort McMurray, the events are from 2008.  It is a complicated place, it is not the same for all, and these are only my own experiences there.  It is a sketch because I want to test how I would tell these stories, and how I feel about sharing them.  A larger work gets talked about from time to time.  It is not a place I could describe in one or two stories.  Ducks is about a lot of things, and among these, it is about environmental destruction in an environment that includes humans.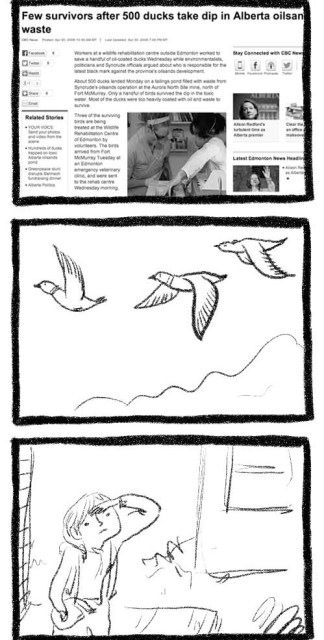 The first part is where the entire story gets it's name. In it, Beaton remembers a time when 500 ducks landed in pond filled with waste from the oil sands. Only a handful of the ducks survived, and so the area she worked at took precautions to avoid the same thing happening to them. Later, an announcement is made that one of the other workers passed away on-site. Beaton is so good at this kind of storytelling. Even though there's not really a lot of excitement or thrilling plot points and there are even a lot of panels where no one talks at all, it remains completely compelling. I could honestly read this kind of story all day long as long as they were being told by Kate Beaton.
The second comic is a story that starts out with Beaton and a coworker just chatting about things like fishing and work conditions. They run into one of the older workers who's just standing in the middle of the road. The bad news piles on when she finds out that there was a horrible head-on collision involving "a couple of young fellas from out [her] way." She scrambles to find out where exactly they were from and if they were people she knew. Beaton is so talented at using small stories that take place over such a short amount of time and involving only a few people and making them seem giant and monumental. We don't even directly witness the wreck or it's aftermath, but it still hits like a ton of bricks.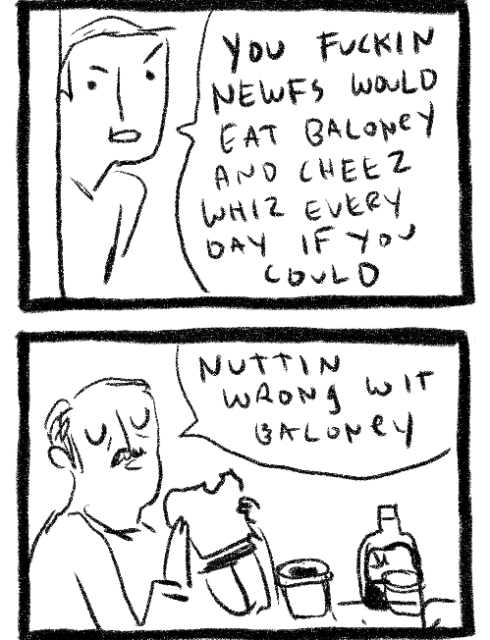 The next story is the most subtle. Here, the emotions are more melancholy and subdued. We get to know the characters a little bit by seeing little slices of their lives. Even though the theme might be sad events that stick out in Beaton's memory, there are also little funny and heartwarming moments, like the lunch conversation in this story. These moments of levity really help to make you get to know and care deeply about these people. Instead of just being random characters who sad and tragic things keep happening to, we get to see them as hard workers who really care for each other and each have their own little quirks and eccentricities.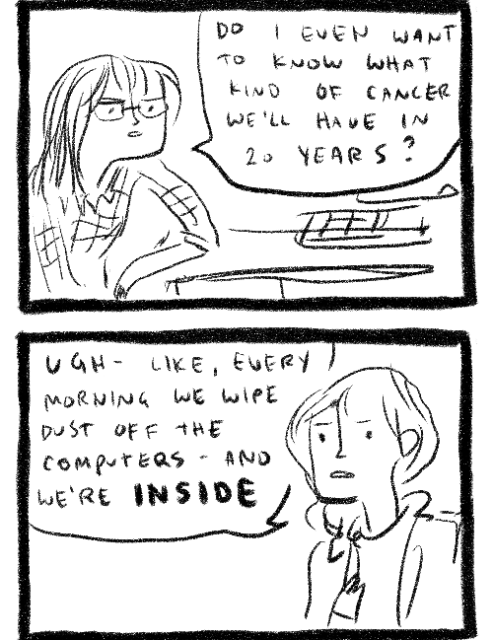 Beaton wraps up the story with two more comics, again letting us get to know the people who worked there better. We see their struggles, we see how hard it is leaving their families, and we see their relationships with each other and with the oil sands themselves. Part four starts out feeling a lot better than some of the other stories, with nice moments shared between coworkers. Then, it takes a quick turn when Beaton is asked to help calm down a woman who is thought to be high and is refusing to leave the women's restroom. Part five continues with even more stories about the hardships of working out there, but it also ties everything up wonderfully.
Beaton really may be my favorite writer when it comes to telling this kind of story. She is a master when it comes to making the minutiae of life into the most interesting stories I've ever read. They always leave me wanting to know more about these people and their lives. The sketch style of the comics really adds to the experience. It gives them a real memory-like feeling, and gives them an extra personal touch. They aren't polished and proper. Instead, they seem like a story that you are being told face-to-face by a close friend. I especially love the end of this comic. Beaton perfectly sums up how complicated memories are. She doesn't try to wrap everything up in some clever and deep soliloquy about the meaning of life and death (although those can be great too). Instead she says what most of us would say. And it's perfect.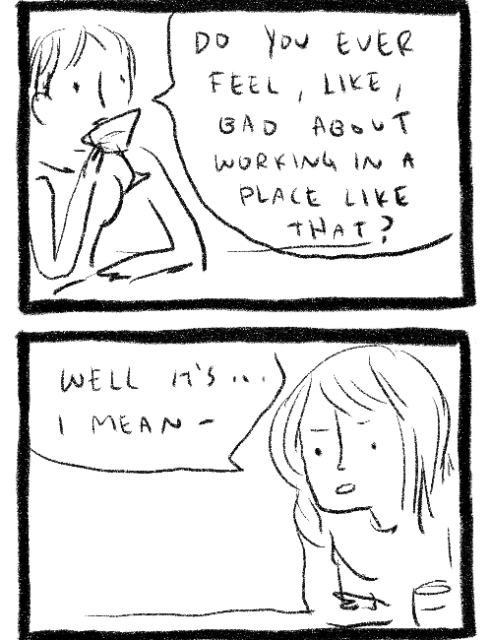 This isn't the first time Beaton has addressed her conflicted emotions about working on the oil sands. She had previously made this incredibly touching comic about one Christmas that she spent there. She also addressed the fact that she was one of only a few women (especially young women) working there and the sexual harassment she dealt with as a result. As much as I absolutely adore her Hark! A Vagrant comics, these stories about her own life are really touching and special in their own way. Aside from her Hark! A Vagrant site, Beaton also posts comics to her Tumblr and Twitter, and she has a store where you can buy all sorts of items with her designs.
---
Welcome to Drawn to Comics! From diary comics to superheroes, from webcomics to graphic novels – this is where we'll be taking a look at comics by, featuring and for queer ladies. So whether you love to look at detailed personal accounts of other people's lives, explore new and creative worlds, or you just love to see hot ladies in spandex, we've got something for you.
If you have a comic that you'd like to see me review, you can email me at mey [at] autostraddle [dot] com.
Header by Rory Midhani