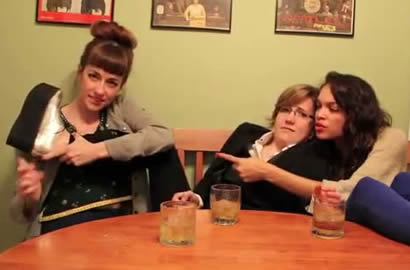 Well hello! This week, the internet's favorite drunk chef Hannah Hart celebrated Leap Day and got drunk with some other funny internet ladies! Instead of going the traditional cooking-catastrophe route, Harto teamed up with the Shamikah and Molly, the two comedians who run the YouTube channel emotistyle. Because emotistyle is about having a lot of emotion and a lot of style, Molly and Shamikah (of The Candy Slice Girls) worked with Harto to help her harness her emotions and channel them into appropriate styles for different kinds of dates. She wears a suit and gets really bashful, you'll like it.
[yframe url='https://www.youtube.com/watch?v=8DRrNwgxbiM']
Also, the bonus video includes everyone being super drunk and Hannah admitting that she wants all the girls, and their other collaborative video includes Harto dancing to Rod Stewart while wearing a gorilla suit. Just so you are aware.
We're big Candy Slice Girls fans around here, obviously — they were featured guests at the 2010 Rodeo Disco, are featured in an Autostraddle ad campaign and did an interview/photoshoot with Robin in 2009!