Previously on Grey's Anatomy: Meredith dropped her kids off with her new-new-new half-sister so she could jet off to DC for a weekend of Doing It; Arizona and Callie achieved the quickest divorce in the history of legal proceeding; and Dr. Geena Davis had a tumor the size of a Rockford Peach all up in her brain that was going to kill her sooner rather than later.
Quick note: One of the main plots in this episode was Bailey's husband finding out that his younger sibling is a trans woman. The name she goes by is Rosalyn, so when we talk about her, even before she comes out to Ben or the other doctors, we're going to call her Rosalyn and use she/her pronouns
I'm down-to-my-toes thrilled that we start out this episode with a shot of Miranda Bailey (Hi Bailey, hi!) and she's not even voicing over her own impending demise! What she is doing is keeping a lookout down a hella steep embankment where Mr. Bailey and Mr. Bailey's sister Rosalyn are breaking a hundred laws and scattering the ashes of Ben's father in the woods. It was all he wanted for a funeral, Ben tells us. They reminisce a bit about how their dad used to drag them on camping trips.
"We eat what we catch. We sleep where we fall. We whizz with impunity. Just us men," Ben says, and we get a reaction shot of Rosalyn being very sad indeed.
In a patented little sibling maneuver, Rosalyn preys on Ben's inability to lose and demands they race to the top of the hill. Ben makes it up but Rosalyn gets lightheaded about halfway up. She pauses, grabs her chest, and then jack-and-jills right back down.
At Seattle Grace Mercy Death, Mer-Bear has returned from her weekend of Doing It with a spring in her step and her invisible children already at day care, courtesy of Maggie.
"How was it?" Meredith asks, looking far too refreshed and happy to have spent the weekend making sex with Derek. You just know he's the kind of dude who always wants to have really intense sex while staring straight into your eyes the whole entire time until you've got to fake a cramp so you can change positions.
"Amazing," Maggie replies. "Your invisible kids were no trouble at all." She's giving Meredith a sisterly glare of doom, but Meredith is absolutely crap at families, and has no idea. She ambles out to the ambulance bay, where Bailey and Mr. Bailey are unloading Rosalyn. Bailey is talking one hundred miles a minute about hypertensive fainting and other medical words, shouting at Meredith like she's just a wee intern. My toes tingle a little. Original Bailey, everyone! Original Bailey is back! Everyone head into an exam room, and when Mr. Bailey tries to pull Rosalyn's top off to help her get changed into a gown, Rosalyn shoves him away.
In Ellis Grey's House of Horrors, Arizona is trying to take a shower, but Jo scampers into the bathroom and starts stripping off her clothes. Sadly it isn't because she's trying to put the moves on Arizona, but is because Alex's shower is on the fritz, and Jo's late for rounds. Arizona hollers at Alex, but his give-a-shitter hovers around empty on a good day and the best he can do is to tell Jo to put on some pants cause Arizona is checking out her ass.
All of these shower shenanigans make Arizona late for work, and late for an MRI with Amelia, who apparently needs even more scans of Dr. Geena Davis's brain. Arizona bursts into the room bitching about Jo, and Dr. Davis sits up and says, "You live with residents? Get your shit together, Robbins."
Arizona thought she had her shit together, once upon a time. She had the hottest wife in the known world and an adorable invisible daughter, but Shondaland, you know what I mean? Now she's no people, and she's holding it together with spit and duct tape, so maybe everyone could cut her a little bit of slack. Lucky for her, Dr. Davis is in a great mood, or else her tumor has shorted out her laser beam eyeballs, because she immediately wants to know whether or not Jo was hitting on Arizona by climbing into the shower with her.
"Residents gone wild," Dr. Geena Davis laughs. She looks so beautiful in this entire episode, and I love her more than ever. Arizona needs a people so badly. I really hope that Dr. Davis isn't acting like one simply because of the peach in her brain.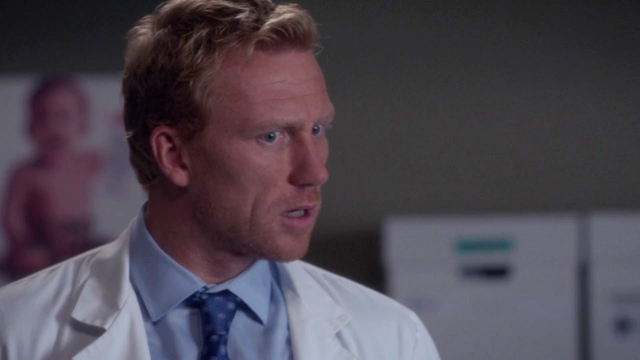 Pages: 1 2See entire article on one page