This week's episode of Good Trouble begins with Malika stepping into a cavernous entryway. Around her, the walls are wrapped with an explanation — of where we are and of why this space exists — and the message is delivered to the audience via voiceover, "Trap Heals is about reshaping social ideas that honor and heal the tribes we come from. We exist to create dope events that celebrate our culture, our music and promote healing." Malika embraces the message and steps out into the fullness of the Trap Heals… and the world lights up anew.
I wish I had the words to fully explain the world that Good Trouble invites us into this week; I feel like nothing I say can fully do it justice. It is ethereal… a profound admission of black pain, an honest acknowledgement of the need for black healing and a wholehearted embrace of black joy. On one side, a wall memorializing the 554 victims of police brutality and indifference in LA County. In another, a phone booth that allows you to listen to the stories of those victimized by the system. There's healing through the "conventional" methods — acupuncture, massage, reiki — and healing through art, music and fellowship. The entire experience is shrouded by nature… trees, grass and flowers that serve as a reminder that earth always has us in her grasp.
I'm not sure that there's another show on television that would've even tried to recreate something this immersive, nor can I imagine another show on television dedicating itself to getting the depiction so right. I shouldn't be surprised, really, that has always been one of Good Trouble's strengths but "Trap Heals" took it to a whole other level. Often, the most lavish praise that you can give production design is that it makes you wish you were there… and, of course, that's true here… but I'd go a step further here: somehow, Good Trouble managed to make me feel like I was there. I felt Malika's joy and Dennis' pain. I felt the entire experience, even from afar.
That said, I also felt some discomfort. Malika invites her friends from the Coterie to Trap Heals and they all show up, integrating this space that had, heretofore, been an all black space. No one's forced to really grapple with that aside from Davia and Dennis and that felt woefully insufficient. We don't get to see Callie, Mariana, Isabella, Alice or Gael grapple with what it means to enter an all black space — it very much feels like it's just another party for them — nor do we get to see much interaction between Malika and her chosen family. She's invited them into her world, in a way she hadn't before now, and I'm remiss that we didn't get to see her friendships with any of them deepen, in any measurable way, because of it. I loved Trap Heals, I just wish we'd been given more time there… the evergreen Good Trouble lament.
But even though it was wasn't as centralized as I would've liked when it came to Trap Heals, grappling with discomfort became somewhat of a theme of this episode. Every character was forced to look at the world they comfortably inhabit and ask themselves if it was enough… or, if growth or wisdom could be gained by embracing what is uncomfortable.
---
Alice Kwan is comfortable. She's out to her parents. Sure, she's still getting over a break-up but she's still allowing herself to feel joy. She's getting laid. She saved the Coterie. She's building her comedy career. Life for Alice Kwan is good, it's comfortable.
The morning finds Alice brushing her teeth in the Coterie bathroom, listening to her best friend/ex, Sumi, explain the finer points of dental hygiene, while she and her mentor, Lindsay, trade jokes back and forth. Once Sumi heads off to work, Lindsay corners Alice and urges her not to audition for the CBTV program. They tell Alice that Ruby's invitation wasn't one of sincerity: she probably felt she had to ask Alice after asking them. The audition is something that a comedian should tackle when they're at the top of their game, Lindsay explains, not when they're just starting out like Alice is. Lindsay's message penetrates and Alice tells Ruby that she's passing on the audition when they run into each other at Trap Heals. Alice explains that she's still new to the game but Ruby insists that the program's an opportunity for Alice to grow and be mentored by professionals.
Alice: Well, Lindsay's kind of my mentor, and they're…
Ruby (interrupts): Threatened by you.
Alice: What? No.
Ruby: Well, they should be. You're a star in the making, and if you ask me, they know that.
Have I mentioned before that I love Ruby? Because I do. I love her. Fingers crossed that she's part of Good Trouble's third season.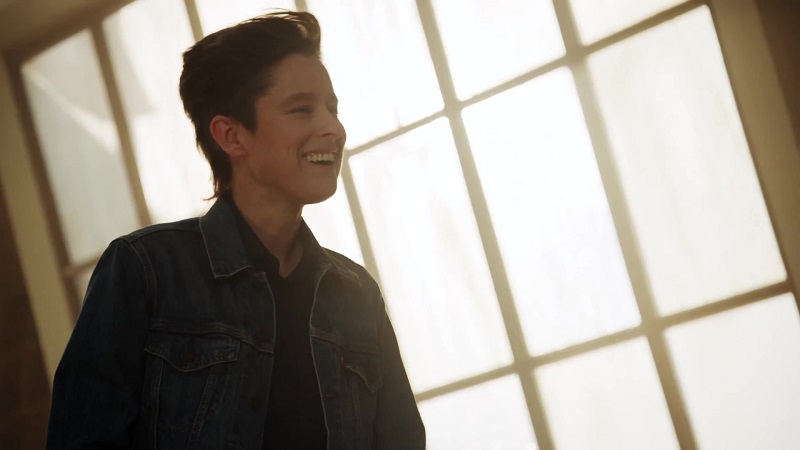 The next day, Alice interrupts Lindsay testing out their new material about the Coterie on the Coterie stage with Sumi enthusiastically cheering their every word. Alice thought the Coterie was her purview — her comedy goldmine — but Lindsay points out that now that they're dating someone who lives here, the topic is fair game. Alice reveals that she's been working on new material about the Coterie, as well, for her CBTV audition. Sumi's excited by the news but Lindsay doesn't share her enthusiasm. They swear they're just trying to look out for her but Alice is hip to Lindsay's game and is not having it. Alice firmly tells them that she thinks Lindsay's only looking out for themselves.
"Whoa, where is this coming from?" Lindsay asks in disbelief.
Alice spells it all out, saying, "It's coming from you trying to kiss me right before I went on stage for the very first time. Look, you're always building me up to take me back down…I  won't let my jokes and my life be appropriated by you, and that includes my ex-girlfriend."
The Alice we met in Good Trouble's pilot wouldn't have done this. The version of Alice that hid who she was from her parent wouldn't have done this. The version of her that forced herself to be around Sumi and Meera, even when it hurt, wouldn't do this. The Alice that was too scared to tell the Coterie residents that she'd no longer be providing them with free toilet paper, wouldn't have done this. But this is a new Alice — one that's tired of just being comfortable and who wants to strive for something more — so this time she fights back and revels in the discomfort.
Alice tells Lindsay to do her Coterie schtick and she'll do hers… and they'll let the best person win. But, given the way Sumi reacts to hearing that Lindsay kissed Alice? I suspect they won't be dating a resident of the Coterie for much longer.
---
Coterie Sundries
+ Callie's been leading a comfortable life too — living in Jamie's luxurious penthouse, working at legal aid and studying for the bar — but when she discovers that Jamie's client is contemplating turning the homes of Legal Aid's clients into a mental health jail, she finds herself at a crossroads. Ultimately, though, because Callie's gon' Callie, she tips off some activists to what's coming and Legal Aid's clients refuse to vacate their apartments. Jamie's understandably pissed and Callie packs her things and heads back to the embrace of her sister/BFF at the Coterie.
+ I should've stuck with my gut: the bro-holes were, indeed, behind the Speckulate manifesto and, after an elaborate scheme by Evan, Mariana and Raj, Sam and Alex are caught on tape admitting their guilt. I was happy to see them both pack their things and go.
+ With the manifesto behind them, Mariana and Raj decide to be completely honest with each other about their relationship. Mariana admits that she's had feelings for Evan but insists that she loves Raj and only wants to be with him. Raj confesses that he has feelings for Isabella and he doesn't know if he wants to be with Mariana or not. Later Mariana confronts Isabella about Raj's confession — which he also made to Isabella at Trap Heals — and realizes that she's been low-key pursuing Raj this whole time. She insists that they can't live together anymore but Isabella refuses to leave since she signed a lease.
Mariana tries to put the disagreement behind her but when Davia tells her that Isabella's Trap Heals confession was that she'd slept with Raj, Mariana's over it. She slips on her sexiest outfit, heads to Speckulate and finally gives into her feelings for Evan.
+ Malika uses Trap Heals as an opportunity to heal the emotional scars between her father and her brother and to get Isaac on the path towards wellness. She knows she'll need them at their healthiest since as the District Attorney has withdrawn her plea deal and plans to take her to trial. She tries to convince herself and Isaac that she's not scared but everything about her body language says different.
+ The moment I've been waiting for for months finally arrived: Davia and Dennis finally hooked up. Dennis' grief had become comfortable for him…he knew how to experience sadness but not how to celebrate joy…and, finally, he embraced discomfort by admitting his feelings for Davia. But while I'm excited they're finally together, I was disappointed with how quickly it happened.
+ Can we give Gael something to do in the third season? Preferably something that doesn't involved Callie? I would not object to the return of his sister, Jazmin.
+ The use of india.arie's "In Good Trouble" over the season's final scenes? *chef's kiss*
---
That's a wrap on season two of Good Trouble! The show returns this summer for its third season and, after "Trap Heals," I can honestly say I can't wait.