Editors note: warning! There are some spoilers in here. Spoilers are necessary to providing a complete, contextually rich review.
Walking around the Greenbriar house, I couldn't help but smile. I'd just heard my virtual sister telling me about her first kiss with her crush, her excited giggle making my heart swell with pride. Then a floorboard creaked, thunder shuddered the walls and my excitement turned into a mere memory. This is the beauty of Gone Home: one minute you're jumping for joy at the game's lady-loving narrative, the next you're fixed to the floorboards, hoping for the love of boobies that Casper the friendly ghost isn't in the same house tour as you. Thankfully, he's not. In fact there's no jump scares to be afraid of in i, but the atmospheric tension certainly made the thought cross my mind.
What also popped into my brain while playing is how damn good Gone Home is and how glad I was to finally be experiencing it. Originally released in 2013, The Fullbright Company's debut was launched on PC only, with console owners missing out on the greatness. My laptop has less gaming power than a Pacman machine in a bath, so my hopes for playing Gone Home weren't high. Then the news struck: a console version was being made. My excitement, however, didn't last long as the console release was put to bed after the developers making the port closed up shop. Thankfully, that wasn't the end of Gone Home's console journey, with the game finally coming to PS4 and Xbox One last month. In case you were wondering, it was worth the wait.
Playing as Kaitlin Greenbriar, you come home after a tour of Europe to a note on the door from your 18-year old sister Sam asking you to not go looking for answers as to what has happened. Naturally, you ignore this request. The whole game surrounds you, in first person, searching the house for indications as to why it's empty, what's gone on and why the hell you haven't been greeted by cake and excited hugs. While searching the house, you will find clues, some unlocking journal entries from Sam, which are told to you via a voice-over as you wander. These journal entries are what predominately tell her story. There are other tales lurking in the house: exploration leading to discoveries concerning its other inhabitants, noisiness being essential to finding out Gone Home's secrets.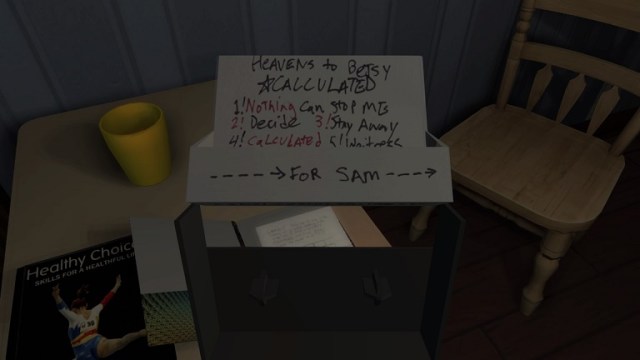 The game's main narrative is where Gone Home's major strength lies. The way the story is told and its contents are both heartfelt and realistic. It is a tale of young love, specifically of queer love. As an inhabitant of the Isle of Lesbos, watching the gay-centric narrative unfold is exhilarating. Seeing Sam's journey unfold is both moving and relatable; situations such as trying to tell your same-sex friend that you like them are familiar to many of us. On the flip side, there's also some parts of Sam's story that not all of us will be able to empathize with. Without spoiling anything, I faced no problems when coming out, my experience being, thankfully, smooth sailing. For others, this was and still isn't the case. Some aspects of Gone Home may, therefore, resonate even deeper with you than they have done with me.
Aside from the game's story, Gone Home does a great job of making you feel like you know the inhabitants of the home, even though you never actually meet anyone. For example, by the end I knew that Terry liked whisky, Janice liked to paint and Sam played video games, all from just exploring an empty house. Through the carefully placed household items, notes and clues you can examine, as well as the clever way the game guides you through the house, The Fullbright Company has created a virtual world that actually feels lived in.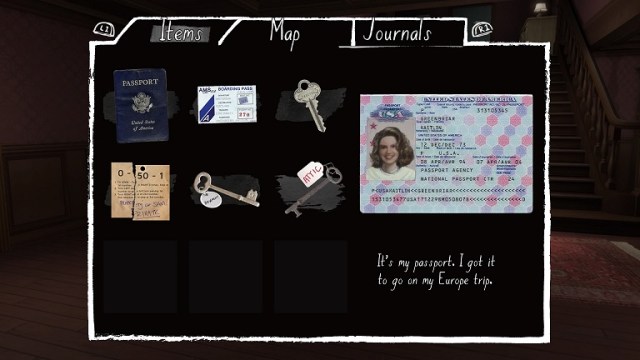 From the darkness engulfing the house when you first explore, to the long, spooky corridors that fill it and the hidden memories unveiling dark revelations, there's never a comfortable moment. The simple tasks of walking and looking are, therefore, more exciting than ever. Gone Home looks great on console, the Unity 5 upgrade making it super polished. The music is incredibly good, at least according to my ears. The  puk rock, rrriot girl soundtrack fits the 1995 setting perfectly; cassette tapes can be found and listened to in various rooms, the angst-ridden lyrics and brazen sound drowning out the eerie creaks and outside moans that populate the game.
Now to talk technical for a moment: as I've already mentioned, thanks to my craptop, I've never played the PC version of this game, so a comparison is hard to make without some form of reference. However, I have read that it did have some issues with controller support, with Adventure Gamers writing about this in their review and some Steam forums also reporting this issue. In the case of the PS4 version of the console release, the controller works splendidly. Easy to use and simple to understand, the way the controls have been mapped feels logical on the PS4 controller, which means learning to play doesn't take much time at all. After a short while, you no longer find yourself looking at your controller for the correct buttons. Allowing for quick immersion, there comes a point where you forget you've even got a controller in your hand, you mind firmly transported into the house in front of you.
As a result of the learning curve not being too steep, Gone Home on console has an appeal that extends beyond everyday gamers. Aside from the easy to use controls, there's also modifiers in the console version that make it easier for you to go through the game at your own pace. You can unlock all doors, start with all lights on and you can disable voice diaries so that you can go back and listen to the journals in whatever order you like. The game is one of the most novice friendly out there, so don't be afraid to give it a go. You could end up like the woman who got in touch with Fullbright's co-founder, Karla Zimonja.
Speaking to Gadgette, she told them, "There was one lady who got in touch with us; she'd never really played games before and she sat down with Gone Home and played right through it. Then she emailed us saying she now felt she could play other games.wp_postsI don't know if she played the PC or console version, but the message is still the same: Gone Home can be enjoyed by anybody, not just video game veterans.
Even if Gone Home isn't a game you're looking to play through, the fact that it is where it is today is still fantastic for us queer folks in the gaming community. For Fullbright to even have considered a console edition, they would have needed Gone Home to be a critical and commercial success, which is exactly what it's turned out to be. In the first six months alone the game sold 250,000 copies, and critics applauded the game's narrative and placed it in their 2013 game of the year lists. Gone Home made an impression on the industry, many of which were for positive reasons. It's down to these factors that a console version of Gone Home was most likely ever made, not to mention the resilience of the teams at Fullbright and Midnight City to get the game onto consoles, despite the many setbacks. Thanks to this, 37.7 million people now have the chance to play Gone Home and that's just PS4 owners. Even if half of those people have played it before on PC, that's still a hell of a lot of people who have the opportunity to experience it for the first time.
This all proves one important thing: that queer narratives have a place in the video game medium. Package a game well, make it a great experience and people may not only accept queers stories, but applaud them. This bodes well for the future. Instead of just queer ladies and gentlemen as options to romance in RPG's, the success of Gone Home could encourage more developers to actually consider LGBT characters when creating their love interest plots in other genres. Imagine having the choice to play of lots of different titles that have actual fixed romantic storylines, ones that aren't all boy-meets-girl orientated. Thanks to the success of Gone Home, plus others, such as The Last of Us: Left Behind, we could well be on our way to that dream.
Of course not everyone is on board with this. Some people see Gone Home merely as "gay propaganda" (this is just one the many forums I found), like queerness isn't a natural state of being but an evil organization that warrants such materials. Games like Gone Home are based on real life, real stories, real people and games of this nature only help to promote inclusion into the medium, which is a fantastic thing. They're not promoting a certain agenda and neither are the developers…well maybe Fulbright's Karla was. Speaking to Cara Ellison in 2014, she said, "Steve doesn't have an 'agenda'. I HAVE A FUCKING 'AGENDA'. I want to help even out some of the inequality.wp_postsI don't know if she was talking about LGBT stories in games or women in games in general, but they both sound like healthy agendas to me.
As you can probably tell, I thoroughly enjoyed Gone Home. My only regret about it that younger me didn't get the chance to play it. If I had, who knows what might have happened. Maybe I would have seen something in Sam that I knew resonated true in myself. Seeing myself reflected in my favorite pastime could have helped me to feel normal, make me see that my feelings weren't wrong and that like Sam, I didn't need to be ashamed of who I was. Maybe I'd have come out sooner. Although it's too late for me to connect with Gone Home in this way, the game could still provide solace and comfort for many confused gamers, helping them find someone to relate to without revealing any real life secrets they might not be ready to let go of.
Queer narrative or no, Gone Home is a fantastic game and one that shouldn't be overlooked by anyone, regardless of sexuality or gender. Powerful, entertaining and atmospheric, if you have a console and you've not played Gone Home yet, you should download it now and take a journey you'll never forget.