Delphi: It sounds straight out of a Disney Movie but I promise you it happened.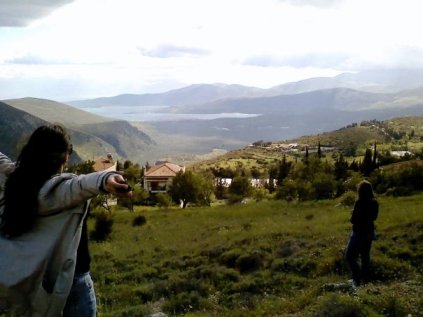 We started to hit our stride as a group in Delphi.  Any shyness people felt at the beginning was lost and with no big excursions on the itinerary that day, we could really experience it.
We ate lunch at a beachside family-owned restaurant where every dish was caught daily and a four course meal only cost 14 euro. I tried to mix up who I sat/ate with each day and for that particular lunch I sat with the Puerto Rican girls; there were nine of them and they had all been close friends for many years.  I don't know if any of you are aware of the bond between Puerto Rican woman, but it's something of an anomaly.  During the meal they laughed, sang, danced, shimmied, asked me lots of questions, and made sure to direct all of their stories at me so I felt included.  They were the perfect hosts!
When we got back from lunch we had time to walk around the small mountain town surrounding our hotel. It was about 3 blocks long, and looked a bit like New Orleans French Quarter.  The streets were lined with Duplex-style buildings decorated with permanent lights and plants hung from every porch.
We walked through the entire town and only saw ONE person the whole time — an old woman on a porch above us who shook out her rug against the railing. She was smiling and singing "'Yia sou, yia sou!"  This is straight out of a Disney movie, but it happened.

Fun-Gay or Awkward Gay?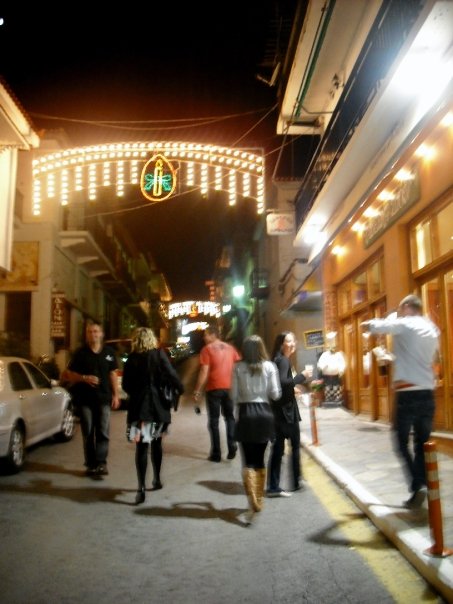 Later, we followed our usual dinner/drinks/dancing routine and by this point, it was becoming clearer and clearer that I was the only gay of the tour. (Judging from our numbers though and employing statistical facts about homosexuality, there should have been like 3 more, but WHO'S COUNTING.)
I bring this up because I haven't talked about anything gay yet, and because it came into play that night. No no, unfortunately for me no one got drunk enough for play time–I had to burst a boy's very publicized-unbeknownst-to-me bubble.
We were all having fun on the dance floor and one of the Australian guys–who had sort of become our tour's ringleader and who up to this point hadn't talked to me much–danced over and very casually said, "So I think I may be in love with you!" and continued to dance in rhythm with the music.
He had a very fun, jokey personality so I thought he was kidding and probably high-fived him, because that's what mature adults do.
But as I kept dancing, I could feel every-one's eyes in our general direction. You know, like when you are in middle school and everyone but one person is in on something and the shit hits the fan and that one person is like "REALLY YOU GUYS? YOU ALL KNEW?!"
There was obviously some liquid courage going on, and normally I have no problem telling people I'm gay– and usually I have to because the non-gay world has a pretty specific idea about what they think a gay lady looks like and it ain't me — but something about the whole situation and how much he was putting himself out there made me feel like I needed to tell him in a respectful way.  Like, not while we were dancing to Justin Timberlake?
As if all of this wasn't awkward enough, his sister, who had a very Regina George air to her, danced over to me (again with the dancing!) and said, "He's a good boy."
I did some weird laugh noise and she said, "No really, I wouldn't just say that about anyone. He's a good guy."
How she said it was all very 'Oh my god I love your skirt, where did you get it?'  But anyway the next day he apologized he was so forward but that he meant everything he said and then very gentlemanly wondered if I would like to get a coffee.
It was on this walk to the cafe that I broke the news, and though I was fairly certain that had never happened/would never happen again to him, he couldn't have been nicer about the whole thing.
This little hiccup didn't stop this trip from becoming one of the best weeks of my life.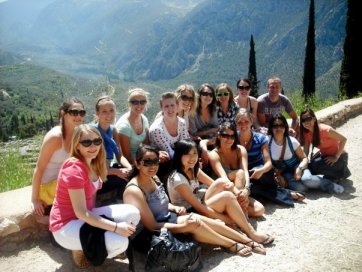 I could go on and on about what else I saw and experienced but I think I'll just leave you with this scene, straight out of the movie of my actual life, which will play in my head forever, Hollywood be damned: Cruising the open seas of the Mediterranean at night, our multicultural group takes to the top of the ship where the temperature has cooled and deck has been lit  — maybe the unlimited drinks are in play and maybe our bellies are full of cheese pies, greek salads, gyros and baklava.
This song (which will come to haunt my every silent moment) is playing at the speakers' capacity and there is no such thing as self-awareness; there is only smiling and clapping and synchronized movement and the realization that this is the zenith of fun. We are our own little United Nations solving the world's problems. And dancing, too.
Next: Incredible Photos from Erin's Real Hollywood Greece Trip
Pages: 1 2 3See entire article on one page